Posted on
Sun, Apr 1, 2012 : 5:59 a.m.
Michigan offensive lineman Ricky Barnum healthy, confident he can take over at center
By Kyle Meinke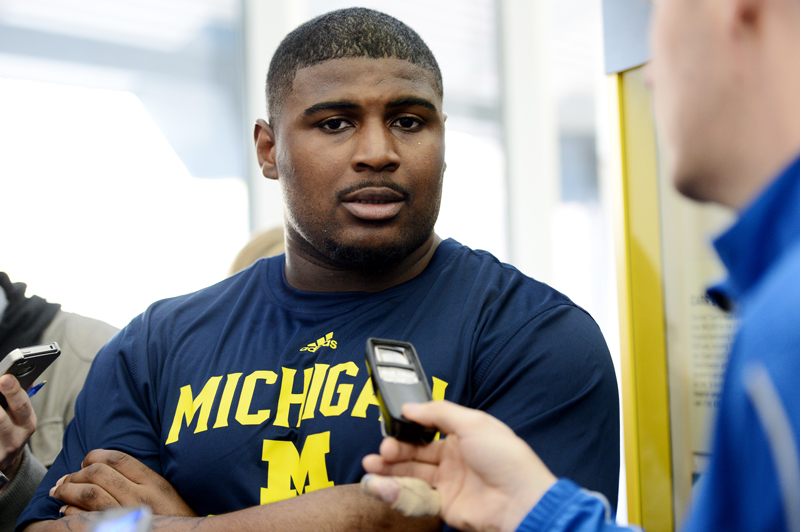 Melanie Maxwell | AnnArbor.com
Ricky Barnum stood there in his Twin Peaks socks, facing a gaggle of media for the first time as center of the Michigan football team. He shifted from side to side, sweat collecting on his forehead, nerves showing.
And then he opened his mouth, and any sign of uncertainty melted away.
"Jack Miller is very talented," Barnum said, referencing his primary competition for the job. "He's going to be a great offensive center here in a couple of years. We compete every day. He pushes me, I push him.
"If I lose the job, it'll be because of me. Probably my fault."
So, there you have it. He's oozing with confidence, despite all that's stacked against him.
Barnum is a fifth-year senior who has played only nine career games, none of which were at center. His last appearance at the position came almost eight years ago, dating to when he was a freshman at Lake Gibson High School in Lakeland, Fla.
The guy who he is trying to replace is David Molk, one of the greatest centers ever to play at Michigan.
Yet, Barnum isn't worried about any of that.
"I don't see it as pretty big shoes to fill, because this is Michigan, and when a class graduates, everybody has to step up, not just one person," Barnum said.
"I feel very comfortable. I mean, I like it. I always wanted to play it. We had a talented center, though, so I'm now getting my shot. I like it a lot."
Barnum said he's eyed the position for a while now as coaches told him he's a "natural center," perhaps a nod to his 6-foot-3-inch, 297-pound frame. He plans to add five to 10 pounds to complete the transition.
"I want to look 300 pounds healthy, not 300 pounds sloppy," he said.
Barnum has played some tackle and guard at Michigan, with most of his recent time coming at left guard. But behind the scenes, he has snapped to quarterback Denard Robinson since he was a freshman.
They already have developed a good rapport, with Barnum going as far to say the fellow Floridians developed a "brotherhood" before reaching even the halfway point of spring camp.
That leaves plenty of time to iron out the kinks before the Sept. 1 opener against defending national champion Alabama.
Still, questions remain. That begins with whether Barnum can even stay on the field, after injuries affected each of his previous seasons in Ann Arbor.
He started three games at left guard last season before suffering injuries to both ankles. Michael Schofield took over, and Barnum never started again, even as he returned to health.
"I'm a very strong-minded person, so I really didn't feel down," Barnum said. "I knew Schofield would do a good job, and he did. Schofield brought a lot to the table as well, and I just enjoyed watching him while I healed both of my ankles."
This season, Barnum won't have a safety net such as Schofield. Primary Molk backup Rocko Khoury decided not to pursue a fifth year and left the program before spring camp, leaving just the redshirt freshman Miller and walk-on Joey Burzynski behind Barnum at center.
That makes it of paramount importance he stays in the lineup.
Barnum is doing his part to prevent further injury by working to move his feet better, as well as eliminating his bad habit of standing upright in the hole. He also is getting help from strength and conditioning coach Aaron Wellman, who is trying to stabilize the ankles.
Barnum won't be able to match Molk's ability to control the offensive line, nor his high intellect at the position, which he had played is entire life. But a healthy, and confident, Barnum is as good a start as any.
Right now, he's both.