Posted on
Fri, May 24, 2013 : 3:35 p.m.
Michigan wrestlers accused of Molotov cocktail possession suspended indefinitely
By Pete Cunningham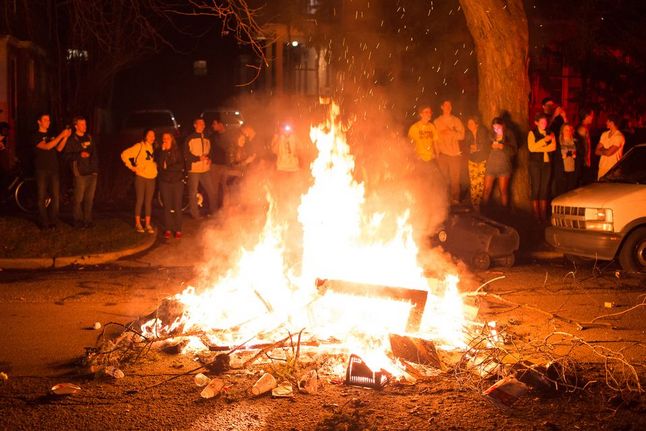 Courtney Sacco | AnnArbor.com file photo
The two University of Michigan students accused of possessing Molotov cocktails on the night of the Michigan men's basketball team's national championship loss to Louisville are members of the wrestling team and have been indefinitely suspended.
Wrestlers Justin Dozier and Rosario Bruno, both 20, have been charged with two counts each of possessing/manufacturing explosives, a four-year felony, and were both arraigned on Wednesday in the 15th District Court. According to an athletic department spokesperson, head coach Joe McFarland was made aware of the case on Thursday night and the athletic department was informed on Friday morning.
"I can tell you that the coach was made aware of it last night and we were made aware of it today and that the two individuals have been indefinitely suspended," said Michigan associate athletic director Dave Ablauf. "They have been indefinitely suspended from the team which means they are suspended from all team activities."
Ablauf would not comment on whether the two are on scholarship or their status as students. He said the athletic department does not have a set protocol on athletes facing criminal charges.
"We take every incident on a case-by-case basis," Abaluf said.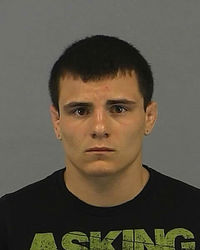 Courtesy of the Washtenaw County Jail
Bruno, a Florida native, is coming off of a
successful freshman campaign
in which he placed seventh in the Big Ten Championships and qualified for the NCAA Championships. He went 2-2 at the national tournament at 133 pounds, falling just short of All-America status. He is enrolled in the college of Literature, Science and Arts, according to MGoBlue.com.
Courtesy of Washtenaw County Jail
Dozier
- a 2011 Michigan state champion for Woodhaven High School - started five duals at heavyweight for the Wolverines last season as a red-shirt freshman. He was a recipient of the U-M Athletic Academic Achievement Award as a freshman and is enrolled in the School of Kinesiology, according to MGoBlue.com.
Ann Arbor police linked the two men to up to four Molotov cocktails in the 1100 block of White Street, where officers were called in the early morning hours of April 9 for a mattress fire, said Lt. Robert Pfannes.
Pfannes said the mattress fire was extinguished when police arrived, but officers who arrived on the scene that morning located a bottle with some sort of flammable liquid in it, popularly known as a Molotov cocktail. The subsequent investigation linked the two men to "up to four" of them, Pfannes said.
-- Crimes and courts reporter John Counts contributed to this report.
Pete Cunningham covers sports for AnnArbor.com. He can be reached at petercunningham@annarbor.com. Follow him on Twitter @petcunningham.