Posted on
Wed, May 16, 2012 : 4:44 p.m.
Michigan to spend $250 million to upgrade facilities for non-revenue sports
By Kyle Meinke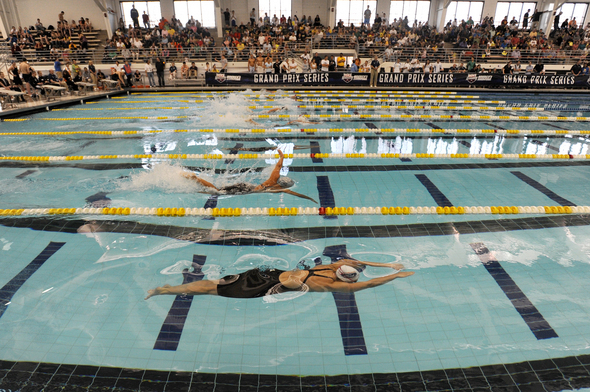 Melanie Maxwell | AnnArbor.com
CHICAGO -- The University of Michigan spent nearly $500 million dollars to update its football, basketball and hockey facilities in recent years.
Now, it will turn its focus to non-revenue sports.
Michigan athletic director Dave Brandon said Wednesday a master plan has been drafted that calls for $250 million in renovations to nearly every athletic facility on campus in the next seven to 10 years.
Brandon said the end game is to make Michigan eligible to host postseason games and tournaments in every sport.
"We've really taken our entire campus footprint and said, 'What do we need to do to get all of our facilities lifted to a point where we really feel we would be competitive with any other campus location for a national tournament,'' said Brandon, in Chicago for the Big Ten's annual spring meetings.
"So, our standard would be to have facilities in every sport that would make us eligible as a site for regional or national competition."
Brandon said some of Michigan's facilities are "just not adequate," and named Canham Natatorium as an example.
Michigan added women's water polo as a varsity sport in 2005, but never upgraded or expanded the facility. Now, it's out of date, Brandon said.
"We added water polo and never added any more deck space, any more locker rooms, or any more pool capacity, and so we're constrained," he continued. "We need another pool. We need more capacity. We need more locker room space.
"That's just an example of one of the things we need to do. We couldn't host a national competition."
Brandon said the master plan also calls for building a lacrosse facility. Michigan added men's lacrosse this year, and the women begin play in 2014.
He said the university is constrained in its growth near its main athletic campus because of land issues, but there is room to expand to the south.
"That's part of the tricky nature of this," he said.
Michigan's most recent expansion included its revenue sports. Nearly $300 million was spent on football, $100 million on basketball and $20 million on hockey.
Kyle Meinke covers Michigan football for AnnArbor.com. He can be reached at 734-623-2588, by email at kylemeinke@annarbor.com and followed on Twitter @kmeinke.