Posted on
Fri, Nov 2, 2012 : 1:23 p.m.
Associated Press: NHL cancels Winter Classic at Michigan Stadium
By Pete Cunningham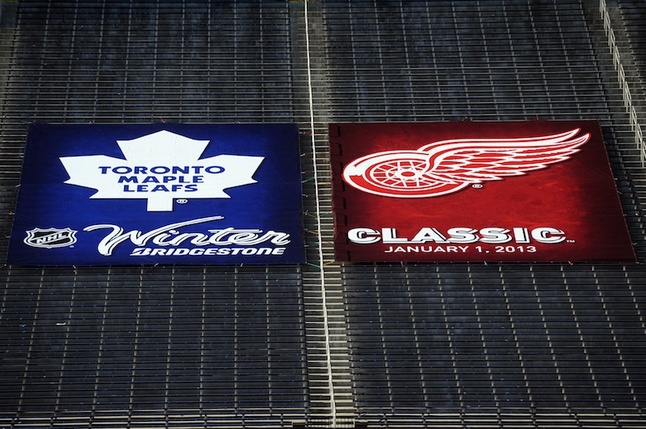 Melanie Maxwell | AnnArbor.com
Go ahead with your usual New Year's Day planning Ann Arbor. There will be no hockey game at Michigan Stadium to look forward, The Associated Press reported Friday.
A person familiar with the situation told the Associated Press that the NHL has canceled the 2013 Winter Classic at Michigan Stadium.
The person spoke on condition of anonymity Friday because the league had not yet announced the cancellation of one of its signature events. The source also said the NHL will schedule its next Winter Classic at the iconic Ann Arbor stadium.
The expected announcement would end weeks of speculation about the fate of the annual New Year's Day outdoor game, which was to be played between the Toronto Maple Leafs and Detroit Red Wings. The game was expected to draw more than 114,000 fans to the Big House, which would have been a world record for attendance at a hockey game. The NHL had also previously stated plans to break Michigan Stadium's attendance record of 114,804.
The NHL locked out its players six weeks ago after the two sides could not reach a new collective bargaining agreement. The ensuing lockout caused the cancelation of all games through the end of November last Friday which amped up the expectation that the league's marquee event would soon be on the chopping block.
That expectation is expected to become a reality on Friday, The AP reported
According to the NHL's contract with the University of Michigan, $250,000 plus any expenses incurred by the school in preparation for the game would have been due to the school at the end of the day Friday in addition to the $100,000 already due. The total payment due to the school were the event to happen would equal $3 million.
Spinoff revenue from previous Winter Classics in Boston, Pittsburgh and Philadelphia have been reported to be between $22 and $36 million, far more than the $14 million generated from Michigan home football games.
Officials with the University of Michigan athletic department could not be reached for comment, but on Monday said no word had been passed down from the NHL.
Pete Cunningham covers sports for AnnArbor.com.