Posted on
Tue, Aug 7, 2012 : 6:41 p.m.
Nick Willis fails to repeat medal performance in 1,500 meters and more local Olympic results
By Pete Cunningham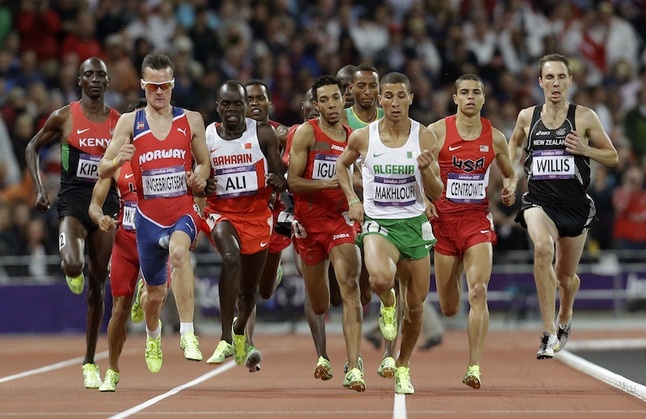 Sergey Ponomarev | Associated Press
Former University of Michigan runner
Nick Willis
' Olympics ended in disappointment on Tuesday as the 29-year-old New Zealand runner couldn't keep pace with a frantic finish in the men's 1,500-meter run. Willis finished ninth with a time of three minutes, 36.94 seconds.
"I did my absolute best. Sorry it was not enough I am very disappointed with myself," Willis said on Sky Sport, a New Zealand television station. Willis, who won a silver medal at the 2008 Beijing Olympics and was the oldest competitor in the field on Tuesday, held an advantageous inside position for much of the race, He never made a charge toward the front in the late stages and he told the Sky Sport station he was tired down the home stretch.
"The other guys ran fantastic in the last lap. I just had nothing. I was totally shot. I should have been able to finish up at that pace but I was tying up over the last 100 something shocking. I am not overly excited about how it went."
LOCAL OLYMPIANS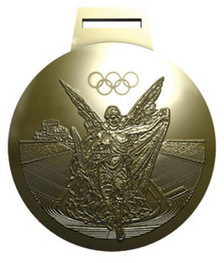 Tuesday was a busy day for Olympians with ties to the Ann Arbor area. Check out AnnArbor.com's extensive coverage:
Visit the AnnArbor.com Olympics page for stories on Olympians with Ann Arbor-area ties. Follow along with Michigan athletes at MLive.com/Olympics
.
Algeria's
Taoufik Makhloufi
took the gold medal with a time of 3:34.08 only a day after being reinstated to the final. Makhloufi was disqualified from the games after track and field officials ruled he didn't try hard enough during a heat in the 800. He had already qualified for the 1,500 final at that stage. The disqualification was overturned after a medical officer reviewed the evidence, and Makhloufi made his second chance count, winning the 1,500 title in 3 minutes, 34.08 seconds.
Leonel Manzano of the United States took silver in 3:34.79 and Abdalaati Iguider of Morocco earned bronze in 3:35.13.
Willis' former Michigan teammate Nate Brannen experienced heartbreak two days before in the same event's semifinal. Brannen, who is from Canada and competed for his home country, fell during his semifinal race and, despite a roaring comeback, failed to make Tuesday's final. He left the track bloodied and inconsolable after finishing less than four seconds short of qualification for the medal race on Sunday.
Athletics Canada filed a protest in an attempt to get Brannen into the final, but was denied after review of the race tape. In an exclusive interview with TheRecord.com in Kitchener, Ontario, Brannen opened up about his emotions following the heartbreak, calling it "the lowest moment in my life." (Click here to read the entire article)
"That's the hardest thing for me to swallow right now. I felt like this was my opportunity to really do something big," Brannen said. "Had I not made the final because the other guys were faster than me that would be a lot easier to take. But to not be given the chance to run my race, that's hard for me to take."
Brannen didn't rule out trying to make the 2016 games in 2016 Olympics in Rio de Janeiro, but recognized the difficult road that would lie ahead.
"For me, a chance like this is probably once in a lifetime. To be as fit as I am, to be really ready to go, and to have something like that happen, it's awful," he said.
Greco Roman team blanked
The American Greco-Roman wrestling team -- led by long-time coach Steve Fraser, a former All-American at Michigan -- failed to win a medal in Greco-Roman for the first time since the 1976 Montreal Olympics after Justin Lester was knocked out Tuesday.
It wasn't a surprising result. But it still stung for Steve Fraser, who became the first U.S. wrestler to ever win an Olympic gold medal in Greco-Roman wrestling in 1984 at the Los Angeles Olympics.
Fraser said the poor showing will force the program to re-evaluate what it's doing.
"It's tough. We're very disappointed because we take a lot of pride in our Greco-Roman program in the United States," Fraser said. "We have to go back to the drawing board and really sit down and talk about some things program-wise and coaching-wise and athlete-wise and development-wise."
Oh Canada
Former Michigan basketball player Krista Phillips scored two points for Canada in a 91-48 loss to the United States in the women's basketball quarterfinal on Tuesday.
Diana Taurasi scored 15 points and Candace Parker added 12 to lead the Americans to a 91-48 rout of Canada on Tuesday and advanced to the semifinals for the eighth straight time.