Posted on
Sun, Jun 9, 2013 : 3:18 p.m.
Octogenarians, anime characters and American flags take to the course for Ann Arbor Marathon
By Kyle Austin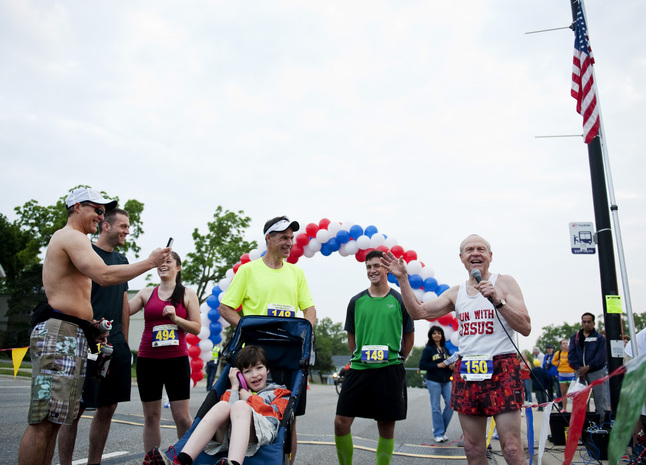 Daniel Brenner | AnnArbor.com
Eighty-five-year-old Jerry Johncock has run more than 100 marathons in the 35 years since he picked up running. But running Sunday's Ann Arbor Marathon wasn't his idea.
Johncock found his way to Sunday's race through his grandson, Drake, who decided he wanted to compete in a race alongside his grandfather.
"He said he wanted to do one, so I said 'Well I don't know how many more marathons grandpa has left in him,'" Johncock's son, Bill, said. "So I said we'll do that."
That's how the Johncock family, including Jerry, sons Bill and Mark and grandchildren Drake and McKenna, found their way to the starting line for Sunday's marathon.
And five hours, 48 minutes later, the group made its way to the finish line, where they crossed together. The race marked Johncock's 115th marathon.
"This is really great," Jerry Johncock said. "It's great to have family that stands with you and runs with you."
Sunday was Johncock's first marathon since turning 85 earlier this year, meaning that if the results are verified, he set a new American record for the 85-89 age group (he's the first American in that age group to ever finish one.)
Johncock said the race went smoothly, with the only pain coming in his left calf near the end of the race. And for Johncock especially, the cooler, cloudy conditions Sunday morning were ideal.
"I was real glad that we had a lot of clouds today so we didn't get too hot," Johncock said. "I don't know what the temperature is now, but I don't like it when it gets over 80."
Bill Johncock said he and his family came in from North Carolina to join Jerry, who lives in Shelbyville, for Sunday's race, to run and support the family patriarch, who has gained national acclaim for his marathon running.
"We're very proud of him," Bill Johncock said. "Eighty-five years old, not many people that old, if they're living, can run a marathon."
Running as anime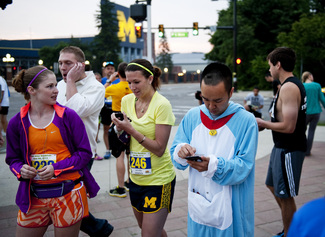 Daniel Brenner | AnnArbor.com
Five days ago, Mitsuhiro Hamano came to Ann Arbor from Japan to begin studying at Michigan's Ross School of Business.
When he signed up for Sunday's marathon, he wanted to represent his home country. His way of doing that: dressing up in a costume of an anime character.
"I came here as a representative of Japan," Hamano said. "That's why I chose this anime character."
Hamano completed the 26.2-mile course in the full costume, finishing in five hours, 34 minutes. He finished with a somersault at the finish line and was greeted by friends and family members, including his 4-year-old son, Kosuke.
"He really likes the character," Hamano said. "That's why I chose this one.
And even though Sunday's race featured overcast conditions and cool temperatures for mid-June, it still gets plenty hot running for five hours in full costume.
"After 10 miles it's getting hotter and hotter," Hamano said. "I managed somehow."
Tough course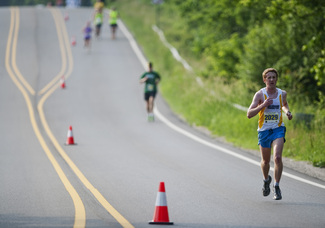 Daniel Brenner | AnnArbor.com
Gary Morgan has seen his share of courses in his 20 years as a race walker and eight years since as a runner.
So how was Sunday's new Ann Arbor Marathon course?
"Oh it hurt," Morgan said. "It was really hilly. It was hillier this year than last year, a lot hillier."
Organizers changed this year's course after complaints about how much last year's layout impeded traffic. The most noteworthy change was taking Washtenaw Avenue out completely.
According to Morgan, a former Olympian who ran as a pacer, and other participants, the result was a hillier and tougher course. According to the official USA Track and Field Measuring Certificate, the total change in elevation on the course is 58 meters.
But there were no complaints about the scenery of the route, which included running through parts of campus and Nichols Arboretum.
"Good sights, you get a little bit of trail, I think there are some hills throughout that really differentiate the field," marathon winner Neil Rao said. "It's a challenging course, it's not a walk in the park."
Group up
Several groups took to the course for Sunday's marathon, and the biggest in number was clad in red, white and blue.
Team RWB took to the course for the second straight year, with several carrying American flags throughout the race, with the goal of helping war veterans.
"One of the struggles that we see from our veterans is they come back and they don't necessarily have a good support system," Matt Spivey of South Lyon said. "RWB is all about the reintegration of them through athletics and through social interaction with civilians."
Also participating for the second straight year was a group in "Team Jamie" shirts, honoring Jamie Zade, a University of Michigan student who passed away unexpectedly shortly before she planned to run last year's race.
Numbers down
In 2012, according to the official results, 605 runners finished the marathon, 1,311 finished the half marathon and 607 finished the 5K.
This year, the initial results list 402 marathon finishers, 899 half-marathon finishers and 576 5K finishers.
Kyle Austin covers sports for AnnArbor.com. He can be reached at kyleaustin@annarbor.com or 734-623-2535. Follow him on Twitter @KAustin_AA.