Posted on
Tue, Jul 19, 2011 : 4:40 p.m.
One-legged pro wrestler Zach Gowen rebuilds his life in Ann Arbor
By Matt Durr
Zach Gowen was going to be rich, famous and have more girlfriends than he could count.
He lived that dream for 14 months. Seven years later, he just wants his life back.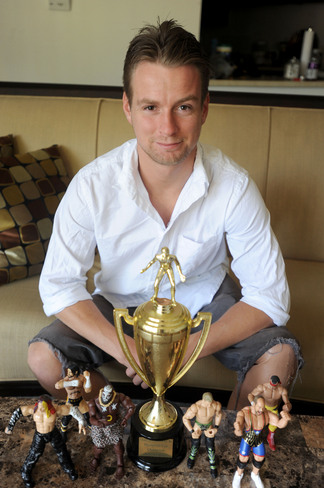 Angela J. Cesere | AnnArbor.com
In 2003, Gowen was 20 years old and one of the youngest members of World Wrestling Entertainment, the top rung in pro wrestling. He didn't last long. Drugs and alcohol use coupled with a poor attitude got him fired. Today, he lives in Ann Arbor following a visit to a rehabilitation clinic in 2010.
"The support here is out of this world," said Gowen who lost his left leg to cancer as an 8-year-old. "I couldn't have picked a better city to live in."
Gowen first stepped foot into a WWE ring in 2003 in front of thousands of people, playing a fan in the audience who was a "special guest" of Hulk Hogan's. After seeing Hogan get jumped by a group, Gowen jumped the guard rail and entered the ring.
The big scene: While protecting Hogan, Gowen had his prosthetic leg pulled off. A star was born.
Gowen's path to Hogan's defender started about a year earlier when he joined the House of Truth wrestling school in Livonia in 2002. Head trainer Truth Martini knew Gowen was special from their first meeting.
"When he popped it off (the prosthetic leg), the first thing I saw was dollar signs for him," Martini said. "My job was to not let him know that. I gave him no special treatment."
As a one-legged wrestler, Gowen was able to give fans and promoters something they couldn't see anywhere else. Fame and fortune quickly followed. Gowen said he let his ego get out of control and he developed a bad reputation in the WWE. Gowen was released from his contract in August 2004.
"I wasn't mature enough to handle that situation," he said.
Martini could sense a change in Gowen's personality because of the drugs. Gowen was living with him during that time and Martini eventually had to kick him out.
"He wasn't even fun to hang around anymore," Martini said. "All he wanted to do was get high."
Martini and his family considered Zach to be one of their own and even staged an intervention to encourage Zach to get help. It didn't work.
Gowen tried to quit alcohol and drugs and his own and would go to at a friend's place for a couple of days. Eventually he would fail and then feel worse about himself, leading to more drug use.
Finally, he reached out to a program that helps former wrestlers looking for treatment. The WWE pays for all expenses and keeps the program open to any former talent that worked for the WWE.
In February 2010, Gowen spent 28 days in a rehab facility in Minnesota.
"It was an absolute blessing; I took full advantage of it, and it saved my life," Gowen said.
When Gowen's treatment was complete, he was told it would be best to stay in Minnesota, but he wanted to come back to Michigan. Officials at the facility found a structured house in Ann Arbor that fit his needs, and Gowen was on his way back to Michigan.
"I needed that structure, and those conditions to stay humble and grounded," Gowen said.
Gowen, now 28, and his roommate Joe McMurray, 28, have been living together since March 2010. The two began their journey with 19 other recovering addicts. Just three remain. The roommates pick each other up when they're struggling with their emotions.
"It's unique to have someone who truly understands what you're going through," McMurray said.
Working to become "a productive, sober adult," Gowen recalls a time he went to Kroger's for groceries and became overwhelmed in the cereal aisle.
"I broke down in tears," Gowen said. "I didn't know how to behave like an adult."
During his time in Ann Arbor, Gowen has found the area to be very helpful for recovering addicts. Gowen feels like he is "tapped into the community," more than he ever has been.
McMurray said that Ann Arbor has so much to offer, it's easier to avoid potentially harmful situations.
"It helps that there are so many things to do not focused on the nightlife," McMurray said.
For now, Gowen is focused on helping people in the community who are struggling with the same problems he did a year ago.
"Ann Arbor is the best city I've ever lived in. This is home base, it's where I get centered," Gowen said.
Getting "centered" is the way Gowen deals with coming down from the natural high of performing. Over the Fourth of July weekend, Gowen wrestled in Mexico and was still getting over the excitement.
"It felt good to be at a point where I could appreciate it," Gowen said.
Being in the spotlight can be a difficult thing to deal with once a wrestler returns to "real life."
"It's hard to balance real life with this sort of quasi fame," said Jimmy Jacobs, a wrestler who's known and trained with Gowen since 2002. "I think now that we're both older and more mature, we can handle that."
Because he has a better grip on his life, Gowen is able to look toward the future and think about working on bigger stages as a wrestler. A return to the WWE is only a phone call away.
"He didn't leave a good taste in their mouth when he left," Martini said. "But they haven't seen him since his recovery. Once they see him, it's inevitable that he'll get his job back."
Recently, Gowen began working as a motivational speaker and may attend college at Eastern Michigan University or Washtenaw Community College. Gowen is also working on an autobiography which he partially wrote himself, but sought the help of a professional because, as he put it, "my vocabulary is fraudulent."
He has also done stunt work for a variety of movies shot in Michigan and filmed a scene for "A Very Harold and Kumar Christmas," which is scheduled to be released in November.
Gowen will be wrestling Wednesday for Juggalo Championship Wrestling at Clutch Cargo's in Pontiac. The show is not an all-ages event, however, as the show contains adult language and violence. Bell time for the card is 7:15 p.m.
During the interview Gowen received a phone call that he insisted he had to take. As the voice on the other line says hello, Gowen gets a huge smile on his face.
"It's good to hear from you, I was starting to worry," Gowen said. "I'm so glad you called."
He chats for a minute and makes plans to talk with the mystery person again soon. It wasn't the WWE however, but a recovering addict who Gowen frequently checks in with.
"It's all good," he says with sigh of relief.
Gowen sets his phone down; his dreams of returning to the WWE must wait a little longer. But Gowen isn't upset, he is hopeful. Gowen has more to look forward to than just a dream.
"The life I live now is not the one I dreamed about 10 years ago, but the life I live now is so much better."
2003 WWE PROMO VIDEO
Matt Durr covers sports for AnnArbor.com. He can be reached at mattdurr@annarbor.com or at 734-623-2532.