Posted on
Wed, Feb 8, 2012 : 1:22 p.m.
Facing former teammates intensifies Michigan-Michigan State hockey rivalry
By Pete Cunningham
Not many things can lay claim to preceding or overshadowing coach Red Berenson when it comes to the Michigan hockey program.
The Wolverines' in-state rivalry with Michigan State is one of those things.
"Whether it's respect, animosity, dislike or whatever it was, bragging rights, it has evolved over a long period of time," Berenson said. "It isn't just since I came. When I was a player, I realized real quick there was a rivalry between the schools."
The fourth-ranked Wolverines will renew their rivalry with the No. 17 Spartans Friday (7:35 p.m, Big Ten Network) at Munn Ice Arena in East Lansing and Saturday (7:35 p.m., Fox Sports Detroit) at Joe Louis Arena in Detroit.
For players who grew up in Michigan, the rivalry is an opportunity to play against former teammates.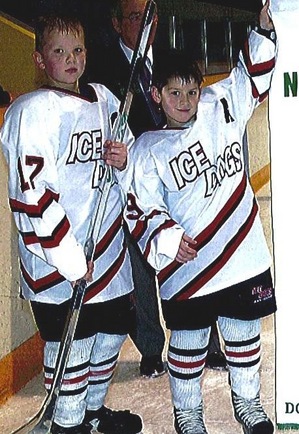 Photo courtesy Cheryl Krug
Wolfe, Krug and Wohlberg were on a team coached by Krug's father, Kyle Krug, that won the 2003 PeeWee national championships and the
Quebec International PeeWee tournament
.
Having grown up teammates only raises the stakes when the players meet now.
"It makes you play even harder," Wohlberg said. "You're going to hit them just as hard as you're going to hit anyone else on the team. Play just as hard against them and you don't expect them to do anything less against you."
Krug and Wohlberg played so hard when the teams met during the 2009-10 season, they were both hit with coincidental minor penalties. Wohlberg would eventually be given a game misconduct for the altercation.
Michigan senior forward David Wohlberg and defenseman Greg Pateryn grew up playing with Michigan State captain Torey Krug and forward Greg Wolfe for the Honeybaked Hockey Club.Krug laughs at the memory.
"Both of us, we hate to lose and, yeah, we got into it. But looking back, we laugh at it," he said. "We try and give each other a hard time. ... When you're on the ice it's all fair."
Kyle Krug recalls the altercation as a proud moment.
"It's a very gratifying feeling, when things got crazy on the ice, to know I had a little part in their competitive edges," said Kyle Krug, who said the altercation reminded him of when Wohlberg and his son dropped the gloves after practice at pre-teens. "Dave was always kind of Torey's little brother on the ice, so that game was, not to get into the football terminology or anything, like Torey saying 'you're no longer my big brother.' "
During the offseason, players from Krug's former team still get together to skate and having bragging rights from the latest renewal of the rivalry is a sacred claim.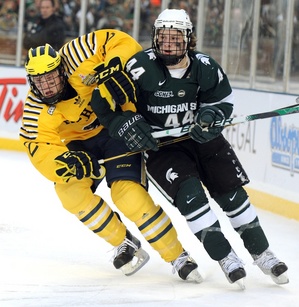 AnnArbor.com file photo
Wohlberg can currently claim to be the Wolverine with the most point in the series with nine goals and eight assists in 18 career games against the Spartans.
Wolfe, Krug, Pateryn and Wohlberg's history is one of many connections of former teammates in the rivalry.
Luke Moffatt and several other Michigan players played with Spartans goaltender Will Yanakeff for the United States National Developmental team and Wolfe and Michigan defenseman Mike Chiasson played juniors together for the Omaha Lancers of the USHL during the 2009-10 season, to name a few.
"It's definitely something special to play against guys you've played with," Chiasson said. "You kinda get to hold the bragging rights for that summer and the offseason."
"I think it does (intensify the rivalry) because you know the guy and especially guys you know, you don't want to lose to them," Moffatt said. "It's more like a pride thing."

One suspension, maybe two
Michigan will be without co-leading scorer Chris Brown in the opening game of the Michigan State series as he serves a suspension for his fight with Miami captain Will Weber in the third period of last Saturday's 3-0 win.
Whether defenseman Greg Pateryn will join him remains to be seen.
Pateryn was issued a five-minute major and game misconduct for contact to the head late in the third period on Saturday. CCHA director of officiating Steve Piotrowski reviews all misconduct penalties to determine whether further suspension is warranted.
Piotrowski was at Yost Ice Arena for Saturday's game, but the same process will still be followed in terms of review.
It may hurt Pateryn that his hit came just 21 seconds after Miami's Steven Spinell was called for the exact same infraction, as it may be seen as retaliatory.
"I think there's a fine line between some of these hits, whether they draw a suspension or not. I think the intent is part of it," Berenson said. "I don't think there will be any additional suspensions."
Contact Pete Cunningham at petercunningham@annarbor.com or by phone at 734-623-2561. Follow him on Twitter @petcunningham.