Posted on
Wed, Feb 8, 2012 : 9:56 a.m.
Regents approve use of Michigan Stadium for 2013 NHL Winter Classic
By Pete Cunningham
Updated 12:12 p.m.
The 2013 NHL Winter Classic will be at Michigan Stadium.
The University of Michigan Board of Regents voted unanimously Wednesday morning to lease Michigan Stadium to the National Hockey League for up to $3 million for the annual outdoor hockey game that will be held Jan. 1, 2013, with an alternate date set for Jan. 2.
The NHL will require use of the stadium from Dec. 1 until Jan. 2.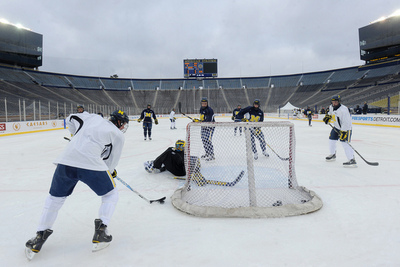 Many regents and University President Mary Sue Coleman noted how pleased they were to have found a way to bring additional revenue into the university.
While it has long been rumored that the game will involve the Detroit Red Wings and Toronto Maple Leafs, the teams were not specified in the lease agreement. Regent Denise Ilitch, whose father, Mike Ilitch, owns the Red Wings, recused herself in the vote to avoid any perceived conflict of interest.
The NHL has scheduled two press conferences for Thursday. The first, scheduled for 10:30 a.m. at Comerica Park in Detroit, will be televised live by the NHL Network. The second will be held at Michigan Stadium at 1:15 p.m.
"While I have no direct interest, it is well known that my family has interest in the Detroit Red Wings," Ilitch said.
Michigan athletic director Dave Brandon confirmed in January that he was involved in discussions with the NHL regarding the Winter Classic, but said, "there are a lot of complex circumstances that need to be ironed out, before anything moves forward."
Brandon said at that time that he had been approached by the NHL about playing host for what would be the league's sixth annual New Year's Day outdoor game.
One of those complications was liquor sales. Brandon said the university will utilize one of its 12 special one-day liquor licenses to have a temporary license for the game.
"The fact that there will be liquor served is no problem whatsoever," said regent S. Martin Taylor. "This in a non-university event. We are truly just leasing the facilities."
Brandon said the city sees roughly $14 million in spinoff revenue on a typical football Saturdays, but expects more to be generated by the event.
"This I actually would suggest would be greater," Brandon said, adding that a national event will bring more outsiders into Ann Arbor and that a noon start would likely force them to stay the night.
He, however, made it clear that ticket sales and any revenue from the event itself will go to the NHL.
"This is purely an NHL event," Brandon said. "All of my friends who are out there wanting to hit me up for tickets.... I don't have any."
The university will be responsible for providing and managing its usual football Saturday support services.
Brandon also noted that the NHL has agreed to donate an undisclosed amount to the university for student scholarships.
Reporter Kellie Woodhouse contributed to this article.
Contact Pete Cunnigham at petercunningham@annarbor.com or by phone at 734-623-2561. Follow him on Twitter @petcunningham.