Posted on
Tue, Oct 12, 2010 : 9:02 a.m.
Rocco Grimaldi adjusts his game to play key role for USA Hockey National Development Program
By Jeff Arnold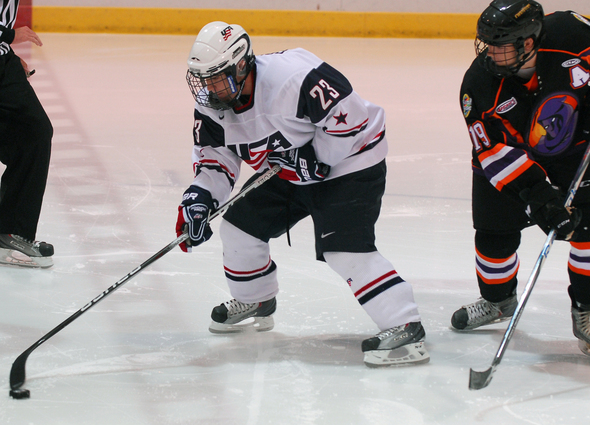 Even as a kid, Rocco Grimaldi struggled to find a hockey program that suited his needs.
He was too aggressive and too advanced to compete in Southern California house leagues against players his age. The only option was to survive in a 9- and 10-year-old league that occasionally had room for the gifted 7- or 8-year old.
Rocco was 5.
Grimaldi, now 17, has spent his career making tweaks to hold his own against bigger and faster competition. Despite having a 5-foot-6, 163-pound frame, the United States Hockey National Development Program's Under 18 team's leading scorer has a playing style that allows him to succeed.
"I think that just raised my game up another level," Grimaldi said Monday night. "You have to be quick. Obviously, you're not going to be going in the corners trying to out-muscle some 6-3, 220 (pound) guy that has 60 pounds on you.
So you have to out-smart them. You have to be really quick in the corners and use your speed and get out of there."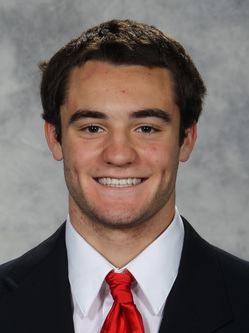 Grimaldi will lead the
USNDP U18 team
into Yost Ice Arena for an exhibition game against
third-ranked Michigan
at 7:35 p.m. today. Again, he will complete in an environment against more experienced and talented players.
Getting to this point has required years of effort.
Grimaldi spent long hours at the rink as a child. He worked one day with one coach, building speed with edge work, establishing a quick first and second step that often separate great and average skaters. An average workout consisted of myriad drills, working on starting and stopping before moving to quick turns and creating escape routes out of the corner.
On other days, he bounced from coach to coach. One tackled stick-handling. Another helped Grimaldi put better shots on goal. Before long, the kid who had always been the smallest on the ice had more of a complete skill set.
But for Grimaldi, everything hinged on speed and his ability to out-maneuver bigger and stronger players. Even when he moved to Michigan and began playing in Detroit's Little Caesars Hockey League, Grimaldi battled to prove himself.
He often was referred to as "Little Guy" as older players did their best to get into his head. At first, it worked and Gramaldi was often whistled for retaliatory penalties.
Grimaldi spent his first season with the U.S. National Team last year, playing with his own age group for the first time in his career. But after 26 games with the 17-U team when he scored seven goals and had 16 assists, Grimaldi was bumped up to the U-18 team. He flourished, registering 14 goals and 26 assists in 36 games.
"With his size, everyone always questions his ability to play at each stage," USNDP U-18 coach Ron Rolston said. "He's proven everybody dead wrong by constantly playing up against players that are bigger, faster and have more skill at that level.
"But he's a player that already had the professionalism of preparing himself and being very focused and knowing what he wants. It's hard to find somebody as so young of an age that's so focused and determined to make a living in the game."
After playing in the United States Hockey League in previous years, the USNDP U18 team's schedule includes more NCAA level competition, including today's test run against the Wolverines.
Grimaldi was honored Monday as the USHL CCM Offensive Player of the Week after sparking the USNDP to a pair of wins over the weekend. Grimaldi scored three goals and had four assists in wins over Dubuque and Muskegon. His five points and plus-4 rating were league highs for the season.
Rolston's squad has already faced perennial college hockey powers No. 18 Colorado College and No. 6 Denver and will skate this season against No. 2 North Dakota, No 8 Maine, Mercyhurst and Minnesota.
For Grimaldi, who has verbally committed to North Dakota, facing more college level helps. Rolston said by Grimaldi proving himself as a key contributor - not only as a scoring threat but also at other spots on the ice - Grimaldi's goal of reaching the NHL may not be far-fetched.
"Obviously moving on to a new level is going to mean (playing against) bigger and faster and stronger guys and you've got to accept that," Grimaldi said. "This gives me a heads up to see what you're in for and hopefully this gets me not only physically ready, but mentally ready because there's definitely a different aspect to that as well.
"But hopefully, I will be ready as fast as I can, but I'll be ready when I'm ready."
Jeff Arnold covers Michigan hockey for AnnArbor.com and can be reached at (734) 623-2554 or by e-mail at jeffarnold@annarbor.com. Follow him on Twitter @jeffreyparnold.