Posted on
Fri, Feb 17, 2012 : 11:10 p.m.
Special teams lead Michigan hockey team to 4-1 win over Northern Michigan
By Pete Cunningham
Updated 11:10 p.m.
Michigan hockey coach Red Berenson said earlier in the week that special teams could be the difference in this weekend's series against Northern Michigan.
How right he was.
The Wolverines scored on their only two power plays Friday night and successfully killed six penalties in a 4-1 win at Yost Ice Arena.
Two goals by Michigan in the last five minutes put away a game that was anything but a certainty until the very end. Derek DeBlois scored with four minutes, 30 seconds remaining and Lee Moffie scored with less than two minutes left to play.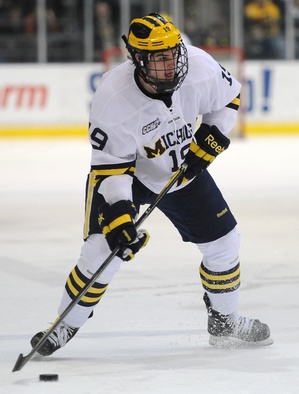 AnnArbor.com file photo
Despite being the fourth-most penalized team in the nation, Northern only took two penalties the entire night, but its penalty kill unit -- which came in seventh-best in the nation, third in the CCHA -- didn't live up to its reputation, giving up a goal to Alex Guptill in the first period and to Moffie on the third.
"We were up to the challenge," said DeBlois. "We knew they were one of the better penalty kills in the league, so we were ready to go and the coaches did a good job preparing us."
It was Michigan's penalty kill that played like one of the nation's best, keeping Northern's power play -- which is second best in the CCHA -- off the board. It was a stark difference from last weekend, when Michigan allowed Michigan State three power play goals.
"I think part of it was respect for their power play and part of it was willingness to maybe block shots and win faceoffs and do the little things," Berenson said. "Our penalty killers were embarrassed last week and tonight it was a good night for them."
Michigan (19-10-4, 13-8-4-1) got on the board first with a goal from Phil Di Giuseppe 10:01 into the first period. It was Di Giuseppe's first goal since Dec. 2, ending a 14-game drought. A.J Treais assisted on the goal with a pass from behind the net, extending his career-high point streak to six games.
"It was just a matter of time when Phillip was going to get something," Berenson said, noting that he thought Luke Glendening -- who is on a line with Treais and Di Giuseppe -- is playing the best hockey of his career. "It was the hard work of the other two that gave (Di Giuseppe) that chance."
Michigan doubled its lead later in the period with a tip-in from Guptill off of a Greg Pateryn wrist shot from the point.
Northern (14-11-6, 9-10-6-3) got on the board with a goal from Ryan Daugherty at the 11:16-mark of the second, which is how the period would end despite Michigan taking three penalties in quick succession and being outplayed and outshot, 13-9.
"With the lead, again, I think we got softer and then started taking penalties, unnecessary penalties, and literally had to kill penalties most of the second period. You can't play that way and get any momentum going," Berenson said. "You like the outcome of the game, but you don't like how you got there."
The result remained in question until a Jon Merrill pass from center ice found DeBlois on a breakaway.
"Jonny was fortunate enough to see me, gave me a great pass," DeBlois said. "I was kind of in on a break away and just tried to shoot as quick as I could and it was fortunate to sneak by."
Michigan goaltender Shawn Hunwick finished the night with 26 saves to Jared Coreau's 24 as Michigan outshot Northern 28-27.
Contact Pete Cunningham at petercunningham@annarbor.com or by phone at 734-623-2561. Follow him on Twitter @petcunningham.