Posted on
Mon, Apr 25, 2011 : 5:59 a.m.
The emotions behind Michigan gymnastics teams' 2 NCAA all-around champions
By Michael Rothstein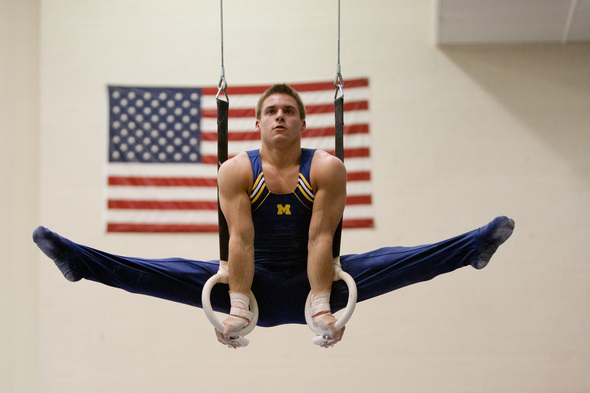 Courtesy of Michigan athletics
Sam Mikulak stood on the podium as an NCAA all-around champion, full of excitement knowing his career was just beginning.
Kylee Botterman stood on the podium as an NCAA all-around champion, full of mixed emotions knowing her career had just ended.
As University of Michigan athletes claimed both the men's and women's individual gymnastics all-around titles on April 15 in Columbus and Cleveland, respectively, the two people who won them couldn't be further apart.
Botterman gave up chasing the Olympics when she entered high school, realizing that for her, a college scholarship was more important than reaching the highest level in her sport.
She's also graduating and getting married this summer, so her life is about to change.
Mikulak always focused on the Olympics, although he figured 2016 was the more likely goal. Then he won the NCAA all-around title as a freshman, earned an automatic invitation to this summer's Visa Championships and suddenly the 2012 London Games aren't completely out of reach.
"It's definitely possible," Mikulak said. "There's tons of guys that are more than capable of performing at an Olympic level and I could potentially be one of those guys."
But for one night, these two Michigan careers intertwined hours apart from each other in Ohio, the senior ending it all and the freshman just getting started.
The freshman
Mikulak tried to ignore what was going on. Entering the NCAA Championships at Ohio State's St. John Arena, he wanted to finish in the top 3 in the all-around, which would have given him automatic qualification to the Visa Championships.
Then, before he went on the parallel bars midway through his program, he glanced at the scoreboard and saw he was in fourth place. Considering he still had his stronger events coming up, Mikulak realized he had a chance to win the whole thing.
And it affected him.
"Got pretty nervous for the P-bars coming up and the high bar," Mikulak said. "I didn't really have my best sets because of it, I think."
Then he glanced at the screen again before his final event, the floor exercise. He saw Illinois' Tyler Mizoguchi, finish his routine on the horse, so he knew how well he needed to do to win.
If he forgot, his teammate Ben Strauss, reminded him.
"(He) was like 'Sam, you're pretty close, you might be able to have this,'" Mikulak remembered. "I was like 'Don't say that to me right now!'"
It didn't matter. He relaxed as he competed on the floor, finished his routine well and looked up to his father, Stephen, in the stands. He watched him calculate the scores, then grab the piece of paper and start cheering.
As Sam celebrated, he continually watched his father — also a former gymnast — celebrate his 90.75 winning score.
"They started screaming and shouting and looked at me and said 'You did it,'" Sam said. "I was like 'Oh, my god, no way, I can't believe this.
"It took a while for me to just be like 'Wow.' I didn't realize until I was on the podium that 'Wow, I actually did it.' It was ... one of the most accomplished feelings I've ever had."
The senior
Botterman left the Wolstein Center in Cleveland on Friday afternoon with no idea whether she had won the all-around title. Women's gymnastics divides its two semifinals — the day the all-around title is decided — into afternoon and evening sessions.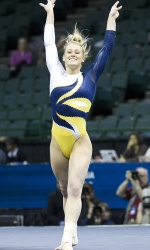 Michigan qualified for the Super Six team finals earlier in the day but the all-around title wouldn't be decided until the evening. She knew she led, but Alabama, which has strong contenders in Kayla Hoffman and Geralen Stack-Eaton, still had to compete.
"Our goal was to make Super Six, so I tell myself I need to do my best to help the team get to Super Six," Botterman said. "So I had a great meet."
Instead of watching the evening session, Botterman went to dinner with her team. Her teammates kept checking scores on their cell phones during dinner and back in Botterman's hotel room, where the team had congregated.
Before Hoffman and Stack-Eaton's scores from their final event were posted online, a teammate received a text from someone at the meet. It said 'Yay Kylee.'
"Everyone started cheering and I said 'No, no, no, I want to see that last score on the live scoring before we celebrate,'" Botterman said. "When that came in, it was cool just being with the team and to experience it with them."
Botterman said she was more excited about reaching the team finals than winning the all-around — although she told her father after last year's NCAA Championships that she was going to win it this year. She did with a score of 39.525.
She celebrated by calling her mother and her fiancé.
It didn't hit her until Saturday night, after Michigan finished sixth in the finals, when she stood at the top of the podium for the final time in her career.
"It was cool," Botterman said. "I had a couple tears in my eyes, yeah. I can't believe that four years went by that fast.
"I've been doing gymnastics since I've been 4 years old, so it was bittersweet, a bittersweet ending."
Michael Rothstein covers sports for AnnArbor.com. He can be reached at (734) 623-2558, by e-mail at michaelrothstein@annarbor.com or follow along on Twitter @mikerothstein.