Posted on
Thu, Apr 19, 2012 : 5:59 a.m.
4 questions surrounding the Michigan basketball team as it enters the offseason
By Nick Baumgardner
Melanie Maxwell | AnnArbor.com
Last summer wasn't exactly easy for the
Michigan basketball
team.
With the ongoing construction at the Crisler Center and the William Davidson Player Development Center (which is now fully functional), John Beilein's bunch became nomadic when it came to offseason workouts.
They dressed in one spot, lifted in another and played pick-up in a third.
This summer, Michigan won't have that excuse, but it'll have just as much — if not more — work to do.
The entire 2012-13 roster won't be on campus together until June. And when everything falls into place, it'll face a few questions.
Here are four to watch leading into a crucial offseason:

Go big or go small?
It's simple, really.
Beilein's offense rarely has ever featured two hulking post players to go along with a wing and two guards.
But next season, that all could change.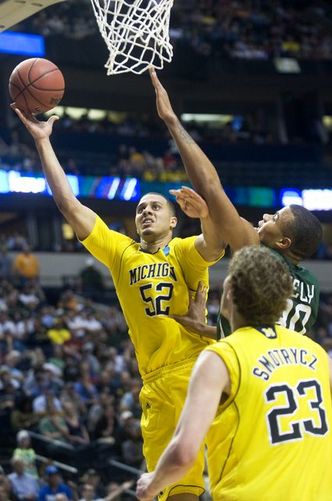 Melanie Maxwell | AnnArbor.com
A year ago, Michigan started the year with
Evan Smotrycz
and
Jordan Morgan
as its four and five man, respectively.
Morgan is a traditional post player, but Smotrycz is anything but. In fact, the former Michigan forward seemed much more comfortable on the perimeter, stretching the defense with a 3-point shot.
That entire set was eventually scrapped, though, midway through the year when Beilein inserted Stu Douglass into his starting five in place of Smotrycz — keeping Michigan's main lineup small for the rest of the season.
Next year, the addition of Mitch McGary, the improved health of Jon Horford and the possible contribution of redshirt freshman Max Bielfeldt poses an intriguing possibility.
Michigan could be a two-post team, and in theory, could be a good one. But at the same time, with the likes of Trey Burke, Tim Hardaway Jr., Glenn Robinson III and Nik Stauskas, the Wolverines also could be a very good perimeter-based team.
And, if Michigan does opt to go "small," it'd be in name only. Robinson and Hardaway are approaching 6 feet, 7 inches, and Stauskas is 6-6.
The Wolverines could find success either way, and likely will use a combination of both strategies throughout the season.
But it'll definitely be something to track.

Chemically speaking?
Michigan brings in a bunch of fresh talent, but it also loses five familiar faces.
Throughout the 2011-12 season, one constant remained inside the Wolverines' locker room: They were a close basketball team.
Burke gave credit to Zack Novak and Stu Douglass for mentoring him, making him feel comfortable and bringing the team closer together in the process. Without that comfort level, who knows how last season might have gone?
Hardaway said as much midway through the season when his game began to unravel. He said his teammates and the overall chemistry inside the locker room helped him fight through the slump, and he became a productive player again.
But it's not just the locker room chemistry that will have to blossom. It's the on-court flow.
Michigan definitely will have two new starters next season, and maybe three.
How does Burke find a way to get shots for Hardaway, for Robinson, for Stauskas and for himself?
How do Morgan and McGary work together on the block, and how do all five players on the floor mesh together defensively?
In the end, the Wolverines had a great deal of roster turnover.
Players will have to quickly adapt to one another on, and off, the court. Last season, Michigan basically played with the same deck of cards — with Burke swapped in for Darius Morris.
In 2012-13, things will be markedly different.

Pressure building?
Final Four contender?
Big Ten Championship hopeful?
A top-five program?
On paper, that all sounds extraordinary for the program.
But on paper, it really means nothing. Michigan now has to go walk the walk, something we all know is easier said than done.
The Wolverines have made a habit of surprising people during the past two seasons. First, Michigan made an improbable NCAA Tournament run late in the 2010-11 campaign and almost advanced to the Sweet 16.
Then, last season, Michigan turned aside naysayers who thought the program would dip after Morris left early for the NBA by ending its 26-year Big Ten title drought.
In 2012-13, everyone expects Michigan to be good. Everyone expects the Wolverines to succeed. And everyone will slam the program if it doesn't.
How does the team handle those expectations this offseason?
Do heads grow? Do they read preseason predictions, star rankings and bold postseason projections?
Or, do they just get to work?
There's one easy way to ensure the latter happens, which brings me to our next question ...

Who leads?
Easily the biggest question facing this program is who takes the torch from Novak and Douglass?
Immediately after the season ended, Burke and Hardaway both said they looked forward to the challenge and hoped to work on their leadership skills during the summer.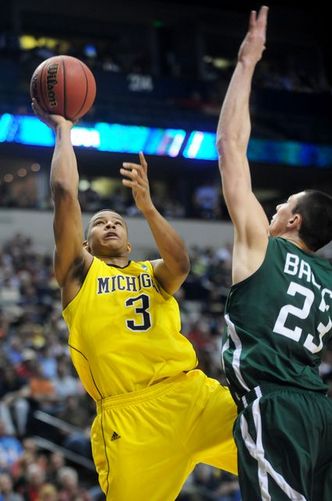 Melanie Maxwell | AnnArbor.com
That, of course, was before Burke dipped his toe into NBA Draft speculation.
He's back now, and last week, he admitted it took him a few days to fully grab hold of the idea that he'd be playing basketball at Michigan next season and not professionally.
His admission of everything being "back to normal" might ease some concerns over whether or not he'll be fully on board mentally next season, and not standing with one eye on college and the other on the NBA.
Hardaway, meanwhile, showed maturity strides after the season ended — both with his words and his actions.
The 6-6 junior-to-be was present at Burke's decision news conference, and said he completely supported his teammate — no matter what choice he made. One day later, when Burke was announced as the team's 2011-12 MVP, Hardaway was the first player to his feet for a round of applause.
Hardaway wasn't alone last week, though, as Morgan, Horford, Matt Vogrich and Josh Bartelstein were all on hand to support their floor leader.
The easy answer to Michigan's leadership question? A herd-like captaincy. As a group, the club polices each other, motivates each other and forges forward together.
But reality tells us that almost never happens.
The best teams have one, maybe two, unquestioned peer voices in the locker room.
At Michigan last season, it was Novak and Douglass. At Michigan State a year ago, it was Draymond Green. Three examples of players who had the unquestioned respect and admiration of their entire roster.
Michigan has to find that player, or players, this summer.
Someone outside the coaching offices has to drive the boat. Otherwise, it could veer off course before the journey even begins.
Nick Baumgardner covers Michigan basketball for AnnArbor.com. He can be reached at 734-623-2514, by email at nickbaumgardner@annarbor.com and followed on Twitter @nickbaumgardner.
Want to stay connected to Wolverine basketball in your Facebook newsfeed? "Like" AnnArbor.com's Michigan Basketball News & Views.