Posted on
Sun, Feb 12, 2012 : 5:59 a.m.
4 things to watch for when No. 22 Michigan basketball team hosts Illinois
By Nick Baumgardner
The Michigan basketball team hasn't lost a home game in 355 days.
But, the last time Illinois visited Ann Arbor (Feb. 23, 2010), the Illini walked out with a seven-point victory.
The 22nd-ranked Wolverines will look to improve to 14-0 at home this season while also avenging that 2010 loss Sunday when Illinois visits the Crisler Center (1 p.m., CBS).
Here are four things to watch:
AnnArbor.com file photo
Picking up where he left off?
Tim Hardaway Jr. began the Nebraska game the way he ended the Michigan State loss.
By missing shots and hanging his head in the process.
But, after an 0-for-7 first half against the Cornhuskers on Wednesday, Hardaway found a way to contribute with six points and three assists after the break -- and seemed in much better spirits afterward.
Insistent that he's not going to dwell on the increasingly high number of bricks he's been laying (he's now shooting 40.7 percent for the season), Hardaway said after the game he planned on doing whatever he could to ensure Michigan's three seniors finish their careers in style.
Drawing charges and handing out assists are great, but Hardaway's the team's most potent scorer.
So, if he wants to help, he needs to put the ball in the basket.
His attitude seemed better during the second half in Lincoln, as did his decision making. Which Hardaway will the Wolverines see Sunday against Illinois?
The one that's smiling, or the one stuck sulking?
John Beilein and company are certainly pulling for the former.

Douglass on Paul

Michigan's ability to defend 7-foot-1 center Meyers Leonard is no doubt important, but how the Wolverines deal with Illini shooting guard Brandon Paul is just as crucial.
Paul is extremely capable and highly streaky, just ask Ohio State, who still can't figure out how he dropped 43 points in a win over the Buckeyes in January.
Michigan generally shows plenty of different defensive looks, but when the Wolverines are in man-to-man, senior guard Stu Douglass will likely draw the matchup with Paul.
Douglass is Michigan's best perimeter defender, and he's going to have to act like it Sunday.
Should the Wolverines choose to double down on Leonard at any point, Douglass will have to be extra careful to not let Paul slip free, as the 6-foot-4 two-guard averages 15 points per game and is comfortable shooting from just about anywhere on the floor.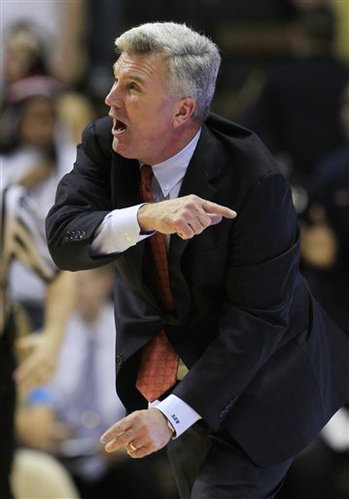 AP Photo
Kick 'em while they're down
There are slumps, and then there's the thing Illinois is currently stuck in.
The heat under Bruce Weber's chair was warm to begin with this season, but it's been cranked up a few notches lately as the Illini have lost five of their last six games.
On the road during that stretch, Illinois is 0-3 with a loss at lowly Penn State, an overtime defeat at Minnesota and a 13-point setback at Indiana.
Illinois' only win during its recent slide was an abysmal 42-41 victory over Michigan State, and the Spartans were without Draymond Green down the stretch due to a knee injury.
Much like the Nebraska game Wednesday, Michigan is playing a team with little to no confidence. Unlike the Cornhuskers, though, Illinois possesses enough ability to earn some of that confidence back rather quickly.
So, if you're Michigan, start fast, deflate Illinois' energy and find out whether or not this downtrodden club has enough fight left in it to hang on the road for 40 minutes.

A winning streak ... It has happened before

Technically, if you believe fictional Cleveland Indians manager Lou Brown, a winning streak comes after three straight victories.
For Michigan, two in a row would be good enough.
The Wolverines haven't won two straight games since back-to-back wins against Wisconsin and Northwestern -- which took place more than a month ago.
Michigan hasn't suffered a losing streak all season, but it hasn't put together two quality performances in quite some time. A fact Douglass deemed as mildly frustrating last week.
Including the Illinois game, the Wolverines have six regular season games left, meaning there aren't an incredible number of chances for Michigan to get some consistent momentum rolling before the postseason.
So, it's not three in a row, but two is certainly better than nothing.
Nick Baumgardner covers Michigan basketball for AnnArbor.com. He can be reached at 734-623-2514, by email at nickbaumgardner@annarbor.com and followed on Twitter @nickbaumgardner.
Want to stay connected to Wolverine basketball in your Facebook newsfeed? "Like" AnnArbor.com's Michigan Basketball News & Views.