Posted on
Tue, Jan 24, 2012 : 5:58 a.m.
4 things to watch: No. 20 Michigan basketball team at Purdue
By Nick Baumgardner
The Michigan basketball team has spent the past five days as a first-place Big Ten team.
And, with a win tonight, the Wolverines will be off to their best league start since the 2005-06 campaign.
But in order for the former to continue and the latter to be achieved, No. 20 Michigan needs to overcome a pair of bugaboos.
The road, and Purdue's Mackey Arena.
The Wolverines (15-5, 5-2 Big Ten) will look for their first road win of the season and its first win in West Lafayette, Ind., in nine years when it visits Purdue (7 p.m., ESPN).
Here's four things to watch for tonight's game: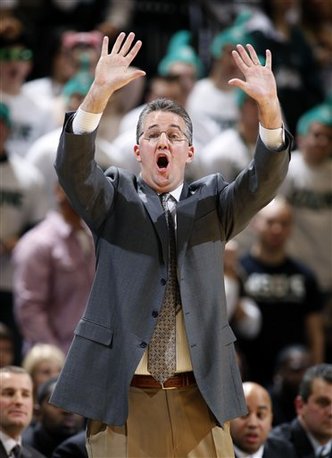 AP Photo
Again, really?
Including Purdue, Michigan's previous four opponents have one thing in common: They all entered a matchup with the Wolverines on the heels of a painful defeat.
Prior to playing at Iowa, the Hawkeyes had suffered two straight shellackings by a combined 63 points. Iowa responded by blasting Michigan by 16.
Last Tuesday, Michigan State entered Crisler Center just three days after having its 15-game winning streak snapped at Northwestern. The Spartans nearly stole one in Ann Arbor, but a clutch play by Trey Burke and solid team defense earned Michigan a one-point win.
Finally, at Arkansas on Saturday, Michigan had the pleasure of playing an angry Razorback team fresh off a 23-point loss at Kentucky. The Hogs were fired up, and hit their first 11 shots before fending off the Wolverines late.
Purdue is no different. The Boilermakers were embarrassed by 25 points in East Lansing on Saturday.
So, not only will Michigan be looking for its first road win Tuesday, but it'll have to do it against against another team extra motivated to wash away the taste of its last outing.
Making matters worse? Purdue is 5-0 this season after a loss.

Make them earn it

It's generally wise to avoid giving up easy baskets, but against a team like Purdue, it's a necessity.
The Boilermakers are shooting 62.9 percent as a team from the foul line, last in the Big Ten by nearly five percentage points.
Prior to its Michigan State loss on Saturday, the Boilermakers shot a combined 59.3 percent from the stripe in defeats against Alabama, Xavier, Butler, Penn State and Wisconsin.
Purdue has two rotation players -- Terone Johnson and Jacob Lawson -- who shoot worse than 40 percent from the foul line, and two others -- Travis Carroll and Anthony Johnson -- who shoot 50 percent.
So, if it's close, put the Boilermakers on the line and make them earn it.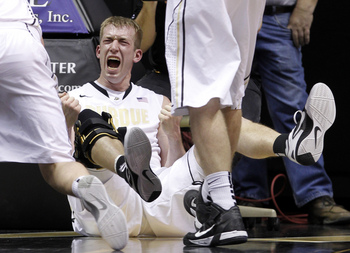 AP Photo
Fluster Hummel, win the game
Purdue senior forward Robbie Hummel has been one of the Big Ten's feel-good stories this season, coming back to finish his storied career following a pair of devastating knee injuries.
But this Boilermaker team isn't the same one he last played for in 2009-10.
E'Twaun Moore and JaJuan Johnson don't play in West Lafayette any longer, and now, Hummel truly is a lone gunman.
The 6-foot-8 senior leads Purdue in points, rebounds, minutes played and blocked shots. When he plays well, the Boilermakers have a shot.
When he doesn't? It's bad news.
In losses this season, Hummel is 28-of-92 from the floor (30.4 percent). On Saturday at Michigan State, the senior hit rock bottom, going 0-for-11 from the field with just two points.
Hummel still has the ability to be an electric player, but he doesn't have nearly as much help around him these days.
So, no more than ever against Purdue, it's imperative to make someone other than Robbie Hummel beat you.

Shut me up

I've gotten a good number of emails and messages on Twitter from folks who aren't too happy with the fact that I continue to bring up Michigan's winless road record this season.
I've been told I should be counting wins on Maui against Memphis and UCLA as 'road' victories, and it's been argued that Michigan's win over Oakland at The Palace of Auburn Hills should count as well.
Those games weren't played in Ann Arbor, true. But they weren't road games played on an opponent's home court.
As of today, there's one team currently ranked inside The Associated Press' Top 25 poll without a road victory.
I'll give you one guess who it is. (Hint: they wear maize and blue, and go by the Wolverines).
It's not like Michigan's road losses are awful. The four teams who have beaten the Wolverines away from home (Virginia, Indiana, Iowa and Arkansas) are a combined 43-5 on their home floor.
But reality is, Michigan remains winless on the road at 0-4.
Championship teams win games on the road, plain and simple. And though Michigan has run into some tough environments and been the victim of a tough break or two -- it still hasn't gotten any roadkill.
And until it does, this will remain a storyline.
Nick Baumgardner covers Michigan basketball for AnnArbor.com. He can be reached at 734-623-2514, by email at nickbaumgardner@annarbor.com and followed on Twitter @nickbaumgardner.
Want to stay connected to Wolverine basketball in your Facebook newsfeed? "Like" AnnArbor.com's Michigan Basketball News & Views.