Posted on
Wed, Feb 8, 2012 : 5:59 a.m.
4 things to watch when No. 22 Michigan basketball team plays at Nebraska
By Nick Baumgardner
The last time the Michigan basketball team played a game at Nebraska, it didn't go so well.
The date was Dec. 12, 1964, and Cazzie Russell led a No. 1-ranked Wolverines club into Lincoln to face an unranked Cornhuskers squad.
The result? A 74-73 Michigan loss.
Michigan will get a chance to avenge that defeat Wednesday (8:30 p.m., BTN), when the 22nd-ranked Wolverines visit Nebraska for just the third time in school history, and the first meeting between the two teams as members of the Big Ten.
Here are four things to watch: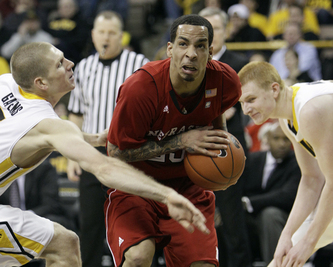 AP Photo
Who's going to break out?
Michigan fans are fully aware of Tim Hardaway Jr.'s shooting struggles this season. In Big Ten play, Hardaway -- Michigan's leading scorer -- is shooting just 36.7 percent from the floor and 21.2 percent from 3-point range.
Bo Spencer -- Nebraska's top scorer -- is shooting just 39 percent this season, and 30 percent from 3-point range.
Michigan coach John Beilein compared the players to each other earlier this week, saying Hardaway and Spencer were "high-volume shooters" that have full confidence from their respective coaching staffs, despite recent struggles.
The Wolverines can beat Nebraska if Hardaway has another rough night. The Cornhuskers might not be able to say the same thing if Spencer struggles.
Although, if you're Michigan, you'd rather score the double -- get the win and have your top scorer remember who he is.

No excuses on the glass

Michigan is currently 10th in the Big Ten in rebounding, pulling down 31.7 per game. Nebraska is worse, averaging 31.5 rebounds per game.
Nebraska's statistic is slightly skewed because the Cornhuskers attempt fewer field goals (50.2) per game than anyone else in the Big Ten.
Nebraska does have size, with three active roster members standing 6-foot-11 or taller. But the bottom line is the Huskers just aren't an intimidating force on the glass.
Michigan, meanwhile, should be hungrier than ever to prove its mettle in the paint after being blasted inside by Michigan State and Ohio State in consecutive weeks.
If ever there were an opportunity for an Evan Smotrycz wake-up call, this looks like it might be it.

Crank it up

Nebraska is near the bottom of the Big Ten in possessions per game (63.4), points per game (62.2) and points per possession (.98). However, the Cornhuskers lead the Big Ten with 14 turnovers per game and possess a turnover percentage of 22.
That's not good.
Nebraska doesn't like to force the issue, meaning possessions Wednesday will be at a premium. So, if Michigan can get aggressive defensively and force the Cornhuskers into their average number of turnovers per game, they could win this thing in a runaway.
Michigan did a nice job of forcing 15 turnovers against Michigan State. But it didn't matter, as the Wolverines were outscored 16-13 in points off turnovers.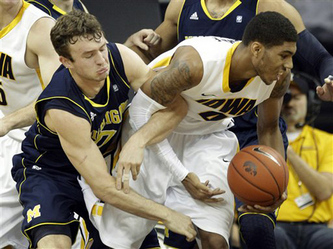 AP Photo
A can't lose game
It might be odd to call this a 'must-win' game for Michigan, considering Nebraska is currently battling to stay out of the Big Ten's basement.
So, rather than give this game the dreaded 'must win' distinction, we'll just call this a 'can't lose' game.
Michigan's struggles on the road have been well-noted. The Wolverines are now 1-6 in true road games this season. However, losses at Virginia, Indiana, Arkansas, Ohio State and Michigan State aren't exactly bad losses.
To date, Michigan only has one bad loss in terms of RPI -- a 75-59 setback at Iowa last month.
Nebraska was rated No. 109 in CollegeRPI's daily rankings as of Tuesday, while Michigan sat at No. 15.
The Wolverines still have slight life in the Big Ten race this season, but it's fading by the day. However, Michigan is still in good position to grab a decent NCAA Tournament seed if it takes care of business.
CollegeRPI slotted Michigan as a No. 5 seed Tuesday, which is more than respectable. A loss on the road at Nebraska would seriously harm Michigan's NCAA Tournament resume.
So it's not a must win, but it's definitely a can't lose.
Nick Baumgardner covers Michigan basketball for AnnArbor.com. He can be reached at 734-623-2514, by email at nickbaumgardner@annarbor.com and followed on Twitter @nickbaumgardner.
Want to stay connected to Wolverine basketball in your Facebook newsfeed? "Like" AnnArbor.com's Michigan Basketball News & Views.