Posted on
Tue, Jan 17, 2012 : 5:59 a.m.
4 things to watch for in the No. 9 MSU at No. 20 Michigan basketball game
By Nick Baumgardner
For the first time in 14 years, a Michigan State vs. Michigan basketball game features a pair of ranked opponents.
Ladies and gentleman, we may have a rivalry again.
The Wolverines swept the season series with the Spartans a year ago for the first time since 1998, and tonight at the Crisler Center (7 p.m., ESPN) they will look to make it three in a row for the first time since Michigan held a five-game win streak from 1996-98.
The Spartans are out for revenge, the Wolverines are trying to prove they're for real.
It's Michigan and Michigan State.
Are you ready to go?
Here are four things to watch: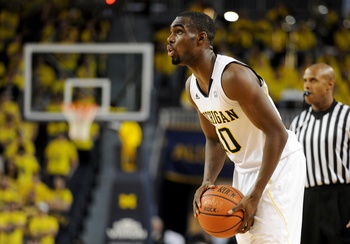 Angela J. Cesere | AnnArbor.com
Hardaway and Burke have to hit the lane
If Tim Hardaway Jr. and Trey Burke are forced into becoming 3-point shooters tonight, Michigan can't win.
If they're both drive-first players, though, the Wolverines' chances of winning increase exponentially.
Burke has been at his best all season when he's been able to wiggle into the lane off a ball screen, leaving him the option to stick a mid-range jumper, head to the hoop for a layup or find an option shooter on the wing.
If that's working, it's nearly indefensible.
For Hardaway? It's the same old story. If he allows himself to settle for outside shots exclusively, he takes himself out of the game.
But when he puts the ball on the floor and heads to the hoop with a purpose, he's one of the tougher players to defend in the Big Ten.
Finding your way into the lane increases the chances of Michigan State's interior players picking up early fouls, and it also helps struggling shooters like Evan Smotrycz , who's 3-point attempts haven't been nearly as open as they were earlier in the season.
Drive first, shoot second.

Get back, quickly

Michigan coach John Beilein harped on the importance of transition defense in this game quite a bit Monday, and for good reason.
If Michigan State has the chance to execute a secondary break off a Michigan miss, it's going to do so.
At Indiana earlier this season, part of the reason Michigan fell into such an early hole was its inability to get back in time to cover the Hoosiers on the break -- allowing plenty of easy buckets inside, and plenty of open 3-pointers on the perimeter.
Keith Appling is an extremely athletic lead guard who will push whenever he can, and Draymond Green has the ability to run the floor to the rim or trail behind for an open long ball. Also, both Brandon Wood and Travis Trice shoot better than 37 percent from the outside.
If Michigan misses a shot and isn't full-speed to the other end, it may as well be a turnover.
And, against this team, it will almost always result in two points.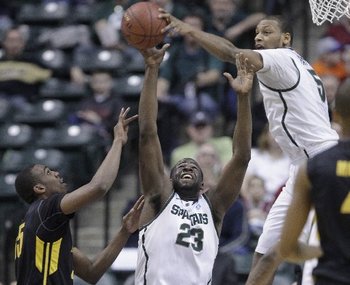 AP Photo
Avoid the tip drill
Let's get one thing straight: Michigan doesn't have to out-rebound Michigan State in order to win tonight.
However, if the Wolverines get lambasted on the glass, they'll surely be in trouble.
Michigan State is, once again, one of the best rebounding teams in America. The Spartans lead the Big Ten in total rebounding (40.7 per game) and rebounding margin (10.1). Which means, they almost always -- win or lose -- win the battle on the boards.
In Michigan's 70-63 home win over Michigan State a year ago, the Spartans out-boarded the Wolverines 46-30. A pretty staggering margin.
However, on the scoreboard, it didn't hurt. Michigan actually topped MSU 26-20 in points in the paint.
If Green, Adreian Payne and Derrick Nix are allowed to stand under the offensive glass and put on a volleyball-like bump, set, dunk exhibition, then the Wolverines are in trouble.
But, if Jordan Morgan, Evan Smotrycz, Blake McLimans, Tim Hardaway Jr., Zack Novak (and whoever else Michigan throws at the glass) can challenge interior looks and make things difficult, the Wolverines could curb the Spartans' inside advantage.

Embrace the stage

This game's a sellout.
It's on national television.
It's against your biggest rival.
And you're at home.
If you're a college basketball player at the University of Michigan, this has to be why you chose to play here. And if it's not, well, I'd certainly like to know what is.
When the Wolverines beat Michigan State on the road last season, they hung tough for 10 minutes before making a run and eventually fending the Spartans off.
But when they won at home, they did what home teams are supposed to do -- jumping out to a 10-1 start and making MSU play catchup the rest of the way.
Is Michigan basketball "back?" That's too difficult a question to answer presently.
But, for right now anyway, the Michigan-Michigan State basketball rivalry does in fact appear to be back.
The Wolverines have earned that much, and tonight, they get a chance to crank things up even more.
Nick Baumgardner covers Michigan basketball for AnnArbor.com. He can be reached at 734-623-2514, by email at nickbaumgardner@annarbor.com and followed on Twitter @nickbaumgardner.
Want to stay connected to Wolverine basketball in your Facebook newsfeed? "Like" AnnArbor.com's Michigan Basketball News & Views.