Posted on
Tue, Jan 31, 2012 : 1:19 p.m.
4 things to watch when No. 20 Indiana plays at No. 23 Michigan
By Nick Baumgardner
Was Frank Sinatra right?
Is everything really better a second time around?
The 23rd-ranked Michigan basketball team will get its first crack at a second chance Wednesday when No. 20 Indiana visits Crisler Center (6:30 p.m., BTN).
Earlier this season in Bloomington, Ind., the Wolverines dug themselves an early hole and never fully recovered, falling by a bucket.
On Wednesday, Michigan (16-6, 6-3) will look to avoid its first true losing streak of the season before heading to East Lansing on Sunday for a rematch with Michigan State.
Here are four things to watch:
1. Steal from the Michigan State tape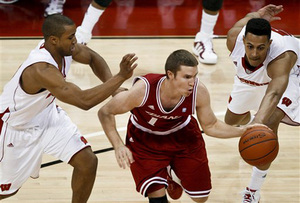 Associated Press
Against
Michigan State
in Ann Arbor earlier this season, the Wolverines seemed content to concede offensive rebound attempts in order to get back quicker defensively.
The plan worked, as Michigan State's rebounding numbers dwarfed Michigan's, but the Spartans' transition game was relatively ineffective.
The main lingering issue Michigan had at Indiana earlier this year was transition defense. Jordan Hulls and Verdell Jones pushed the ball quickly after a Michigan miss, especially early.
As a result, Indiana had wide-open triples all night (and shot 7-for-11) and finished the game shooting better than 55 percent.
The Hoosiers have struggled on the road this season (1-4 in Big Ten play), but they can still score on anyone. Indiana is the Big Ten's best offense (79.5 points per game), and giving the Hoosiers easy buckets is borderline suicidal.
If a shot goes short or long, forget the rebound, just get back.
2. Get Morgan some early confidence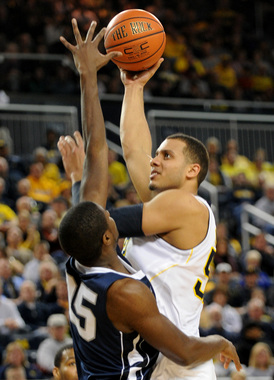 Angela J. Cesere | AnnArbor.com
Earlier this season at Indiana,
Cody Zeller
dropped in 18 points on 8-of-10 shooting. Judging by those numbers, one might think
Jordan Morgan
had a rough night.
On the contrary, though. Morgan posted 12 points and nine rebounds in 34 minutes against IU, and he made Zeller work for everything. It just so happens, Indiana's 6-foot-11 freshman is really good.
Sunday against Ohio State, Morgan was basically the only player on Michigan's roster who may have left Columbus feeling like he had a decent outing.
Morgan was the only Wolverine defender that seemed to be able to hang with Sullinger (who finished with just 13 points). Despite four fouls, the Michigan sophomore had an admirable eight points and five rebounds in the loss.
Bottom line here, Morgan has shown signs of improvement at both ends of the floor lately. He's running lanes and finishing at the rim offensively, and he's not backing down to tough challenges at the other end.
Get Morgan some early touches against Indiana, get some easy dunk-shots at the rim and maybe even get Zeller into foul trouble in the process.
Morgan's still very much an energy player, and when his energy level is high, Michigan can be tough to stop.
3. Remind Watford he's on the road

Associated Press
Christian Watford
could've been wearing a blindfold against Michigan earlier this season, he still would've hit everything.
During the Wolverines' loss at Indiana earlier this season, Watford, a 6-foot-9 junior forward, scorched Michigan for 25 points on 8-of-11 shooting. Feeding off the home crowd, he hit 3-pointers, fade-aways, mid-range shots and layups.
Pretty much everything.
Since then, though, it hasn't been as easy. Watford has averaged just 10.4 points per game — shooting just 33.8 percent in the process.
Watford's hot start in Bloomington seemed to center around the home-crowd energy. The same could be said for the rest of the Hoosiers, who bolted to an early double-digit lead, forcing Michigan to play catchup.
Well, the home crowd shifts Wednesday.
Michigan would be wise to take advantage of that.
4. A Novak bounce back?

Zack Novak was held scoreless for the first time all season Sunday at Ohio State. On Wednesday, he very well could be getting his final crack at Indiana, something every native Hoosier who doesn't play for IU takes quite seriously.
Couple those factors with Novak's bout with foul trouble the first time against Indiana this season, and you've got a situation where Michigan's captain might be out to prove something Wednesday.
Novak has played his entire career with a chip on his shoulder, and he rarely needs extra motivation. Well, he may have just that Wednesday.
Michigan has yet to suffer an actual losing skid this season, and Novak's will has had a lot to do with that.
Consider his effort in game's after a Michigan loss this season.
Against UCLA, Novak had a game-high 22 points. Against Iowa State, he had eight points and 11 rebounds. Against Wisconsin, he dropped in 12 points and had a game-sealing hustle play at mid-court. Against Michigan State, he held the much larger Draymond Green to just seven points. Against Purdue, he grabbed eight rebounds and helped keep Robbie Hummel in check for most of the night.
Michigan's coming off a loss again, and Novak will likely be playing angry.
Nick Baumgardner covers Michigan basketball for AnnArbor.com. He can be reached at 734-623-2514, by email at nickbaumgardner@annarbor.com and followed on Twitter @nickbaumgardner.
Want to stay connected to Wolverine basketball in your Facebook newsfeed? "Like" AnnArbor.com's Michigan Basketball News & Views.