Posted on
Sun, Jan 15, 2012 : 2:16 p.m.
After corralling Minnesota freshman, Michigan women's basketball rallies for Big Ten win
By AnnArbor.com Staff
First the Michigan women's basketball team needed to figure out how to stop Minnesota freshman Rachel Banham.
Then the Wolverines put together a big second-half run to pull away for a 61-57 Big Ten win Sunday at the Crisler Center.
Banham, the reigning Big Ten Player of the Week, scored a game-high 28 points, but was shut out over the game's final 14 minutes. Not coincidentally, that's when Michigan (14-4, 3-2) rallied to avoid its first back-to-back losses of the season and remain unbeaten on its home court.
Minnesota's first shot of second half -- a 3-pointer by Banham -- gave the Golden Gophers (10-9, 2-3) their first lead, 33-31, since the seven-minute mark of the first half.
Another Banham 3-pointer put Minnesota up by 10 points, 45-35, with 14:11 left to play.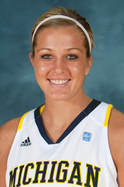 At that point, Banham went silent -- she wouldn't score again until just 5 seconds remained in the game -- and the Wolverines took control.
"(Banham) was killing us coming off screens and we got mixed up. Offensively, they give you a scheme that is extremely difficult to guard," Michigan coach Kevin Borseth said in a post-game press conference. "We had trouble with it and every time we got caught in the wrong spot, she would wind up hitting a three. After the timeout, we went into a zone and kept a better eye on her, and I think that was the difference defensively for us."
The Golden Gophers made 30 percent (9-of-30) of its second-half shots after connecting on half (12-of-24) of their first-half attempts. Michigan also forced 22 turnovers, which led to 24 points.
Junior forward Rachel Sheffer scored nine of her team-high 20 points during an 18-2 Michigan run that put the Wolverines ahead 53-47 with 9:25 remaining.
Michigan led the rest of the way, although the Golden Gophers' Katie Loburg had a chance to tie the game with 26 seconds left. She missed a short jump shot in the paint and Carmen Reynolds and Sheffer iced the win from the free-throw line.
Junior guard Kate Thompson, a Minnesota native, came off the bench to score 13 points for Michigan, which bounced back from a 78-63 loss at Penn State on Thursday. Junior guard Jenny Ryan turned in an all-around game that included eight points, six rebounds, six steals and five assists.
Banham, who made six of her first seven 3-point shots, finished 6-of-10 from the arc and pulled down five rebounds for Minnesota. Over her last four games, Banham is averaging 21.5 points, 8.5 rebounds and has made 14-of-20 shots from 3-point range.
Michigan, now 7-0 at home, plays at Northwestern on Thursday. The Wolverines are 7-4 away from the Crisler Center, which includes a 3-0 record in neutral site games.