Posted on
Fri, Feb 3, 2012 : 5:59 a.m.
As John Beilein works to restore an MSU rivalry, a look at how previous Michigan basketball coaches fared
By Nick Baumgardner
Michigan and Michigan State have been playing basketball since 1909.
The first meeting?
Michigan Agricultural (MSU) toppled Michigan, 24-16, in East Lansing on Jan. 9, 1909.
Since that time, the rivalry has had plenty of ups and downs, with both sides taking control periodically.
Should the 23rd-ranked Wolverines score a victory in East Lansing on Sunday against No. 9 Michigan State (1 p.m., CBS), it'll be Michigan's first four-game winning streak in the series since 1998.
Additionally, it'll get Michigan coach John Beilein to 4-4 all-time against Tom Izzo and the Spartans.
Here's a historical look at how a few other Wolverine coaches have fared against the Spartans.
Tommy Amaker (2001-2007)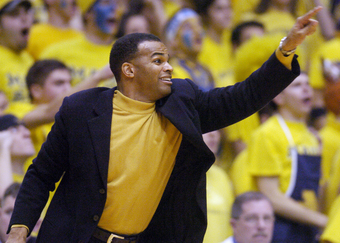 File photo
Career vs. Michigan State: 3-9
Best win
Michigan 72, No. 11 Michigan State 67
Jan. 25, 2006, Ann Arbor

One could make an argument for Amaker's two-point victory against Michigan State in 2003 as a bigger victory, as that win snapped an eight-game losing streak to the in-state Spartans.
But, Amaker's conquest over MSU in 2006 was the only time he was able to dump Tom Izzo when he had a ranked club.
Daniel Horton dropped in a game-high 23 points and Chris Hunter added 13 as the Wolverines held off Maurice Ager, Paul Davis and Shannon Brown by five points at Crisler Arena.
Amaker's momentum wasn't sustained, though, as MSU won the second meeting that season by 19 points. Michigan, meanwhile, dropped seven of its final nine games to close the regular season, once again missing the NCAA Tournament.
Worst loss
Michigan State 64, Michigan 49 Feb. 12, 2005, Ann Arbor

Amaker's first loss to Michigan State was his worst, a 27-point defeat. But, we can't totally hold that against him, as it was his first go-around.
This one, though, was a 15-point drubbing at home. Which is never acceptable.
After giving the Spartans a fight in East Lansing earlier in the season, the Wolverines collapsed in the return match. MSU shot better than 50 percent from the floor, and outside of Dion Harris' 22 points, Michigan got next to nothing from its entire roster.
It was another chapter in the dreadful close to the 2004-05 campaign, a season Michigan began with a 12-5 mark, and ended with losses in 13 of its final 14 games.
Notable

Despite going 3-9 against MSU, Amaker won his final game against the Spartans as Michigan knocked off an unranked Spartan squad by 11 points in Ann Arbor in 2007.
It wasn't enough to save his job, though, as the Wolverines' lack of quality victories kept them out of the NCAA Tournament once again. A 22-13 squad lost in the second round of the NIT, and Amaker was fired shortly thereafter.
Michigan vs. Michigan State
Series record
Michigan leads 94-74

In Ann Arbor
Michigan leads, 58-28

In East Lansing
MSU leads, 46-36

Biggest Michigan victory
Michigan 69, MSU 28 on Dec. 18, 1947

Biggest MSU victory
MSU 114, Michigan 63, March 4, 2000

Longest Michigan winning streak
12, from 1921-26

Longest Michigan losing streak
8, from 1998-2002
Brian Ellerbe (1997-2001)
Career vs. Michigan State: 1-7

Best win
No. 17 Michigan 79, Michigan State 69 Jan. 10, 1998, Ann Arbor

This was an easy selection, as it was Ellerbe's only career victory in the series.
Maceo Baston and Robert Traylor combined for 43 points and 19 rebounds as Michigan cruised to its fifth straight win in the series, and ninth in the previous 11 meetings.
The 97-98 squad went on to win the inaugural Big Ten Championship, but the banner didn't last long, as every game from that season (including the MSU win) was vacated due to NCAA sanctions.
Worst loss
No. 7 Michigan State 114, Michigan 63 March 4, 2000, East Lansing

This is one most Spartans fans will fondly recall forever, while most Wolverine backers try to erase the memory altogether.
Mateen Cleaves handed out a whopping 20 assists and gave one final kiss to the Breslin Center court as the Spartans throttled Michigan by 51 points, easily the most lopsided game in the series' history.
MSU went on to win the 2000 National Championship, while Michigan finished the season 15-14.
If ever there were a game that symbolized the rivalry's turn, this was it.
Notable

If you're going to do something wrong, you may as well do it all the way wrong.
Ellerbe's losses to Michigan State weren't exactly close, as his average margin of defeat was 21.9 points.
Steve Fisher (1989-97)
Career vs. Michigan State: 10-6

Best win
No. 15 Michigan 89, No. 13 Michigan State 78 (OT) Jan. 29, 1992, East Lansing

The Fab Five's first victory over Michigan State, and Fisher's first career win at Breslin Center.
Jalen Rose went for 24 points, seven assists and five rebounds and Chris Webber racked up 21 points as the Wolverines snapped a three-game skid against MSU against a higher-ranked Spartan squad.
The Fab Five turned around and dropped the return game against MSU at Crisler, but no one remembers that.
All anyone remembers from 1992 was the subsequent Final Four run, and eventual scandal that saw the banner removed.
Worst loss
Michigan State 66, Michigan 59 March 9, 1991, Ann Arbor

After making national headlines with his NCAA Tournament title run as an interim boss in 1989, the luster behind Fisher's name seemed to be wearing off late in 1991.
After a seven-point home loss to Michigan State, Fisher's Wolverines suddenly had a three-game losing streak to the Spartans and finished the season with a 14-15 record, just two seasons after a national championship.
The luster was back soon, though, as the Fab Five slammed into Ann Arbor the following fall.
Notable

Tom Izzo has dominated Michigan throughout the span of his 17-year career at Michigan State.
But he was horrible against Fisher.
The ex-Wolverine boss gave Izzo a rude welcome into the UM-MSU series, going 4-0 against him.
Bill Frieder (1980-89)
Career vs. Michigan State: 10-8

Best win
No. 13 Michigan 79, Michigan State 52 Feb. 27, 1989, East Lansing

Frieder saved his best for last.
Michigan got 16 points from Loy Vaught and 11 each from Rumeal Robinson and Sean Higgins to slam the Spartans by 17 in East Lansing.
The Wolverins shot a blistering 63.5 percent from the floor that day, and held MSU to just 24 percent shooting after halftime.
It was the last time Michigan played Michigan State at the old Jenison Field House, as Breslin Center opened the following season.
It was also Frieder's last game against MSU, as Bo Schembechler gave him an early start at Arizona State less than a month later. All was well in the end, though, as Steve Fisher went 6-0 in the NCAA Tournament, helping the Wolverines earn their lone national title in March.
Worst loss Michigan State 70, Michigan 65 Feb. 5, 1983

Frieder ended his Michigan career with a winning record against MSU.
But things didn't start so smoothly.
A five-point home loss to the Spartans in 1983 got Frieder off to a 1-6 start against arch-rival MSU. On that night, Eric Turner put up 25 points, but needed 30 shots to get there.
No one else on the Michigan roster finished in double figures.
Enough was enough eight days later, though, as Frieder and company dumped MSU by seven in East Lansing -- reversing the rivalry back in Michigan's favor.
Notable

Frieder guided Michigan to its last Big Ten championship in 1986.
But during the '85-86 campaign, a season that saw Michigan finish 28-5, 14-4 in league play, the Wolverines lost both meetings against Michigan State.
Michigan fell on the road by 12 to the Spartans in January and lost at home by 15 to MSU in February by 15.
The home loss was the only blemish Michigan suffered that year in Ann Arbor.
Johnny Orr (1968-80)
Career vs. Michigan State: 15-7

Best win No. 3 Michigan 69, Michigan State 65 (OT) Feb. 26, 1977, Ann Arbor

It wasn't the most dominant victory Orr, Michigan's all-time winningest coach, ever had against MSU, but it was rather significant.
The four-point home victory gave the Wolverines a five-game winning streak over Michigan State, and nine wins in the previous 10 meetings.
It also was one of the final acts of Michigan's 1977 Big Ten title campaign.
From 1975-77, Orr led Michigan to a 51-11 mark, a Big Ten crown, a Final Four appearance and five straight wins over the hated Spartans.
Worst loss No. 8 Michigan State 80, Michigan 57
Feb. 17, 1979, East Lansing

Orr didn't haven many losses against the Spartans, and when he did, they were generally close ones.
But against Magic Johnson and Michigan State in 1979, Orr's club took a serious beating.
It was the most lopsided loss the Wolverines had suffered to the Spartans since Michigan State scored an 89-58 win in 1960.
Notable
Magic and the gang may have slammed Orr's group rather hard during their 1979 national title run, but Michigan wasn't completely embarrassed.
The Wolverines knocked off Johnson and Michigan State by a point earlier that year, grinding out a 49-48 win in Ann Arbor. In Magic Johnson's two seasons at Michigan State, he went 2-2 against the Wolverines.
Nick Baumgardner covers Michigan basketball for AnnArbor.com. He can be reached at 734-623-2514, by email at nickbaumgardner@annarbor.com and followed on Twitter @nickbaumgardner.
Want to stay connected to Wolverine basketball in your Facebook newsfeed? "Like" AnnArbor.com's Michigan Basketball News & Views.