Posted on
Fri, Feb 19, 2010 : 5:56 p.m.
While Penn State has struggled, guard Talor Battle has emerged as a Big Ten star
By Michael Rothstein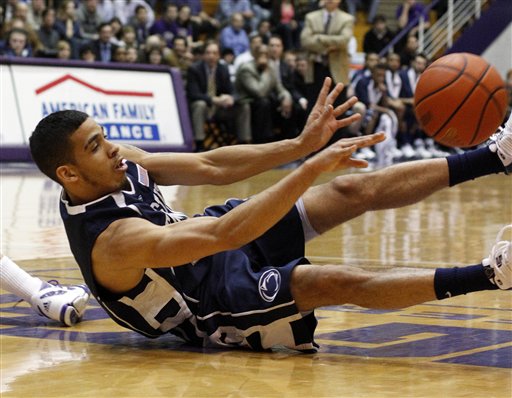 His team was 0-fer the
Big Ten Conference
entering this week, yet no one said much to Penn State guard
Talor Battle
about it in games.
Trash talking, the junior guard said, has been kept to a minimum. But then again, what are opponents going to say? "Man, you're killing us but your team isn't any good."
Battle has established himself as one of the best players in the Big Ten on the league's worst team. While the Penn State basketball team has struggled, Battle has shined while drawing attention of double teams and every opponent's best defender.
It's also led to text messages from one of the country's best players, another reason why Battle isn't surprised he's not hearing more chatter on the court.
"Actually, some guys, Evan Turner sent me a couple text messages where he just saying, 'I feel bad for you, man.' We talk about it that I've played so well and it has not been enough," Battle said. "So, not really. Guys have been really cool about it, and I think they respect me as a player and they really don't bust my chops about it.
"Each and every game they really can't because we're in the game. It's not normally determined until the last couple minutes or so."
It is in those final minutes where Penn State has faltered, including against the team it'll play Saturday - Michigan (6 p.m., Big Ten Network). The Nittany Lions led the Wolverines at half, 31-16, on Jan. 7 and lost by nine points, 64-55.
Penn State started Big Ten play 0-12 before upsetting Northwestern, 81-70, on Wednesday.
Throughout it all, Battle has been Penn State's unquestioned leader. He's taken the bulk of the shots for the Nittany Lions and done the majority of the scoring.
The 6-foot junior has the ability to get to the basket, weave through the double teams and find open men. He can shoot, pass and defend. Battle averages 19.2 points, 5.4 rebounds and 3.96 assists a game. He's also played the second-most minutes a game in the Big Ten at 36.9, a full minute behind the leader, Northwestern's Michael Thompson.
"He's one of the true points, a point guard who can really score," Michigan coach John Beilein said. "There's not a lot of point guards who can really score. He has the ability to get to the rim. A lot of guys can get to the rim but they can't get the ball up. He has hesitations and funk to his game that allows him to score and draw fouls."
None of that is surprising when Battle describes his own game. Last year, when he helped Penn State to the NIT championship, gave him confidence. So did representing the United States in the World University Games along with Turner.
"I would probably just say I play fearless," Battle said. "I'm not afraid of any one or any team in particular. I just go out there and do all I can to help my team win. If that's not enough, as long as I give all my effort, I can't beat myself up over it."
Still, this season has been frustrating. He used the word "disappointing" multiple times to describe the season.
There have been games where he has scored more than half his team's points - Battle dropped 30 points on Michigan State on Feb. 13 only to lose, 65-54 - and been Penn State's leading scorer in 17 of 25 games.
Yet Battle said he hasn't felt much pressure - at least not in Big Ten season. At the beginning of the year he said he felt the weight of carrying a team "maybe I did a little bit" but lately hasn't approached things that way.
And it's helped. Against Northwestern, when Penn State finally won a Big Ten game, Battle didn't lead the Nittany Lions in scoring. Instead, he grabbed seven rebounds, made six assists and helped his team win for the first time in 2010.
"It was a relief, but I thrive under pressure, so I was just so happy to win the game," Battle said. "It was cooler because it wasn't me going off and having a huge game, it was my teammates setting up and playing well. That's the thing coach has been preaching all year.
"If we had that consistent play, there's no telling how good we could be this year but the inconsistency of it is the disappointing part. But for that one game the guys played great, and hopefully it can continue and let us get on a little roll."
Michael Rothstein covers University of Michigan basketball for AnnArbor.com. He can be reached at (734) 623-2558, by e-mail at michaelrothstein@annarbor.com or follow along on Twitter @mikerothstein.