Posted on
Wed, Jan 11, 2012 : 3:06 p.m.
B1G Notes: 'Just scary' Big Ten is by far the toughest basketball league in the nation
By Nick Baumgardner
AP Photo
So, just how good is the Big Ten right now? Overpowering? Dominating? Awe-inspiring?
Or, more specifically, according to Michigan State coach Tom Izzo: "It's just scary."
The conference season is less than three weeks old at this point, but it doesn't matter.
The Big Ten, top to bottom, is the toughest basketball league in America this season -- and it's not close.
Consider the numbers:
• The Big Ten currently ranks No. 1 in the RPIratings.com rankings, the Sagarin Ratings, RealtimeRPI.com's rankings and just about every other ranking, rating, number-crunching computer program-based RPI site imaginable.
• To date, four teams are ranked inside the top 13 in both major weekly polls, and six teams have spent at least one week in the rankings.
• In addition, all 12 Big Ten teams entered the week with an RPI better than 150 -- the only conference to make such a claim.
But what seems to make the Big Ten season so interesting is the fact that there truly are no real breather games.
That's not just coach-speak, either. It's fact.
After fighting off Michigan in a Top 25 battle last week, Indiana likely expected a bit of an easy time at Penn State. Not so, though, as the Nittany Lions were ready for a fist-fight -- forcing Indiana to eke out a six-point victory.
The bottom of the league isn't your father's collection of basement-dwellers. Penn State thumped Purdue, Iowa has stunned Wisconsin and Minnesota has been in every one of its four early league losses.
The top of the league? Well, Izzo's right -- it's scary.
Before Illinois upset Ohio State on Tuesday; Michigan State, the Buckeyes, Indiana and Michigan had a combined eight losses, all of which came against a ranked opponent.
The six teams responsible for those eight losses entered the week with a combined record of 82-11.
As for the Illini? Well, they got 43 points from Brandon Paul against Ohio State, showing they may not be done just yet.
The Big Ten tied a record with seven teams entering the NCAA Tournament last season.
This season, that mark could be broken.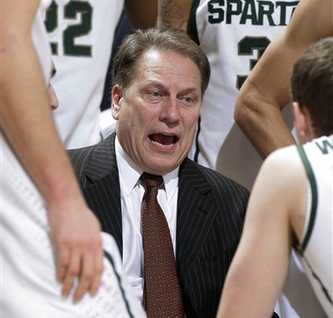 AP Photo
Sky High:
No. 6 Michigan State (15-2, 4-0 Big Ten)
The league's lone remaining unbeaten, the Spartans have now rattled off 15 straight wins and aren't really showing any signs of slowing down.
MSU continues to blast people on the glass and Draymond Green is still a triple-threat, but the maturation of Keith Appling as a true point guard seems to be setting MSU apart.

Rock Bottom: Minnesota (12-5, 0-4 Big Ten)
With no disrespect to Nebraska, who gets a pass for being new, the Gophers cannot seem to catch a break.
Minnesota entered the week as a woeful defensive rebounding team, ranked 11th in the league. The Gophers still haven't found an answer for the injured Trevor Mbakwe, either, and likely won't.

Last week's heavy lifter: Jared Sullinger, Ohio State soph. F
Welcome back, Jared.
Sullinger returned to his dominant self last week for the first time since being injured, averaging 23.5 points and 10 rebounds in two lopsided OSU wins. He had 19 and 12 in a 31-point thumping of Nebraska, and 28 and 8 in a 29-point win at Iowa.

Standout Stats
16
3-pointers made by Indiana during an 88-82 win at Penn State last week. The Hoosiers entered the week shooting 47.6 percent as a club.
10
Straight losses Michigan had suffered to Wisconsin before finally snapping the skid last Sunday at home.
3
Teams in the Big Ten that entered the week having committed 10 or fewer turnovers per game. Wisconsin (8.6), Purdue (9.9) and Northwestern (10) were No. 1, 2 and 3 nationally.
8
Double-doubles this season by Michigan State forward Draymond Green, a Big Ten best.

Quotable
"I wanted them to get the defenders off them. Couldn't you hear me? I yelled out loud enough."
-- Iowa coach Fran McCaffery on what he told his team during
a chair-slamming tirade at Michigan State on Tuesday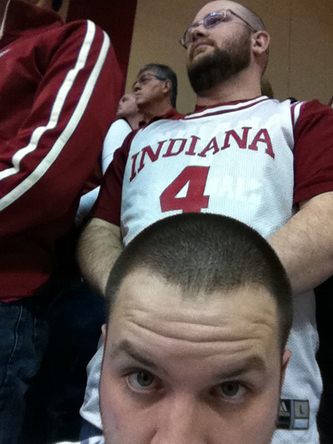 Nick Baumgardner | AnnArbor.com
Off the Cuff
If you ever get a chance to take in a game at Indiana's Assembly Hall, do so. And if you ever get a chance to sit on top of the working media, feel free to say hello.
Last week's Indiana-Michigan game wasn't just a personal reminder to me just how 'back' Indiana basketball is, but also a memory of just how intense a basketball game can be in a unique environment.
I set up shop for the night in the southwest corner of the arena, right next to a tunnel scoreboard. I sat on a wooden bleacher with fans standing inches from my back. My laptop was atop a wobbly table. There was no leg room. My cell got shoddy service. And I was sweating by the end of the night.
I loved every minute of it.
The building was loud, excited, angry, passionate and overwhelmingly warm for January.
In other words: It felt just right.
Football season's over, folks. Hello, hoops.
Nick Baumgardner covers Michigan basketball for AnnArbor.com. He can be reached at 734-623-2514, by email at nickbaumgardner@annarbor.com and followed on Twitter @nickbaumgardner.