Posted on
Sat, Jan 28, 2012 : 5:58 a.m.
Columbus homecoming can't be a distraction for Michigan basketball freshman Trey Burke
By Nick Baumgardner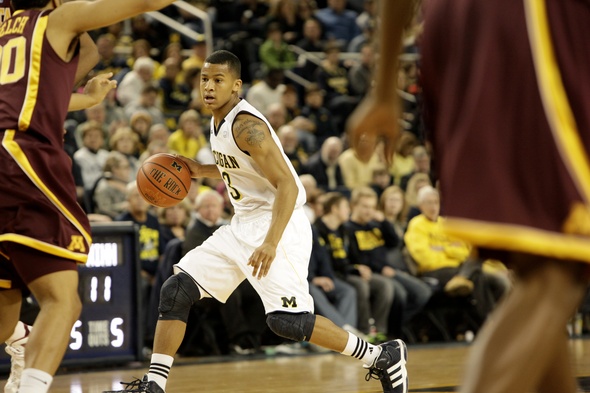 Chris Asadian | AnnArbor.com
Trey Burke's homecoming will no doubt be special for both he and his entire family.
Michigan basketball coach John Beilein understands as much.
But, he also understands that this weekend can't just be about his point guard's return home.
And he believes Burke gets that as well.
"We've spoken about (the homecoming) part of it," said Beilein, whose team will visit Ohio State on Sunday (1 p.m., CBS). "About his family and friends, we want him to keep a tight circle there but also stay focused on the game.
"(He needs to) embrace this experience of going back home, embrace every minute of it, but it can't become a distraction."
Burke, a Columbus native, said earlier in the week that he's already received numerous ticket requests from folks back home, but that he's trying to limit the tickets he gives away to close family members and a few trainers who helped him over the summer.
It's a game with numerous built-in distractions for one of Michigan's most important players.
But Burke insists he'll have a level head about things.
"It's a game I'm definitely looking forward to," he said. "We're tied for first at the top of the conference with Ohio State, so it would definitely be a big win. Just to have the opportunity to go back home and play in Columbus in front of a lot of my supporters, it's big.
"I'm just going into the game with the same mindset that I've had all year, just making plays for my team and doing what's best for us to win."
On the court, Burke's matchup with Ohio State sophomore point guard Aaron Craft will likely be one to watch.
Craft was regarded by many as the country's top freshman point guard a year ago, and still thought of as one of the best floor general's in the nation.
During the recruiting process, Ohio State was content in sticking with Craft as its point guard, while choosing freshman Shannon Scott to slide into a reserve role.
Through it all, the Buckeyes never sent an offer to Burke, who played on the same high school team as current Ohio State big man Jared Sullinger.
This season, Burke (14.1 points per game) has posted better scoring numbers than Craft (8.1). The assist comparison is virtually a tie, with Craft holding a 105-104 advantage.
Burke insists, though, that it won't be a one-on-one matchup.
"It's not going to be a one-on-one thing," he said. "I'm not going into it thinking it's me against Craft or me against Jared. I'm just going to try to make plays for my team to win. It's a real big game for us.
"We're coming off a big win at Purdue and it would be great if we can get a win in Columbus."
Which point guard is best?
That'll be decided Sunday.
Beilein says he's a fan of Craft, but he doesn't plan on trading his floor leader for anyone.
"Aaron Craft's good," Beilein said. "Trey Burke's pretty good, too."
Nick Baumgardner covers Michigan basketball for AnnArbor.com. He can be reached at 734-623-2514, by email at nickbaumgardner@annarbor.com and followed on Twitter @nickbaumgardner.
Want to stay connected to Wolverine basketball in your Facebook newsfeed? "Like" AnnArbor.com's Michigan Basketball News & Views. After you like the page, be sure to enter for a chance to win 4 tickets to the Feb. 18 Ohio State at Michigan basketball game.