Posted on
Mon, Dec 6, 2010 : 11:04 p.m.
Concordia's Rocko Holmes has a career-night, Jon Horford hurt and more
By Michael Rothstein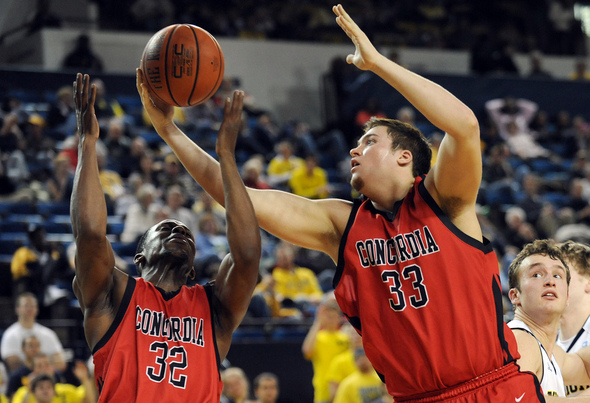 Melanie Maxwell I AnnArbor.com
He stood in the hallway, beaming. And who could blame Concordia forward Rocko Holmes?
A third-team all-Wolverine-Hoosier Athletic Conference selection after the 2009-10 season, the 6-foot-5 junior forward had just dominated Big Ten scholarship players.
"It was an experience for sure," Holmes said after Michigan beat Concordia 86-65 in Crisler Arena on Monday night. "My guards did a great job of passing me the ball and, God bless 'em, had a good game.
"But it's a chance I'll never forget, for sure."
Michigan coach John Beilein might not, either.
As he walked by Holmes, Beilein said "Hope you had fun." Holmes laughed and responded, "Oh yeah."
Who could blame him?
When he headed to Concordia from Cadillac High School, Holmes couldn't have envisioned playing a regular season game at Crisler Arena, let alone scoring 29 points there.
"He had a little bit more craftiness to his game and he knows how to get into the body, a little bit more experienced than Jordan (Morgan)," Beilein said. "And just crafty, knows how to get into a guy He's 270 pounds, uses different ways of getting the ball.
"…He's so good 1-on-1, sort of like (former NBA star Charles) Barkley, who was like 6-5 and ... could get where he wanted to be."
Horford Out The only Michigan scholarship player who didn't play Monday was freshman forward Jon Horford.
The Grand Ledge native twisted his knee in practice Sunday, so Beilein held him out. Horford, who had averaged 5.5 minutes spelling starting forward Jordan Morgan, missed his second straight game.
"Probably could have played him in an emergency in foul trouble," Beilein said. "But didn't want to go there today. There wasn't swelling, didn't look like it was anything that was serious."
No lineup switches Despite the struggles of freshmen forwards Tim Hardaway Jr. and Evan Smotrycz, Beilein said he is not planning on taking either out of the starting lineup.
"I don't think we will," Beilein said. "It depends who we are playing. I haven't looked at Utah, but if Utah has four guards out there, we might start out that way."
Michigan hosts the Utes at 6:30 p.m. Friday.
"It's kind of wait and see until the sizes change and the formations change," Beilein said. "These last two games were certainly different but we'll consider everything."
The obvious switch would be moving Stu Douglass into the starting lineup from his sixth-man role.
But even if Beilein doesn't make a move for Utah, he has had a quicker hook with Smotrycz and Hardaway Jr.
Smotrycz barely played in the second half against Harvard and again against Concordia. He played eight minutes in the first half and three in the second. Hardaway Jr. also sat for almost nine minutes in the second half, until Michigan had the game under control.
After Hardaway Jr. scored 15 points at Clemson, he's had 11 combined points the last two games. Smotrycz scored 18 against the Tigers, followed by no points against Harvard and two against Concordia.
This and that Concordia brought its mascot, a Cardinal, and a large student section that almost filled Section 16 of Crisler Arena's upper bowl. … Zack Novak had a double-double for the second-straight game and a career-high 14 rebounds. … With 13 points, Douglass moved to 504 in his career. … Darius Morris had a career-high 12 assists, the third time this season he has had double-digit assists.
Michael Rothstein covers Michigan basketball for AnnArbor.com. He can be reached at 734-623-2558, by e-mail at michaelrothstein@annarbor.com or follow along on Twitter @mikerothstein.