Posted on
Thu, Mar 15, 2012 : 8:05 p.m.
After scoring a major upset 2 years ago, Ohio not afraid of Michigan basketball team
By Nick Baumgardner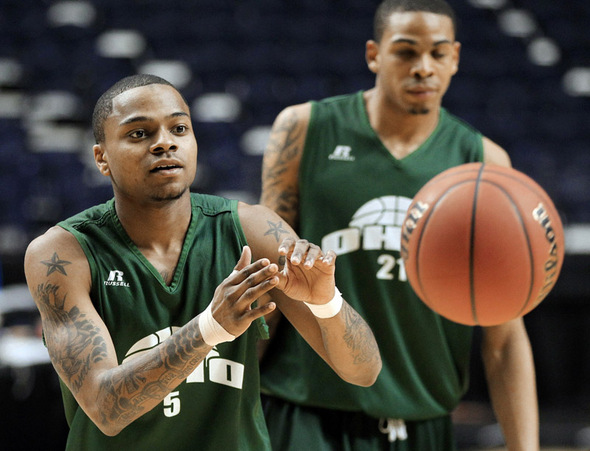 AP Photo
NASHVILLE, Tenn. -- If anyone thought the Michigan basketball team was getting a nervous, over-matched mid-major opponent this week, they'd be sorely mistaken.
The 13th-seeded Bobcats aren't screwing around.
They've succeeded on the NCAA Tournament stage before, and Friday (7:20 p.m., TNT), they plan on doing so again.
"We're here to win a ballgame," Ohio junior guard Walter Offutt said with a straight face Thursday.
Game on.
Two years ago, the Bobcats stunned the country by knocking off No. 3 seed Georgetown in an opening-round game. And it wasn't one of those buzzer-beating miracles, either. Ohio dominated, and downright embarrassed the power conference Hoyas.
The Bobcats racked up 48 first-half points, raced to an early double-digit lead and never looked back, racing to a 97-83 win over a Georgetown team that featured current Detroit Piston standout Greg Monroe.
Two years later, Ohio's back. And this Bobcat team, on paper anyway, is far superior to the one that made national headlines as a tournament darling in 2010.
"Some of the older guys that have been here, we know what to expect," Ohio junior point guard D.J. Cooper said. "It's not shell-shocking us."
Against Georgetown two years ago, a then-freshman Cooper smoothly guided the Bobcat offense, racking up 23 points on 8-of-12 shooting, while also handing out eight assists.
That team had a Big Ten transfer in Armon Bassett, who came to Ohio after originally playing at Indiana. This year's version has one, too. Offutt is an Ohio State transfer.
The Bobcats have superb guard play, they have size inside with 6-foot-8, 265-pound Reggie Keely and a coach (John Groce) with some serious chops.
And, on top of it all, they have absolutely no fear.
"A lot of things look familiar," Keely said. "It's not as much a surprise to us. We're not surprised by the bright lights, we're a little more prepared this time around."
More than just being comfortable on a big stage, though, the Bobcats are a club full of players who have a full grasp on Groce's system.
Keely played sparingly two seasons ago, Cooper was a mainstay and Offutt has been familiar with his coach since his early prep days, when Groce recruited him as part of Thad Matta's staff at Xavier.
Ohio has bought in, and with its second MAC Tournament championship banner in three years now in tow, the Bobcats are looking for the program's next step.
"From an experience standpoint and familiarity with the NCAA Tournament and confidence and trust in our system and, you know, I'm one of those guys that believes success breeds success," Groce said. "I'm sure that elevates our guy's level of confidence and trust in what we did and their teammates and our system and how we travel, and those things are very important."
When the brackets were unveiled, Ohio immediately became a sexy upset pick. And, as of Thursday night, Michigan was favored by just six points Friday, despite having a share of the Big Ten title and a much higher seed.
Asked if he'd rather be on the other end of that spectrum, if he'd rather be the team everyone overlooks rather than the hot pick many expect to win, Offutt said no.
Ohio wants that distinction.
And Friday, the Bobcats plan to prove many of those upset-pickers correct.
"We feel like we can compete with any team in the country," Offutt said. "It's not a secret that we can go out and play with the bigger teams."
Nick Baumgardner covers Michigan basketball for AnnArbor.com. He can be reached at 734-623-2514, by email at nickbaumgardner@annarbor.com and followed on Twitter @nickbaumgardner.
Want to stay connected to Wolverine basketball in your Facebook newsfeed? "Like" AnnArbor.com's Michigan Basketball News & Views.