Posted on
Fri, Feb 24, 2012 : 5:59 a.m.
The top 5 Zack Novak and Stu Douglass moments you'll remember
By Nick Baumgardner
Michigan basketball senior co-captains Zack Novak and Stu Douglass will play their final home game Saturday against Purdue (6 p.m., BTN).
To date, Novak and Douglass have scored 78 career victories at Michigan and played in a pair of NCAA tournaments, with a third likely on the way next month.
But one lasting memory that stands out above the rest?
"(There are) so many," Novak said recently. "And hopefully (they're not all) written."
As Novak and Douglass prep for senior night, alongside Corey Person and Ben Cronin, here are a few moments that stand out above the rest from the past four seasons.
No. 5. Who says they can't jump?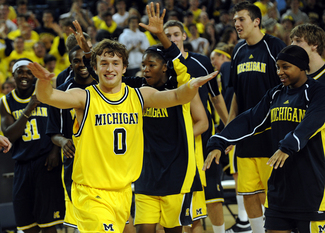 Melanie Maxwell | AnnArbor.com
Novak seemed up against it in 2009 during Michigan's Midnight Madness celebration, facing the likes of
Manny Harris, Darius Morris
and
Laval Lucas-Perry
in the team's slam dunk contest.
In the end, it wasn't even close.
Novak opened up everyone's eyes with a between-the-legs jam to prove he's much more athletic than he often gives himself credit for.
The inspiration behind the jam? Easy. It came from Novak's freshman season, when he missed a buzzer-beating jam that would've done in Savannah State in regulation.
"That one was just all vindication for the Savannah State game, which I hate to throw back out there," Novak said recently. "But that was all that was in my mind, when I was like, 'I'm doing the dunk contest, and I'm going to win it.'
"I'm not athletic, but every now and then I can surprise someone."
A year later, Douglass had his 'did he just do that?' moment in the NCAA tournament against Tennessee, taking a behind-the-back pass from Morris and emphatically stuffing a two-handed flush to push Michigan's lead to 30.
No. 4. Hello, Bruins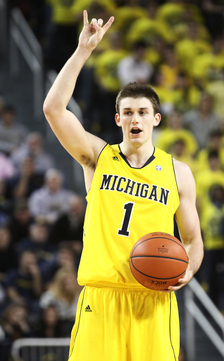 File photo
Three games into his Michigan career, Douglass proved he belonged on the Big Ten level.
When the Wolverines traveled to Madison Square Garden to take on No. 4 UCLA during 2K Sports Classic, the only two certainties about Beilein's second Michigan club were: Manny Harris could score, and so could DeShawn Sims.
But on that night, so could Douglass.
The freshman from Carmel earned the start, and hit a deep 3-pointer with 4:16 to play that put Michigan up one. The Wolverines never trailed again.
In 27 minutes, Douglass dropped in 10 points and handed out five assists to help the Wolverines score the first real marquee win of John Beilein's Michigan tenure.
No. 3. Hello, Blue Devils

Douglass played the role of freshman spark plug weeks earlier against UCLA, and Novak took his turn on the stage during a December matchup with No. 4 Duke at Crisler Arena.
With the game stuck in back-and-forth mode midway through the second half, the Blue Devils appeared close to taking control after Kyle Singler notched a three-point play before Lance Thomas hit a layup to give the Blue Devils a three-point edge.
Thirty seconds later, Novak knotted the game with a triple from the right wing.
Moments later, Novak stayed hot, burying a transition triple from the left corner to give Michigan a lead it wouldn't relinquish.
Harris and Sims combined for 45 points, and Novak finished with 14, including the two huge momentum-changing long-range hoops.
No. 2. Douglass defers to Burke

This could've been awkward.
Entering the 2011-12 season, Michigan's biggest question mark came at the point, a spot vacated by Darius Morris' NBA departure.
The two likely candidates to earn the job were Douglass, a senior captain, and Trey Burke, a freshman from Columbus.
Douglass entered Michigan as a two-guard, but was eventually switched into more of a ball-handling role during the middle stages of his career. Burke, meanwhile, was as pure a point guard as it gets — groomed to play the position for years.
Entering the year, it appeared as though Douglass and Burke would be in a competition for the role and the starter's minutes that came with it.
Douglass could've been selfish, he could've worked against Burke and done anything he could to plant himself into the starting role as a senior.
He didn't.
"All I worry about is Trey succeeding at that one-guard spot, not 'Maybe he won't be playing great so I can get more minutes,' " Douglass said. "That doesn't happen at all.
"That childish competitiveness has kind of gone away, and now it's so far into the season that if Trey takes 20 shots and I take zero, it doesn't matter. As long as he's hitting."
Douglass eventually worked his way into the starting lineup anyway, and Burke is a candidate for the Big Ten Freshman of the Year award.
No. 1. The East Lansing freak out

Every leader has defining moments.
For Novak, his came on the sidelines at Breslin Center against Michigan State in the 2010-11 season.
The Wolverines entered the game in danger of sliding off the tracks, as Michigan was buried under the weight of a six-game losing streak and a 1-6 mark in Big Ten play.
The NCAA tournament wasn't even in the equation, Michigan just needed some life.
Novak's first impact on the game came right away, as he completed a four-point play less than two minutes into the game.
Midway through the half, Novak went on a 9-0 run by himself, nailing three straight 3-pointers to give the Wolverines a lead they kept for the rest of the game.
Novak finished with a team-high 19 points that night, but it was his red-faced sideline tirade to fire up his teammates that is often most remembered.
The Wolverines ended up beating Michigan State in East Lansing for the first time in 14 years (thanks in large part to Douglass' last-minute 3-pointer), and saved their season in the process.
Without the MSU road win, the Wolverines may not have advanced to the NCAA tournament that season.
Additionally, Novak proved himself as a leader, a gritty performer — and more importantly — a winner.
"I hate losing," Novak said afterward, "more than I like winning."
Nick Baumgardner covers Michigan basketball for AnnArbor.com. He can be reached at 734-623-2514, by email at nickbaumgardner@annarbor.com and followed on Twitter @nickbaumgardner.
Want to stay connected to Wolverine basketball in your Facebook newsfeed? "Like" AnnArbor.com's Michigan Basketball News & Views.