Posted on
Wed, May 19, 2010 : 11:41 a.m.
Former Michigan guard Manny Harris heads to Chicago for the NBA combine
By Michael Rothstein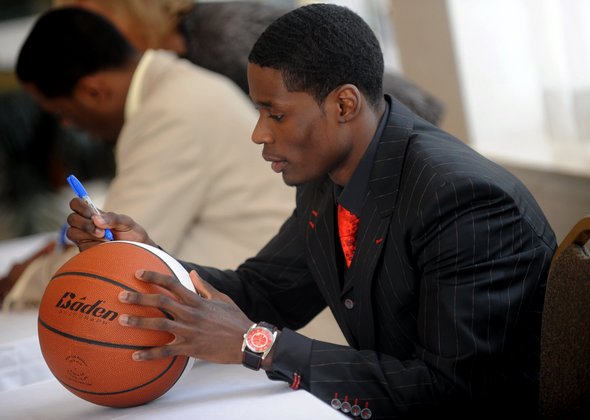 Melanie Maxwell | AnnArbor.com
When Manny Harris declared for the NBA Draft a little less than two months ago, he moved his home base to Las Vegas, where he has been training at Impact Basketball with approximately 20 other NBA prospects. 
The next step in his draft preparations begins Thursday. Harris will leave Vegas for Chicago and the NBA combine.
"I'm just looking at it as an opportunity to get better and show people my skills," Harris said. "So coming out of there knowing I gave my best and displayed my skills I know I'm capable of displaying."
The combine has changed in the past two years. It used to be a lot of 5-on-5 games, much like April's Portsmouth Invitational, but switched a year ago to a setting more like the NFL combine.
Emphasis in Chicago will be placed on individual skill work and measureable categories instead of playing. For this reason, NBA assistant director of scouting Ryan Blake said the Chicago camp is more of a chance for Harris to secure more individual workouts with teams than rocket up a franchise's draft board.
"To display it in 5-on-5, those evaluations would come before and someone says they really want to take a look at him but we don't know if we want to take that risk," Blake said. "Chicago isn't going to be that one that's going to change the difference of him. He can show he can shoot the ball better or shoot the ball when no one is guarding him.
"I don't know if there's anything (in Chicago) that's going to make a huge difference with him."
Part of the reason is because Blake said the main concern teams have with Harris is whether his current skill set will translate to the NBA. Most of that has to do with Harris' shooting ability.
Harris shot 31.8 percent from beyond the three-point line in college, where the line is three feet closer than the NBA's 23-foot, 9-inch line.
While his shooting is a concern for NBA teams, Blake said there are other things that make Harris a prospect worth considering. Harris averaged 17 points, 5.7 rebounds and 3.7 assists during his three-year career.
"He can score, he can play two positions hopefully, a willing passer, good shooter," Blake said. "Those are strengths."
However, Blake said Harris is a likely second-round pick, and that Harris would have been a second-rounder last year too. Both drafts had depth - Blake pointed out that Sam Young and DeJuan Blair were drafted in the second round and made NBA teams this year.
"Last year he was not guaranteed in the first round, would not have been in the first round," Blake said. "This year it's the same boat."
Shooting has been part of Harris' focus in Las Vegas. While the 6-foot-5 guard said he's been working on "everything" since landing in Vegas, ball-handling, shooting and his strength as three specific areas of focus. Those are three areas he can at least show some improvement on in Chicago.
"I'm hoping to come out of there, where teams consider picking me, because I know I'm going to give it all that I've got," Harris said.
Michael Rothstein covers University of Michigan basketball for AnnArbor.com. He can be reached at (734) 623-2558, by e-mail at michaelrothstein@annarbor.com or follow along on Twitter @mikerothstein