Posted on
Fri, Jan 27, 2012 : 5:59 a.m.
From Columbus to Ann Arbor: Michigan freshman Trey Burke ready for his first return trip
By Nick Baumgardner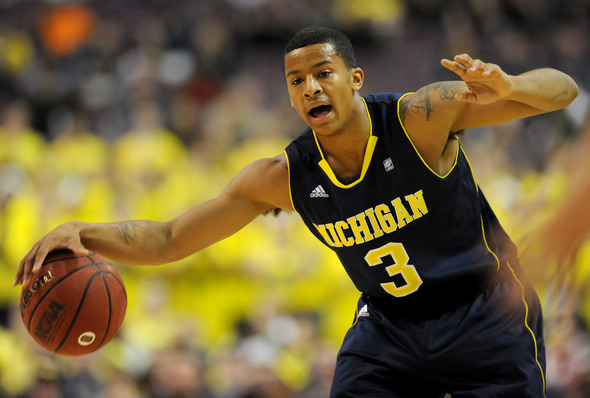 Angela J. Cesere | AnnArbor.com
For
Benji Burke
, it never stops.
Wherever he and his wife, Ronda, wander these days in Columbus, Ohio, it's always the same.
And each time, it's weirder than before.
"We've got people here who would have never, ever, watched a Michigan game — ever," he says defiantly. "But now, they're coming up to us saying, 'I don't miss a game.
"'Can I get tickets?' "
Whether he stops by a mall to get some shopping done, a barbershop for a haircut or a restaurant for a meal, folks donned in scarlet and gray want to know.
"How's Trey doing?"
BURKE BY THE NUMBERS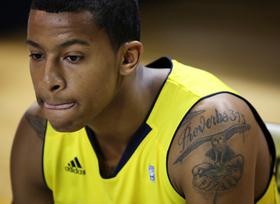 Jeff Sainlar | AnnArbor.com
34.9
Minutes per game, the most of any Michigan player.
3.7
Rebounds per game, fourth on the team.
104
Assists this season, a 4.95 per game average.
14.1
Points per game, second on the team behind Tim Hardaway Jr.'s 15.2.
Trey Burke, Benji's son and the Michigan basketball team's 5-foot-11, 180-pound freshman point guard who plays like a veteran and sounds like a coach, is about to head home.
A Columbus native and a self-admitted Ohio State backer as a youngster, Burke is doing the unthinkable. He's ventured into the depths of enemy territory, and he's helping revive the basketball program at hated — nay, loathed — Michigan.
Married couples with Columbus and Ann Arbor loyalties have trouble meshing the two together.
But Trey Burke?
Not so much.
"Trey has made it OK to like Michigan in Columbus," says Benji, whose son will lead Michigan against Ohio State in Columbus on Sunday (1 p.m., CBS). "That's what we're seeing.
"He's made it OK to support Michigan, and it's great."
No time for nerves

Benji remembers the last time he saw his son nervous in a basketball game.
It wasn't during his college debut, or when he started against Duke in the 2011 Maui Invitational. Nor was it earlier this month when he sank two foul shots to clinch an overtime against Northwestern, or handed out the game-winning assist to dump Michigan State.
No, it happened a long before that.
When Trey wasn't old enough to drive a car.
"He was a freshman in high school and he was playing against (current Ohio State senior Wiliam Buford)," Benji recalls. "And they were loaded."
Earlier this season, Trey admitted he does feel nervous from time to time before the start of each game, but once the ball is tipped in the air, it's old hat.
"When I first come out there, my adrenaline is pumping so much about the game and the crowd," Trey says. "(But) after my first four minutes in Columbus this weekend, I'm pretty sure I'm going to be relaxing.
"It's going to be normal."
Burke's ability to keep his cool under great duress is something most have marveled at.
It's a characteristic that's put him in John Beilein's starting lineup as a freshman, has him averaging 14.1 points and five assists and has placed him near the top of virtually everyone's Freshman of the Year list.
It's a trait easier discussed than lived for most people.
But Trey Burke's not most people.
Why?
Because played high school basketball for Satch Sullinger. And when you play for Sullinger, you don't have time to be nervous.
"We live in a world of either you did, or you didn't, and all the conversation in between is worth nothing," says Sullinger, father of current Ohio State star Jared Sullinger, a former Naismith National Coach of the Year and Burke's prep coach at Columbus Northland. "After all the excuses and all this and that, it always boils down to either you did, or you didn't.
"So, let's just eliminate all the conversation in between, and let's get the damn job done."
Combined with the tough-love Sullinger doled out at Northland, and the lessons of staying focused he received from Benji — who, as his AAU coach, vividly remembers the occasional in-game arguments the two shared as father and son — Trey Burke arrived in Ann Arbor more ready to play college basketball than two typical freshmen put together.
At Northland, Burke faced an elite national schedule in his final two seasons, playing on national television and a number of high-pressure contests. Playing for Benji and the All-Ohio Red AAU squad, he routinely played against the top college-bound point guards in America.
And more often than not, he won.
He was 97-5 in high school, and he was named Mr. Basketball in Ohio as a senior.
Numerous times this season, Beilein has marveled at Burke's poise in both good and bad moments. He's also given credit to where credit is due, giving nods to both Sullinger and Benji Burke for their willingness to prepare the youngster for Big Ten basketball.
But his old coaches won't take all the credit. Because, as Sullinger puts it, at some point pure talent needs to be recognized.
And in Trey Burke, there's an awful lot to go around.
"I didn't put the same pressure on all my kids at Northland, because all my kids weren't Trey Burke," Sullinger said. "You have to help him participate in his dream, and what I did, was helped him participate in that dream.
"Trey can do whatever Trey wants to do. And during a game, when he gets that look in his eye, drops his head and gets that long chin, get the hell out of the way. Because it's over."
'Where he's supposed to be'

There's no sense in denying it: Trey Burke wanted to play basketball at Ohio State.
He grew up with Jared Sullinger and remains close with him. He's also a Columbus native, and in the heart of Ohio, it's Buckeyes first — everything else second.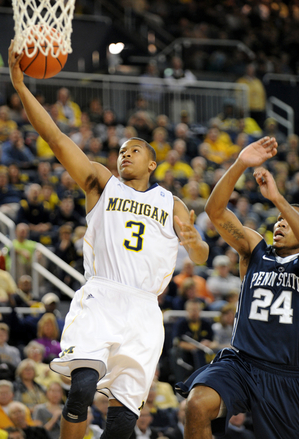 "I did want to go to Ohio State, that's my hometown school and things like that," Burke said earlier this week. "(But) they weren't really recruiting me like that.
"They would probably send me mail, and I'd go to a couple football games, but he never really forced the issue to recruit me or offer me a scholarship."
Playing alongside Sullinger, the national player of the year in 2010, Burke's numbers weren't overly eye-popping, even if he quarterbacked one of the top prep squads in America.
There's also a size issue. He's not 6-foot and he's not overly thick, making some question whether his body could hold up against the rigors of a Big Ten season.
So as time went on, offers began to come in, but nothing from Ohio State. Burke eventually verballed to Penn State, but later decommitted after a coaching change.
Even still, nothing from Thad Matta and the Buckeyes.
"I think they were a little bit interested, but they weren't ever really sold on Trey," Benji says. "The timing was off. When Trey got to the level where they thought he could really play in the Big Ten, we weren't on Ohio State and Ohio State was already on (current freshman guard) Shannon Scott.
"So the timing was just always off."
For the Burkes, the Ohio State snub couldn't have been a bigger blessing.
Once Trey was back as an available recruit, Beilein and Michigan came calling. And it didn't take long for the family to get hooked on maize and blue.
"I did my research on Coach Beilein, and we already knew he was a great X's and O's coach, and he was a no-nonsense, honest guy with a lot of integrity," Benji said. "We also knew that, outside of Darius (Morris, who left for the NBA prior to this season), they didn't have a point guard. And, we knew Stu Douglass and Zack Novak were real senior leaders, who wouldn't be upset if a freshman came and played well.
"Bottom line, Trey is exactly where he's supposed to be. And we wouldn't change that for anything."
Asked if he believes Trey will be out to prove something to Matta and his coaching staff Sunday, Benji responded bluntly, "No, I think he already has."
Sullinger agreed, albeit in a much more emphatic way.
"A lot of people in Columbus right now are saying 'why isn't Trey here, he should be here, he should be at Ohio State,' " Sullinger said. "Guess what, God has Trey exactly where Trey needs to be.
"Trey is right where God placed him, and where he should be."
Columbus Wolverines

Trey Burke's realistic about what to expect Sunday.
He'll have his diehard Columbus supporters who will proudly walk into Value City Arena wearing Michigan gear.
But he'll also have some friends, who clearly wish him the best, but won't be able to stomach cheering for the team from up north.
"There are going to be people there that want to see me win," he says. "There are going to be people there who want to see me do good, but lose.
"It's going to be different."
As for his old high school coach? Well, Satch Sullinger can hardly root against his own son Sunday, he admits as much.
But should there come a time when Jared Sullinger has left Columbus and Burke is still in Ann Arbor, then the decision of which side to stand on becomes simple.
"Jared's my son, so I obviously want him to do well and I want Ohio State to win this weekend," Satch says. "But when Jared's gone, and Trey's playing for Michigan, I'll be rooting for Michigan, because Trey's my son, too. I watched him grow up.
"I'll be a Michigan fan sitting here in Columbus, Ohio."
There won't be any split loyalties for Benji and Ronda Burke come Sunday. Their son is the talk of the town both in Ann Arbor and Columbus, Ohio.
And they're loving every second of it.
"We're just having a ball right now, and we're so proud of him," Benji says. "Sunday's going to be special."
A displaced Buckeye starring as a Wolverine. Sounds ridiculous.
But in the case of Trey Burke, oddly enough, it seems to be a perfect match.
Nick Baumgardner covers Michigan basketball for AnnArbor.com. He can be reached at 734-623-2514, by email at nickbaumgardner@annarbor.com and followed on Twitter @nickbaumgardner.
Want to stay connected to Wolverine basketball in your Facebook newsfeed? "Like" AnnArbor.com's Michigan Basketball News & Views. After you like the page, be sure to enter for a chance to win 4 tickets to the Feb. 18 Ohio State at Michigan basketball game.