Posted on
Thu, Mar 22, 2012 : 10:22 a.m.
How the departure of Evan Smotrycz, Carlton Brundidge and Colton Christian alters the Michigan basketball team
By Nick Baumgardner
The Michigan basketball program's offseason is underway.
And it got off to a rather loud start.
Michigan coach John Beilein announced the departures of three players, Evan Smotrycz, Carlton Brundidge and Colton Christian, Wednesday, a trio of moves that could have quite a ripple effect with regard to the program's future.
Here's a look at how: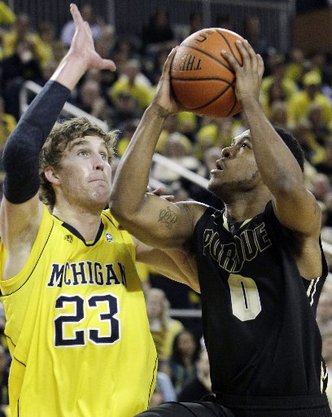 Associated Press
Evan Smotrycz
Of the three players exiting, Smotrycz's departure isn't just the most surprising, but also comes with the highest impact.
The 6-foot-9 forward started 69 games in two years at Michigan, and was a key cog in Beilein's offense, especially when his 3-point shot was falling.
A starter for portions of both his freshman and sophomore year, Smotrycz will leave Michigan with 7.7 points and 4.9 rebounds to make up for next season. But more than that, he'll significantly decrease the Wolverines' ability to put five shooters on the floor while staying relatively big in the process.
Smotrycz led all Michigan regulars last season in 3-point shooting at 43.5 percent, and had the ability to hit deep shots and mid-range shots, and could also put the ball on the floor at times if need be.
Had he returned for his junior season, he likely would have been to player to beat at power forward.
He wasn't without his faults, though, as Smotrycz struggled to remain consistent against Big Ten competition in both of his seasons in Ann Arbor
His departure unclogs a bit of the jam in Michigan's front-court, as the Wolverines will now have Mitch McGary, Jordan Morgan, Jon Horford, Max Bielfeldt and Blake McLimans to rotate up front.
Of all those players, only Smotrycz was a consistent threat to knock down deep jump shots.
And, for that, he'll big leave pretty big void.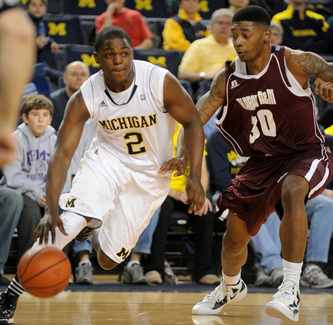 Angela J. Cesere | AnnArbor.com
Carlton Brundidge
Brundidge entered Michigan will plenty of acclaim. In fact, he was a more highly-touted prospect than classmate Trey Burke. Brundidge was a four-star player, per Rivals.com, while Burke gained just three stars.
It didn't pan out during his first season, though, as he barely saw any time on the floor.
Brundidge played in just 15 games this season, almost exclusively in mop-up time. He sporadically saw time as a backup point guard, but only logged 44 minutes the entire year, and scored just six points.
Production-wise, Michigan doesn't take much of a hit here. Long-term, though, seems to be a different story.
Should Burke remain in school, the Wolverines still very much need an established backup point guard. If Burke opts to depart early for the NBA draft, then the Wolverines obviously need all the help they can get in the backcourt.
It would have been interesting to see how another full summer of college conditioning and familiarity with Beilein's system would have benefited Brundidge.
But now, we'll never know.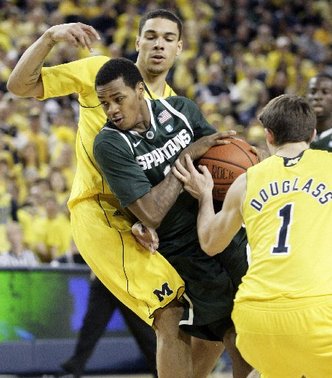 Associated Press
Colton Christian
Christian was a role player, at best, during his time in Ann Arbor.
He did come in handy a few times late this past season, when Beilein opted to use him and his 6-foot-6 frame to play the center position during moments when Smotrycz and Morgan were in foul trouble.
It didn't necessarily show on the stat sheet, but Christian more than held his own against Northwestern and Illinois in that situation -- moving his way up the rotation.
In total, Christian appeared in 19 games, logging 51 minutes and seven points. And he was on scholarship, so more than anything moving forward, his departure will create room in future classes.

Numbers game

While no one generally likes to see attrition within their program, the departure of Smotrycz, Brundidge and Christian does free up some space for Beilein and his staff to work with on the recruiting trail.
Prior to the trio's exit, Michigan did not have an available scholarship for the 2012-13 season.
It does now.
Adding to the number importance is Burke's situation. Should the co-Big Ten Freshman of the Year opt for the NBA, then Michigan will have to go all in for a point guard during the spring signing period.
Presently, Michigan is reportedly involved in the recruitment of Findlay Prep (Nev.) point guard Amedeo Della Valle, an Italian-born prospect who is listed at 6-foot-3 by Rivals.com.
Rivals.com rates Della Valle as a three-star prospect. UMHoops.com reports Della Valle's schools of interest as Michigan, Arizona, Texas A&M, Gonzaga and Ohio State.
Additionally, reports surfaced earlier in the week about the situation regarding former Central Michigan guard Trey Zeigler, a former four-star prospect and Michigan recruit out of Mount Pleasant High School.
Zeigler is set to transfer from CMU after the school fired its head coach, Zeigler's father, Ernie, earlier this month.
Zeigler tweeted Tuesday that he had plans on taking a visit to Duke this weekend. And Wednesday, WolverineNation.com reported that Zeigler had not been contacted by Michigan yet, but would be interested in the school if contact was made.
Nick Baumgardner covers Michigan basketball for AnnArbor.com. He can be reached at 734-623-2514, by email at nickbaumgardner@annarbor.com and followed on Twitter @nickbaumgardner.
Want to stay connected to Wolverine basketball in your Facebook newsfeed? "Like" AnnArbor.com's Michigan Basketball News & Views.