Posted on
Fri, Jan 27, 2012 : 5:02 p.m.
How will the Michigan basketball team stop Jared Sullinger? Go to the game and find out, coach John Beilein says
By Nick Baumgardner
Stopping Ohio State forward Jared Sullinger isn't something that's routinely accomplished.
One of the most talented players in the country last season as a freshman, the 6-foot-9, 280-pound behemoth from Columbus actually has more to work with now.
Not just a low-post concern any longer, Sullinger -- who's put up nine double-doubles this season -- has dropped weight, added speed and now has the ability to hit an extended jump shot.
So, what exactly does Michigan basketball coach John Beilein intend to do about him Sunday (1 p.m., CBS)?
"You'll have to come to the game and find out," Beilein said Friday. "And I'll tell you at the end of the season whether any of it worked."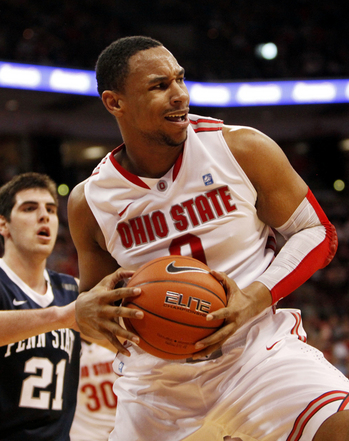 AP Photo
Currently, Sullinger is averaging 17.3 points and 9.3 rebounds per game for the fourth-ranked Buckeyes (18-4, 6-2 Big Ten). His numbers would likely be even stronger had he not missed a pair of games earlier this season (back injury) before being limited in another due to a foot problem.
Still the most dominating presence in the Big Ten, Sullinger has the ability to hurt opponents in a variety of ways.
He's shooting 59.5 percent from the floor, has 19 assists, 26 steals, 16 blocks and is also a 44.4 percent 3-point shooter.
"They get things that only Sullinger can do," Beilein said. "He'll get traffic rebounds with four guys around him, and somehow he gets the ball, at the rim and maybe gets to the foul line.
"He looks a little quicker, and now he's shooting 3's. We knew in his high school resume that he could do that, now he's good for just enough that you have to guard him (out there). And that's always a concern."
And, according to Beilein, the presence of proven talent surrounding him makes Ohio State even more difficult to handle.
Sullinger's the league's best big man, but senior William Buford (15.2 points per game) and sophomore Deshaun Thomas (14.7 points per game) are as good as any two wings the conference has to offer.
"Why they're so good is because they have all the pieces around (Sullinger)," Beilein said. "You have to have a lot of plans in place when you're playing a team with this kind of talent, they're probably a No. 1 seed down the road in the NCAA Tournament."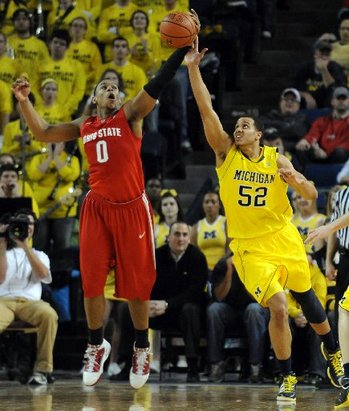 AnnArbor.com file photo
Though Beilein is likely to throw a variety of defensive looks at Ohio State to counter Sullinger's impact, the majority of the heavy lifting defensively will fall on Michigan sophomore Jordan Morgan.
Morgan faced Sullinger three times last season. In Ann Arbor, a game the Wolverines lost by four points, Sullinger was limited to just 12 points and seven rebounds.
But in Columbus, and later in the Big Ten Tournament, the Buckeye big man had his way -- averaging 16.5 points and 14 rebounds in two more Ohio State victories.
"As far as room for error goes, there's really not much," Morgan said of defending Sullinger. "He's a dominant player, when he gets the ball he's tough to guard, he's tough to (block out) for rebounds and he makes it really hard on the defense.
"He's improved his game some, but I've improved my game some, too."
Morgan said Michigan will likely use current freshman Max Bielfeldt as a scout team version of Sullinger prior to the game Sunday.
Bielfeldt is 6-foot-7, 240 pounds and is projected to have a fine career by the Michigan coaching staff.
But he's no Jared Sullinger.
"That's a tough job," Morgan said chuckling.
Nick Baumgardner covers Michigan basketball for AnnArbor.com. He can be reached at 734-623-2514, by email at nickbaumgardner@annarbor.com and followed on Twitter @nickbaumgardner.
Want to stay connected to Wolverine basketball in your Facebook newsfeed? "Like" AnnArbor.com's Michigan Basketball News & Views. After you like the page, be sure to enter for a chance to win 4 tickets to the Feb. 18 Ohio State at Michigan basketball game.