Posted on
Thu, Feb 23, 2012 : 1:18 p.m.
John Beilein or Tom Izzo? Who's your Big Ten Coach of the Year?
By Nick Baumgardner
The Big Ten season is nearing a conclusion, and a pair of bosses from the state of Michigan sit toward the top of the league's Coach of the Year conversation.
Didn't we just go through this in November?
With three regular-season games remaining, Michigan basketball coach John Beilein and Michigan State basketball coach Tom Izzo have realistic shots at winning the 2012 Big Ten Coach of the Year award.
Here's a case for both:
A case for Beilein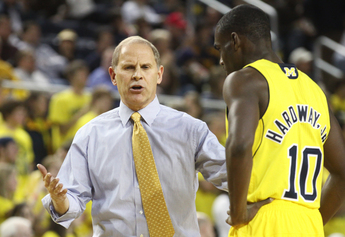 File photo
A year ago, Beilein took a team without a senior and not much hype into the second round of the NCAA tournament.
Following Michigan's loss to Duke in the second round last March, most immediately pointed to the Wolverines' 2011-12 squad as a group to watch. Then, Darius Morris opted to cash in his final two years of eligibility for the NBA Draft, and all bets seemed off.
Beilein entered this season with a solid nucleus of sophomores and two top-notch senior leaders (Zack Novak and Stu Douglass), but had a freshman point guard in Trey Burke.
Michigan was supposed to be good this season, but this good? The Wolverines have matched last season's win total, and have a shot at winning their first Big Ten title in 26 years. Michigan has nine top 50 RPI victories and holds its highest national ranking since the 1996-97 season.
Burke has answered every question, making most Michigan fans forget about Morris, and Beilein certainly deserves credit for a great deal of that.
He's been able to put Burke in successful situations from the start and has shown great confidence in his young floor leader even when times got rough.
Moreover, Michigan went through the month of January with two of its top players, Tim Hardaway Jr. and Evan Smotrycz, stuck in shooting slumps. Despite all that, the Wolverines sit at 21-7, 11-4 in the Big Ten and one game out of first place with three to play.
Should Beilein win the the award, he'd be the first Michigan coach to do so since Bill Frieder in 1985.
In addition, it would mark the second time in school history that Michigan earns a Big Ten Coach of the Year in football and basketball in the same year, as Brady Hoke won the honor in November.
The last time the Wolverines pulled the double-dip was 1985, with Frieder and Bo Schembechler.
A case for Izzo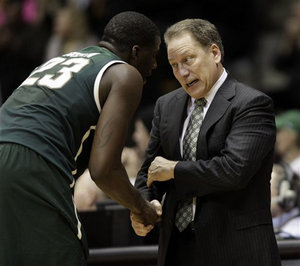 Associated Press
Two Big Ten teams have spent every week ranked among The Associated Press' Top 25 this season, and Michigan State isn't one of them.
The 2010-11 campaign went down as one of the most disappointing years of Izzo's Michigan State tenure. And, heading into this season, expectations were relatively tepid.
The Spartans had Draymond Green, but what else?
With the graduation of Kalin Lucas and the exile of Korie Lucious, Michigan State entered the season without a proven point guard, as sophomore Keith Appling was forced to make the switch from the two to the one.
But after opening the season with losses to North Carolina and Duke, Michigan State has gone 23-3. The Spartans have the inside track to an outright Big Ten title, they hold a serious shot at a No. 1 seed in the NCAA tournament and they've got folks in East Lansing wondering if this isn't Izzo's best club since the 2000 national champs.
Appling's transition has been just fine, as Izzo's helped him average 12 points and 3.9 assists per game. As for Green? Well, he's a Big Ten Player of the Year candidate, averaging 15.5 points and 10.3 rebounds.
After going through a nightmare a year ago, Izzo has been able to re-dedicate his program to the two factors that made it successful in the first place: defense and rebounding.
Michigan State leads the Big Ten in rebounding margin (+9.5) and ranks third in scoring defense (58.7 points per game).
Thanks to that renewed focus, Michigan State has seven wins against Top 25 RPI foes and has the second-best RPI in the country, per CollegeRPI.com.
Should Izzo win the award, it'd be the third of his career. He earned the honor in 1998 and 2009.
Other candidates
Tom Crean, Indiana: Crean's team won't win the Big Ten, and its not playing its best basketball of the season right now, but no one can ignore the turnaround the Hoosiers have made.
Indiana is a virtual lock for the NCAA tournament, and Crean has as many Big Ten victories this season (eight) as he did in his previous three combined.
Bo Ryan, Wisconsin: Ryan brought back Jordan Taylor this season, but he had to replace just about everyone else.
Jon Leur was gone, as was Keaton Nankivil and Josh Gasser. And, despite his Badgers starting the Big Ten season 1-3, Wisconsin sits at 20-7, 9-5 in league play. It could've been a whole lot worse in Madison this year.
***
Sky High: No. 6 Michigan State (23-5, 12-3)

The Spartans continue to hold the inside edge as the Big Ten race inches toward the finish line.
Michigan has an easier remaining schedule, but if Michigan State wins out, the outright title goes to East Lansing. Additionally, the Spartans are fighting for a No. 1 seed in the NCAA tournament.
Rock bottom: Illinois (16-12, 5-10)

When is this trainwreck going to come to a rest?
The Illini have lost nine of their last 10, and have officially played themselves out of the NCAA tournament. And now, after firing Ron Zook following the football season, Illinois athletic director Mike Thomas likely will have another coaching search on his hands in a few weeks.
Standout Stats
2
Big Ten team with unbeaten home records this season, Michigan and Michigan State.
42.4
Indiana's team 3-point field goal percentage, 28 games into the season. It leads the Big Ten and is fourth nationally.
2
Quality RPI wins by Northwestern this season. The Wildcats are 16-12, and in danger of once again missing the NCAA tournament.
1
Win, in 12 tries, for Tubby Smith against Michigan State during his five seasons at Minnesota.
Quotable
"It would have been a really good win. But it wouldn't have assured us of anything and doesn't knock us out of the box either." — Northwestern coach Bill Carmody after his team's overtime loss to Michigan on Tuesday
Nick Baumgardner covers Michigan basketball for AnnArbor.com. He can be reached at 734-623-2514, by email at nickbaumgardner@annarbor.com and followed on Twitter @nickbaumgardner.
Want to stay connected to Wolverine basketball in your Facebook newsfeed? "Like" AnnArbor.com's Michigan Basketball News & Views.