Posted on
Fri, Jan 20, 2012 : 3:44 p.m.
John Beilein quiet on the Michigan basketball team's starting lineup for Saturday and more notes
By Nick Baumgardner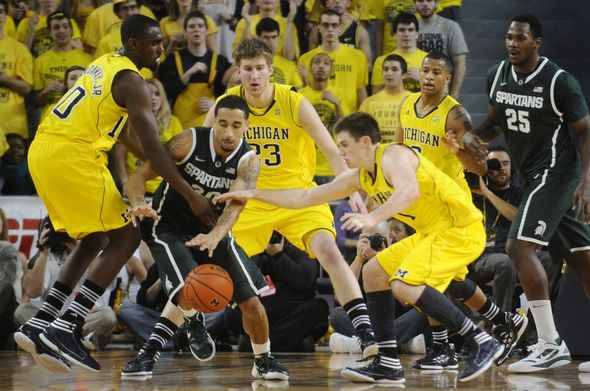 Melanie Maxwell | AnnArbor.com
Michigan basketball coach John Beilein shuffled his starting lineup for the first time in 17 games Tuesday.
What are his plans for Saturday at Arkansas (2 p.m., CBS)?
"I think you'll have to wait and see," he said.
With sophomore forward Evan Smotrycz stuck in a shooting slump and looking "worn down," Beilein inserted senior guard Stu Douglass into the starting lineup prior to the team's 60-59 win over No. 9 Michigan State.
It was the first time Douglass had been in the starting lineup since a season-opening win over Ferris State, and the only time that Smotrycz has come off the bench.
The move seemed to pay off. Douglass finished with nine points and four rebounds in 36 minutes, and provided strong perimeter defense against the Spartans throughout.
Smotrycz, meanwhile, only saw 10 minutes of action against MSU, logging five points.
Beilein was non-committal on what lineup he'll use against the Razorbacks, saying a lot depends on how things mesh between now and tip time.
"We'll see how we practice (Friday)," he said. "We've got a lot of things we can do to get the best particular players on the court at the best particular times."
Douglass appears to be finding his groove just in time for conference play. The senior co-captain is now averaging 8.6 points and shooting 42.9 percent from 3-point range in seven Big Ten games.
Smotrycz, meanwhile, continues to struggle. The 6-foot-9 sophomore forward has averaged 4.7 points and 5 rebounds during league play, well below his non-conference line of 11.7 points and 6.7 rebounds per game.
Melanie Maxwell | AnnArbor.com
"When (a player) takes the game so seriously and they really want to do well, I don't think there's anybody that would go around (being happy)," Beilein said of Smotrycz's struggles. "He's missed some shots I know he'd like to make, (shots) I know he can make, so he's not skipping around like it's the best day of his life.
"But he'll get through it. … You can't beat yourself up over it."
Another player stuck in a recent funk is sophomore swingman Tim Hardaway Jr.
Hardaway was silent during the first half of Michigan's win over Michigan State, and is presently shooting just 37.5 percent from the floor during Big Ten play -- 8-for-42 (19.0) from behind the 3-point line.
"He's getting everybody's best defender and he's working on (taking) what's the best shot for him and the best shot for Michigan," Beilein said. "He's working on (finding out) the right play, and trying to play through any time he makes a poor play or has a bad shot.
"Just play through it."

Strange timing

Beilein didn't sound too excited that Michigan will now spend a weekend traveling to a non-conference opponent in the midst of the Big Ten season.
But he says the Wolverines had no other choice.
Beilein said he wanted to schedule one more road contest against a BCS-conference opponent, a game he hoped would also get picked up by national television.
He found such a match in Arkansas, but due to differing exam schedules, the game had to be played during the second semester, rather than the end of December.
"I always felt we needed one more road contest against a high-level team," he said. "Arkansas' date matched with our date, and CBS helped make it happen.
"(But there's also) just so many dates you lose for a lot of reasons. The Maui trip was a couple days of we lost because of travel."
Arkansas will pay a return visit to the Crisler Center next season. Beyond that, Beilein says a lot of Michigan's non-league scheduling decisions will be worked around the new Big Ten/Pac-12 scheduling collaboration -- a pact he's a big fan of.
"I think it's a great idea," he said. "Because of the exempted tournaments, it's really hard to get quality non-conference BCS series going. This is a way to do it."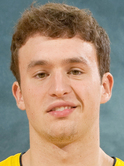 Zovak's Journey
Michigan senior co-captain Zack Novak was featured last weekend during an episode of the Big Ten Network show "The Journey."
BTN cameras followed Novak around campus, featuring him as a basketball player and also giving viewers some insight on his work in the classroom as a business major at Michigan.
"That was cool," Novak told MGoBlue.com. "I met with them at like 8:45 in the morning, they came to my (academic) meeting with me, I guess you saw it, so you know what happened.
"It was cool. There was a lot of footage they took and they don't use hardly any of it. But it was fun, those guys do a really good job."
The show also featured time with Novak's roommate, Michigan walk-on guard Josh Bartelstein, who told the show a story about Novak's intense video-gaming habits -- and even pointed out a hole the Michigan captain punched in the wall following a video game defeat.
"The Journey is one of my favorite shows, so it was fun to be on it," Bartelstein said. "We spent like the whole day filming it, even though they showed like 10 minutes.
"Everyone kind of loves the Madden story of him punching the wall, but I think Zack deserves to have his own episode of the show, he's meant so much to Michigan basketball and the fans love him. It makes you happy as a teammate, and more importantly his friend, to see him get the recognition he deserves."
Nick Baumgardner covers Michigan basketball for AnnArbor.com. He can be reached at 734-623-2514, by email at nickbaumgardner@annarbor.com and followed on Twitter @nickbaumgardner.
Want to stay connected to Wolverine basketball in your Facebook newsfeed? "Like" AnnArbor.com's Michigan Basketball News & Views.