Posted on
Mon, Dec 27, 2010 : 5:35 p.m.
Michigan basketball can use experience against Oakland's Keith Benson to prepare for Purdue's JaJuan Johnson
By Michael Rothstein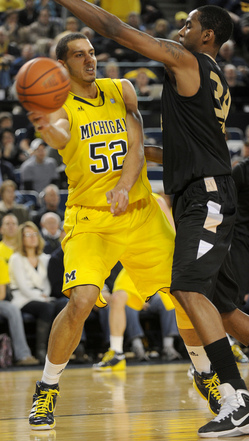 AnnArbor.com file photo
When Oakland coach Greg Kampe put together his schedule before this season, he tried to match his big man, Keith Benson, against some of the best post players in the Midwest.
Among those players is Purdue senior JaJuan Johnson.
Kampe's scheduling plan inadvertently gave the Michigan basketball team the experience of guarding a player like Johnson, who the Wolverines will face Tuesday in their Big Ten opener (2 p.m., Big Ten Network).
"You see a little bit of it," Michigan coach John Beilein said. "Johnson is a little bit different, very consistent from the outside and a little bit more consistent in his games.
"When you have E'Twaun Moore on the court at the same time, that makes it difficult, as well. But there are similarities, so we'll be able to draw from it."
In other words, while Michigan won't give away its game plan, don't be surprised if the Wolverines throw some sort of double team at Johnson.
Michigan did that to Benson in a 69-51 win over Oakland on Dec. 18 and held the potential NBA first-round draft pick to 11 points and seven rebounds, by far his worst game of the year to that point.
Johnson is a tougher player to deal with than Benson for many reasons. First is Moore, the slick guard who is also one of the best players in the Big Ten, averaging 19.4 points and 5.8 rebounds.
Johnson himself is one of the better defensive interior players in the Big Ten, having blocked at least one shot in every game this season. Offensively, unlike a lot of post players, the 6-foot-10, 221-pound Indianapolis native is equally as dangerous when he isn't in the low post.
"He's really good about turning around and shooting it real quick," said Michigan redshirt freshman forward Jordan Morgan, who will likely start the game defending Johnson. "He's really effective from mid-range all the way out to the 3-point line.
"Even getting him off the block is really not enough. That's probably the most dangerous part of his game."
The preseason All-American has improved throughout his career. After starting half his games his freshman year, Johnson has started almost every game the past three seasons. In those three years, his scoring average jumped from 13.4 points to 19.8 this year. His rebounding average jumped from 5.6 as a sophomore to 7.9 this season.
Due to all this, Johnson has pretty much seen every type of defense possible intended to stop him. And while Purdue coach Matt Painter could see why a scouting report of Benson could be used to make decisions on how to guard Johnson, it isn't a fail-safe when Purdue scouts opponents.
"They use Keith Benson a little bit differently than we use JaJuan, but you watch them all. You watch all the games and how they handle different guys," Painter said. "The thing with guys like Keith Benson and JaJuan Johnson, there aren't a lot of them out there. So, you pay attention to that.
"They might do the same thing to JaJuan. They might do something different."
Michael Rothstein covers Michigan basketball for AnnArbor.com. He can be reached at 734-623-2558, by e-mail at michaelrothstein@annarbor.com or follow along on Twitter @mikerothstein.