Posted on
Thu, Apr 5, 2012 : 2:12 p.m.
Michigan basketball coach John Beilein addresses Trey Burke situation, calls early-exit reports premature
By Nick Baumgardner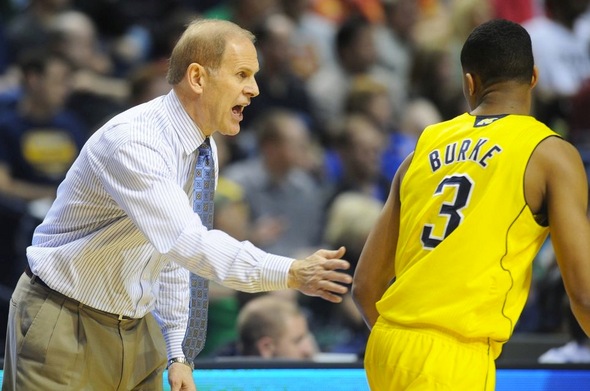 Melanie Maxwell | AnnArbor.com
For the first time since the season ended, Michigan basketball coach John Beilein made a public comment on his current point guard situation.
In a blog post written Thursday on MGoBlue.com, the Michigan athletic department's official website, Beilein addressed the speculation and reports surrounding current Wolverine point guard Trey Burke.
And he reports, as of now, no decision has been made on Burke's future.
"I would like to note that Wednesday's reports of Trey Burke's decision to enter the NBA draft were premature," Beilein wrote. "My coaching staff and I have met with Trey and his parents several times over the past two weeks.
"Collectively, we have gathered and shared with each of them some necessary information that we feel will help Trey make the most informed decision for his future."
On Wednesday, CBSsports.com's Jeff Goodman reported that Burke was expected to enter his name into the 2012 NBA Draft, which would end his Wolverine career after just one season in Ann Arbor.
The Detroit Free Press reported the same as Goodman initially, but later wrote that Burke was re-evaluating his decision Wednesday night.
Minutes after Goodman's initial report, Burke's father, Benji, told AnnArbor.com via text message that Burke had not entered the NBA Draft. Minutes after that, Burke's father took to Twitter, writing that his son was still enrolled at the University of Michigan.
In his blog post, Beilein wrote that he and the Michigan coaching staff are currently encouraging Burke to be patient and weigh all his options with regard to his decision.
"The Burke family has been very receptive to our assistance and appreciates that we have encouraged Trey to take his time and look at all of his options between now and the April 10 deadline," Beilein wrote. "With only one full week of classes remaining, Trey and his teammates, like all students at Michigan, are working diligently to complete their assignments and prepare for final exams."
If a player declares for the NBA Draft, he has until April 10 to remove his name and sustain his collegiate eligibility.
However, the NBA's deadline for draft entry is April 29 — meaning Burke doesn't have to make one official decision until the end of the month.
The 5-foot-11-inch Burke averaged 14.8 points per game last season for the Wolverines and set a school record for assists in a season by a freshman, earning the co-Big Ten Freshman of the Year award in the process.
NBAdraft.net, a pro basketball mock draft site, released an updated mock Thursday morning, slotting Burke as the 39th pick overall (the ninth pick in the second round).
Beilein did not address the transfers of Evan Smotrycz, Carlton Brundidge or Colton Christian in his blog post and has yet to meet with local reporters since the Wolverines' season ended March 16.
"The entire team has really worked hard in our postseason practice over the past few weeks," he wrote. "I love the progress of our returning talent; they are playing with great confidence and swagger. The leadership roles are evolving in a very positive way as the veterans step up and lead the team.
"The attitude has been great and the energy very high for each and every workout. Our three redshirt athletes have all had some very impressive moments in recent drills and scrimmages as well."
Nick Baumgardner covers Michigan basketball for AnnArbor.com. He can be reached at 734-623-2514, by email at nickbaumgardner@annarbor.com and followed on Twitter @nickbaumgardner.
Want to stay connected to Wolverine basketball in your Facebook newsfeed? "Like" AnnArbor.com's Michigan Basketball News & Views.