Posted on
Mon, Jan 30, 2012 : 10:13 p.m.
Michigan basketball enjoying national exposure, John Beilein expects home sellouts the rest of the season
By Nick Baumgardner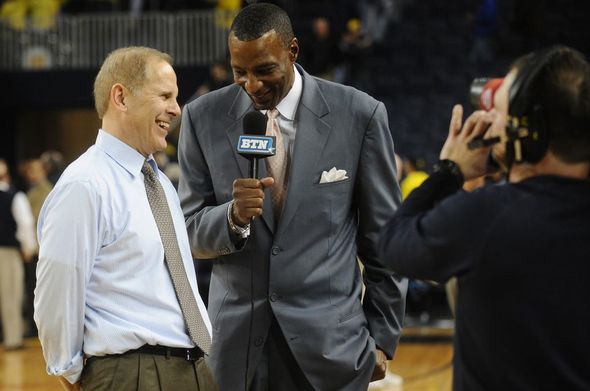 Melanie Maxwell | AnnArbor.com
The Michigan basketball team has had some impressive streaks this season.
To date, the Wolverines have spent 13 straight weeks as a nationally ranked club. And Wednesday against Indiana, Michigan will look to remain unbeaten at home this season, as it goes for its 14th straight home win dating back to last season.
But what streak is most impressive in the mind of coach John Beilein?
The fact that, as of Feb. 12, his team will have played on national television for four consecutive weekends.
"It'll be four consecutive weekends," Beilein said Monday during his weekly radio show. "There's so many schools that would kill to be on CBS, and we're so fortunate to be rewarded that opportunity on so many consecutive weekends."
The Wolverines have played a nationally televised game on CBS three times already this season. Michigan beat Wisconsin at home on Jan. 8, lost at Arkansas on Jan. 21 and fell at Ohio State on Sunday.
This coming Sunday, Michigan will travel to East Lansing for its third consecutive weekend CBS game. And on Feb. 12, the Wolverines will welcome Illinois to the Crisler Center for a fourth straight CBS contest.
From there, Michigan basketball will also receive a national spotlight when it hosts Ohio State and ESPN's College GameDay on Feb. 18.
"It's a great quality Michigan has, because people like watching Michigan sports," Beilein said. "We realize it's a great opportunity, and it's a great opportunity to continue to grow our brand."
With the growing number of national television opportunities, Beilein says he's noticed some serious growth in fan popularity this season for his program.
He said he's noticed "more autograph (seekers) in the lobbies" than he saw during the early part of his Michigan tenure.
And, on top of that, he says he expects Michigan's remaining four home games to feature sellout crowds.
"I think (Michigan Chief Marketing Officer) Hunter Lochmann and everyone have done an incredible job," Beilein said. "I think we're sold out for the rest of the year, or close to it.
"They believe every game will be sold out the rest of the year. If that's the case, then we're doing the right thing."

Wearing out game tape

Beilein said Michigan spent an extraordinary amount of time Monday watching game film from its Ohio State loss.
Most of the focus during the film study was fixing controllable problems, Beilein said.
"We watched a lot of film (Monday), we might have set a record," he said. "We approached two hours, overall.
"(We focused on) areas that we can control. Areas that the worst basketball player in college basketball can do -- it doesn't take skill to run up the floor, it doesn't take skill to box out and it doesn't take skill to say 'I've got him, you've got him.' Pretty simple stuff, and the kids did a great job of responding."

RPI booster

Despite going 1-1 last week, Michigan saw a steady improvement in its season RPI.
According to the NCAA's official RPI rankings, Michigan went from No. 28 to No. 19 after a win at Purdue and a loss at Ohio State.
To date, the Wolverines have six wins against top 50 RPI teams (Michigan State, Wisconsin, Memphis, Minnesota, Northwestern and Iowa State).
"I don't remember any of my teams having a 19 RPI at any time," Beilein said. "It doesn't mean anything at this point, you've got to keep winning, obviously, but it's a good position (to be in).
"Last year, I don't think we had a top 50 win until we beat Michigan State. So, we had one at this time last year. Clemson got in later on, but still. We've got to keep on going."

Beilein in the Coaches Charity Challenge

Beilein is currently second to Ohio State's Thad Matta in the Midwest Region of the Infinity Coaches' Charity Challenge.
The challenge features 48 college basketball coaches competing for votes and an opportunity to earn money for a charity of their choosing.
Presently, Beilein -- who is playing for the St. Louis Center in Chelsea -- is one percentage point behind Matta.
The winner of the event receives $100,000 for the charity of his choice.
To vote for Beilein, visit www.espn.com/infiniti.
Nick Baumgardner covers Michigan basketball for AnnArbor.com. He can be reached at 734-623-2514, by email at nickbaumgardner@annarbor.com and followed on Twitter @nickbaumgardner.
Want to stay connected to Wolverine basketball in your Facebook newsfeed? "Like" AnnArbor.com's Michigan Basketball News & Views.