Posted on
Tue, Jan 31, 2012 : 3:39 p.m.
Michigan basketball forward Jon Horford not cleared to play full court, still not ready to return
By Nick Baumgardner
The chances of the Michigan basketball team getting sophomore forward Jon Horford back from injury this season seem to be dwindling by the day.
Horford, who has missed 13 consecutive games with a foot injury, has yet to get full clearance from coach John Beilein to play. In fact, the 6-foot-10 big man has not yet been given the go-ahead to participate in full-court practice drills.
"He's going to do some half-court stuff (Tuesday), but doesn't make sense (to put him in the game)," Beilein said. "If he's not healthy and he's not playing well in practice, then we should (think about) saving the year (with a medical redshirt).
"There's nine games left, 10 games counting the tournament. We'll keep watching him, but right now, he can't run up and down the court full speed and play."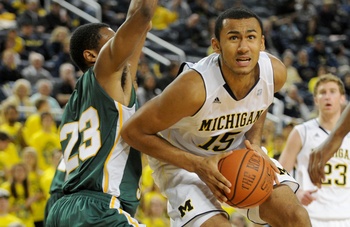 Angela J. Cesere | AnnArbor.com
Horford traveled with the team to Ohio State last weekend, but watched the game from the sidelines in street clothes. He's no longer sporting a protective walking cast on his right foot.
Horford says the situation has been frustrating, but he's trying to keep a positive attitude.
"That's life," he said Sunday. "My teammates have been really supportive of me, but it's been hard, and it's always hard when you can't play.
"Everyone's been helping me stay up, and hopefully in the near future I can be at 100 percent."
Horford said the stress fracture injury in his right foot has healed, but now he's simply dealing with day-to-day bouts of lingering pain.
He practiced Friday, but was unable to go Saturday before Michigan's loss in Columbus -— a game in which Michigan was out-rebounded by nine and out-scored in the paint by 10.
"I won't make a decision until I (decide) to put him in a game," Beilein said. "If I decided to put him in the game, in fairness to him, it'll be, 'Are you sure?' If it gets to that point.
"He hasn't been cleared to play full-court yet, we've tried to get him up and down, but it didn't work. He hasn't been cleared yet."
In other injury news, Beilein said injured junior guard Eso Akunne had successful surgery on his injured left foot.
Akunne, an Ann Arbor native, is expected to miss six to eight weeks.
Nick Baumgardner covers Michigan basketball for AnnArbor.com. He can be reached at 734-623-2514, by email at nickbaumgardner@annarbor.com and followed on Twitter @nickbaumgardner.
Want to stay connected to Wolverine basketball in your Facebook newsfeed? "Like" AnnArbor.com's Michigan Basketball News & Views.