Posted on
Tue, Jan 10, 2012 : 3:46 p.m.
Michigan basketball gets encouraging news on Jon Horford's injured foot
By Nick Baumgardner
Jon Horford isn't exactly ready to return to the Michigan basketball team's rotation, but he's not out for the season, either.
Not yet, anyway.
Michigan coach John Beilein said Tuesday that he and his coaching staff received positive news on the sophomore forward's injured right foot following an X-ray Monday, and he's hopeful to have him back at practice soon.
"There's improvement in his foot," said Beilein, whose team will host Northwestern on Wednesday (6:30 p.m., BTN). "This week he's going to be able to start shooting on his own. They're going to do a lot of water therapy and therapy with him just to get him ready.
"This will be the week they'll allow him to jump and do some little things. Next week, we'll see how he feels."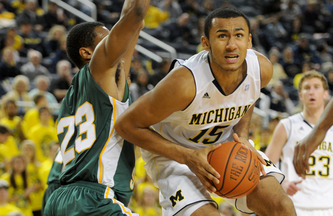 Angela J. Cesere | AnnArbor.com
Beilein said the hope is to get Horford back to full-speed practices in a week's time. From there, a decision will be made on whether he can return to game action.
"We're trying to get him into practice by next week, and see how he feels," Beilein said. "Then we have a pretty big decision to make."
The 6-foot-10, 250-pound Horford has missed Michigan's past seven games with metatarsal stress fracture in his right foot.
Without him in the lineup, the 13th-ranked Wolverines have been making do with a rather thinned out front court -- with starters Jordan Morgan and Evan Smotrycz being backed up solely by junior Blake McLimans.
Presently, Michigan (13-3, 3-1) is 10th in the Big Ten in rebounding with 33.6 per game. The Wolverines are 11th in blocked shots with just 2.5 per game.
The improved news on Horford's foot injury could offer help in those departments soon, however, Beilein said the possibility that Horford could miss the remainder of the season "is still a concern."
"But (there's) also a silver lining that he didn't play 12 or 13 games and you've used his redshirt up," Beilein said. "It's part of the thing when you have a foot injury like that, because you really don't know. You have to be careful with it, we do not want to use this season on an injured player. We've got to make sure he's in really good shape before we use him."
In nine games, Horford has averaged 2.7 points and 3.6 rebounds.
Nick Baumgardner covers Michigan basketball for AnnArbor.com. He can be reached at 734-623-2514, by email at nickbaumgardner@annarbor.com and followed on Twitter @nickbaumgardner.
Want to stay connected to Wolverine basketball in your Facebook newsfeed? "Like" AnnArbor.com's Michigan Basketball News & Views.