Posted on
Wed, Mar 21, 2012 : 5:32 p.m.
Michigan basketball PG Trey Burke to look into NBA draft stock, still leaning toward staying
By Nick Baumgardner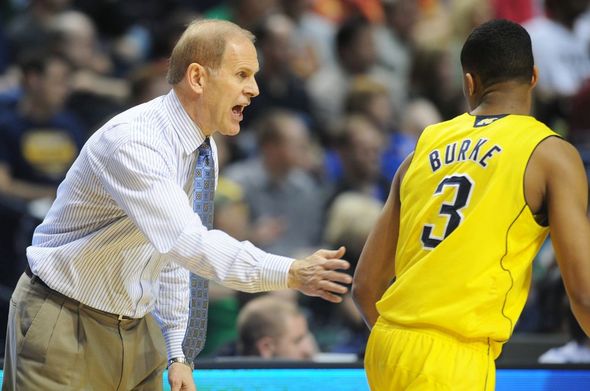 Melanie Maxwell | AnnArbor.com
Trey Burke
is going to take a look at his NBA future.
As of right now, he's still very much a member of the Michigan basketball program.
As first reported Wednesday by the Detroit Free Press, Michigan's freshman point guard will seek advice from the NBA Draft Advisory Committee to determine what his draft status might be should he declare.
Burke's father, Benji, confirmed the news to AnnArbor.com.
"We had got some information earlier about applying and seeing where his status was in the draft," Benji Burke said. "So that's what he did, just to see where he's at.
"There are a lot of things out there that are saying he could be a first-rounder, so he thought it'd be in his best interest to at least solidify that information. ... That's all, he wants to know more, he wants to see where he's at. He knows right now that he's probably as hot a point guard prospect in college as he may ever get. He just wants to see what happens."
Benji Burke said he and his family decided to explore the possibility after Michigan's season ended last week in a 65-60 loss to Ohio during the second round of the NCAA Tournament.
From there, he said the family spoke with Michigan coach John Beilein about the situation and moved forward.
Benji Burke says he and his family have received information from personal sources that Burke could possibly be selected as high as the No. 18-24 range of the first round in this summer's NBA draft.
The deadline to declare for the NBA draft is April 29. However, the deadline for underclassmen to withdraw from the draft and maintain their college eligibility is April 10.
As of now, nothing's final. In fact, it seems the freshman floor leader is currently leaning toward staying for his sophomore season.
"We figured we had to at least see what's going on," Benji said. "That's where we're at. We're wanting to see where we're at and go from there.
"Trey just got to Ann Arbor. We just got here, and now we're talking about him leaving. It's just tough, it's a tough decision but hopefully we'll be back in Crisler this year. ... As of now, we're coming back. But anything can change. We're open."
Burke finished his freshman season as Michigan's leading scorer, and was the co-recipient of the Big Ten Freshman of the Year award.
The 5-foot-11-inch Columbus native averaged 14.8 points per game last season, and set a freshman school record with 156 assists.
Should Burke leave, it'd be the third straight year the Wolverines have lost a player early to the NBA draft. Manny Harris departed the school before his senior season in 2010, while Darius Morris left after his sophomore season in 2011.
"Right now, we'd love for him to come back," Benji said. "We'd both love for him to come back and get another year closer to his degree. I think he's in a great situation at Michigan.
"As of right now, we would hope that he comes back, that's what we're leaning for. But at the same time, I have to be a dad and steer him right and support him. How do you tell a 19-year-old kid he can't inquire about (the NBA draft). It's very tough, and this is probably going to be one of the toughest decisions he's made in his life."
Nick Baumgardner covers Michigan basketball for AnnArbor.com. He can be reached at 734-623-2514, by email at nickbaumgardner@annarbor.com and followed on Twitter @nickbaumgardner.
Want to stay connected to Wolverine basketball in your Facebook newsfeed? "Like" AnnArbor.com's Michigan Basketball News & Views.