Posted on
Mon, Mar 5, 2012 : 5:20 p.m.
Michigan basketball players say they deserve their share of the Big Ten title as much as anyone
By Nick Baumgardner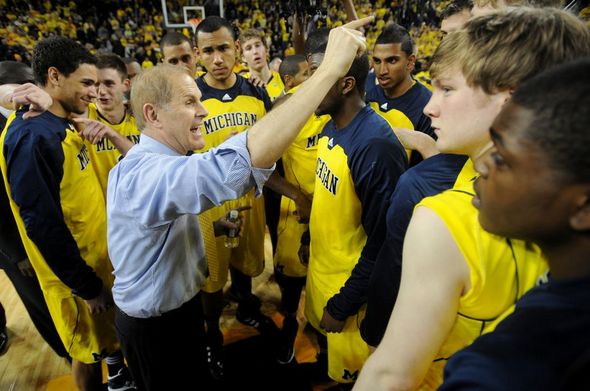 Melanie Maxwell | AnnArbor.com
Shortly after his team's loss to Ohio State on Sunday, Michigan State junior center Derrick Nix wasn't exactly thrilled about the idea of sharing a Big Ten championship with the Michigan basketball program.
More specifically, Nix said the Spartans were forced to share the crown with their "little nephews," which "sucks."
The Wolverines? Well, they aren't nearly as bitter about sharing the wealth.
"You hear the haters out there saying 'calm down, it's just a split,'" Michigan sophomore Tim Hardaway Jr. said Monday. "But you don't realize what goes on behind those doors in the practice facility and throughout the whole entire season.
"You don't know what players go through to be in that position. Even if it was a split, it really doesn't matter to us, we're very happy with what we accomplished."
The No. 10 Wolverines (23-8, 13-5) will go down in the books as tri-champions, sharing the crown with No. 7 Ohio State and No. 8 Michigan State.
The split championship seems unique due to the fact that Michigan's co-banner holders this season are its two biggest rivals. In reality, shared championships are nothing new.
Since the 1997-98 season, Tom Izzo and Michigan State have won seven regular-season Big Ten titles, five of which were shared.
During that same time span, Ohio State also grabbed seven regular-season league crowns, four of which were shared. The Buckeyes have since vacated two of those title shares due to sanctions.
The Wolverines now have one Big Ten title since 1986. And even though its split three ways, the banner they'll put up next season will be whole.
"We deserve it as much as anyone else," Michigan senior co-captain Stu Douglass said. "We won and lost with Michigan State and Ohio State, we beat teams they lost to and vice versa. I think we deserve it.
"We have the same record, (MSU) just happened to lose the last game of the season for us to win it."
After beating Penn State on Sunday afternoon and watching Ohio State knock off Michigan State to seal the shared crown, the Wolverines have gone through quite a whirlwind over the past 18-24 hours.
Michigan celebrated as a team late Sunday night at the new William Davidson Player Development Center and coach John Beilein was surrounded by twice the normal amount of media for a weekly news conference Monday afternoon -- just minutes after he finished a national radio spot on "The Jim Rome Show."
Beilein says he has been peppered with phone calls and text messages congratulating him, with one of the first coming from the school's greatest player ever.
"Cazzie (Russell) called me this morning, that was one of my first calls," Beilein said. "Of course they had their championships, and I've heard from a lot of people.
"I'm trying to just get through the day. But Cazzie's call was obviously special."
Michigan will begin the 2012 Big Ten Tournament on Friday in Indianapolis. They'll play as the No. 2 seed against either Northwestern or Minnesota.
And they'll do so as champions. Split, shared or otherwise.
"The facts are, we went 13-5 and shared the Big Ten title," Douglass said. "And we deserve it as much as anyone else."
Nick Baumgardner covers Michigan basketball for AnnArbor.com. He can be reached at 734-623-2514, by email at nickbaumgardner@annarbor.com and followed on Twitter @nickbaumgardner.
Want to stay connected to Wolverine basketball in your Facebook newsfeed? "Like" AnnArbor.com's Michigan Basketball News & Views.