Posted on
Sat, Mar 3, 2012 : 5:59 a.m.
Michigan basketball team focusing on Penn State, not Spartans vs. Buckeyes
By Nick Baumgardner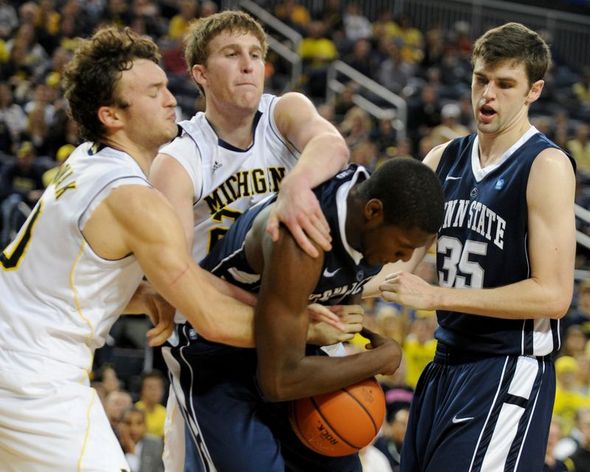 Angela J. Cesere | AnnArbor.com
If John Beilein could coach two games Sunday, he would.
Reality says he can't.
So, for the time being, the Michigan basketball coach says he'll pay attention to the one game he can control, and let everyone else worry about the one he can't.
"We play first," Beilein said. "We don't know what's going on (after that).
"This is what we've been fighting for all season long, and we only can control this."
The 13th-ranked Wolverines (22-8, 12-5) close out the 2011-12 regular season Sunday (1 p.m., ESPN) at Penn State (12-18, 4-13).
Three hours later, Michigan State and Ohio State meet in East Lansing for a game that's just as important to Michigan's Big Ten title hopes.
Even if the Wolverines beat the last-place Nittany Lions, they still need the Buckeyes to knock off the Spartans to earn a share of their first Big Ten championship in 26 years.
Poll: Predict how the Big Ten title race will end after games on Sunday
For Ohio State, the task will be tall. Michigan State is playing for an outright championship and will be honoring its senior class, including likely Big Ten Player of the Year Draymond Green.
Michigan players say they're not worried about what's going on in East Lansing because if they don't win in State College, none of it matters anyway.
"We have no control over (the MSU-OSU game)," Michigan senior co-captain Zack Novak said. "We know we've got to beat Penn State, and we know their new coach (Pat Chambers) has them playing very hard.
"And we've got to match that. I'm just worried about Penn State, and the rest, we'll see what happens."
There are plenty of motivational factors Beilein can plant inside his team's head prior to Sunday.
A victory would get Michigan to 5-4 on the road in Big Ten play, something the program hasn't accomplished since 1993-94. Thirteen league wins would also be Michigan's best Big Ten output since the Fab Five era.
More importantly, it keeps the hope of a 13th Big Ten championship banner alive.
"We're really playing for something on the last game of the regular season, and a lot of times you're not playing for a championship (in this situation)," Beilein said. "We're really stressing with these young men that this is what we've been fighting for all year long, to be in this position.
"I would hope we're really focused on the opportunity we have in front of us."
From a waiting game standpoint, Michigan finds itself in a unique situation Sunday.
Should the Wolverines win, they'll be in even rarer territory: the Ohio State bandwagon. That's something rarely (if ever) discussed inside the Michigan athletic department.
Asked how he felt about the prospects of rooting for the Buckeyes, who he now refers to as "Ohio," Beilein kindly dodged the question.
"I don't know if I'll be rooting for anyone," Beilein said with a laugh. "I'll be watching the scoreboard, how about that?
"I'll just be watching the scoreboard with great interest."
Nick Baumgardner covers Michigan basketball for AnnArbor.com. He can be reached at 734-623-2514, by email at nickbaumgardner@annarbor.com and followed on Twitter @nickbaumgardner.
Want to stay connected to Wolverine basketball in your Facebook newsfeed? "Like" AnnArbor.com's Michigan Basketball News & Views.