Posted on
Fri, Feb 24, 2012 : 6:03 p.m.
Michigan basketball team shooting for first perfect home record in 35 years
By Nick Baumgardner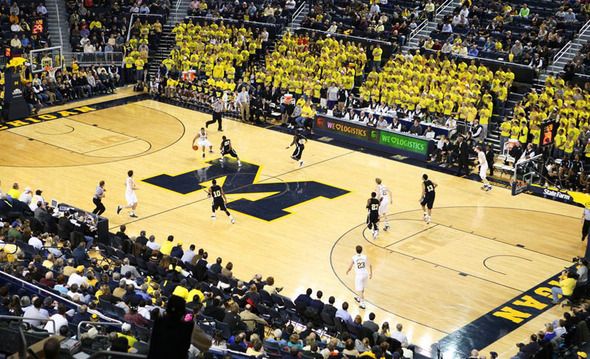 Fifteen teams have entered the Crisler Center this season looking for a victory. To date, every one of them has left empty-handed.
On Saturday (6 p.m., BTN), the Michigan basketball team will look to make it 16-for-16 when Purdue visits Ann Arbor for the Wolverines' home finale.
It's been 35 years since a Michigan team finished a season with a perfect record, and this year's club is now one win away from becoming just the fifth Wolverine squad to accomplish that feat.
How they got there, though, is anyone's guess.
"There's not a formula for this, guys," Michigan coach John Beilein laughed Friday. "You play as hard as you can, and a lot of the credit goes to the players who had that personal pride of wanting to play well at home."
Beilein pointed to plenty of fortunate bounces of the ball as one reason why Michigan currently sits with a 15-0 home record, citing narrow wins against Northwestern and Michigan State as games that could've easily gone the other way.
Players shared a similar sentiment, explaining how the Wolverines put a heavy focus on being a tough home team this season, and have simply followed through to this point.
"This year was the first year we really put an emphasis (on going unbeaten at home)," Michigan senior Zack Novak said. "You always talk about winning at home, but when we got into Big Ten play, the coaches really started to emphasize it more.
"It's something that just kind of happened, and now we're looking forward to hopefully getting it done."
The last Michigan team to finish a regular season undefeated at home was the 1976-77 squad. That season, the Johnny Orr-coached Wolverines used several high-scoring performances from Phil Hubbard and Rickey Green to go 14-0 at home, 26-4 overall, eventually falling to North Carolina-Charlotte in the Elite Eight.
Michigan also had perfect home seasons in 1973-74, 1964-65 and 1947-48.
This season, Michigan has scored four home wins over ranked foes and is one of just two Big Ten squads (Michigan State being the other) to still maintain a perfect home record.
The Wolverines have also been helped this season by favorable home crowds. Michigan will finish the season with eight home sellouts (the Purdue game has already been sold out), the most since 1994-95.
"It'd be one of those goals we actually set out to do and 100 percent accomplished for the first time," Michigan senior Stu Douglass said. "That'd be nice to finally do.
"From a historical standpoint, it'd be nice, but we really want that Big Ten championship."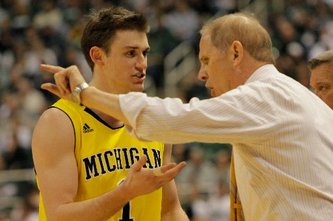 Chris Asadian | AnnArbor.com
Senior night emotions?
Neither Novak or Douglass said they expected to go through anything out of the ordinary entering their final home game Saturday.
Both seniors say they'd like to keep the game as normal as possible.
"We'll be back here practicing and stuff (afterward)," Douglass said. "We'll have the regular routine, I'll take my nap.
"I've been here for so long, I don't think it will be too sad."
Beilein said he hasn't allowed himself to go through any sentimental feelings leading into Saturday, which will begin with a ceremony honoring Douglass, Novak and fellow seniors Corey Person and Ben Cronin.
Instead of getting sappy Saturday, the fifth-year coach says he'll save any final emotions until the season is completely over -- a point he hopes to avoid for several more weeks.
"This is a special group, they've been the face of Michigan basketball for four years and they've had great success," Beilein said. "They've fought so hard to prove themselves, and that's what really makes it special.
"My sentimental (thoughts) will come when it's all over, when someone tells us we can't play anymore. That's when I'll feel it."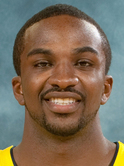 New hype video
Just before tip last Saturday against Ohio State, Person and sophomore forward Tim Hardaway Jr. appeared on the Crisler Center big screen with a pump-up video for the capacity crowd.
Person said he was happy with the finished product, and said he's glad it didn't turn out "corny."
"They asked me to do it, and I didn't want to do it myself so I made Tim come with me," said Person, who leads the team's on-floor huddle just before the start of each game. "I thought it'd be cheesy or corny if I was up there myself, so I made him do it with me.
"We've seen some other videos at other arenas, I won't mention the names of the schools, that we thought were kind of corny. So we wanted to stay away from those ideas and make it our own. ... It seemed like it worked out."
Nick Baumgardner covers Michigan basketball for AnnArbor.com. He can be reached at 734-623-2514, by email at nickbaumgardner@annarbor.com and followed on Twitter @nickbaumgardner.
Want to stay connected to Wolverine basketball in your Facebook newsfeed? "Like" AnnArbor.com's Michigan Basketball News & Views.