Posted on
Tue, Mar 13, 2012 : 5:17 p.m.
Michigan basketball team insists everything is 'all good' with Trey Burke heading into NCAA tourney
By Nick Baumgardner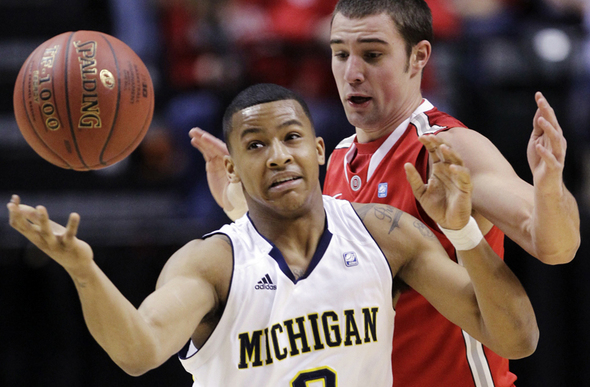 AP Photo
Trey Burke admitted he was pretty down after his latest performance.
"I beat myself up all (Saturday) night," the Michigan basketball point guard said a day after the Wolverines suffered a 22-point loss to Ohio State in a Big Ten Tournament semifinal.
Now, fully removed from Indianapolis and completely focused on the NCAA Tournament, and an opening-round matchup against Ohio on Friday (7:20 p.m., TNT) in Nashville, Tenn., the Wolverines need their best player to, well, be just that.
After a spirited workout Monday, Michigan players and coach John Beilein said there's no need to pick up their rookie point guard or offer him any special words of encouragement heading into the tournament.
Because he doesn't need it.
"He's as solid as they come. I have no doubt he'll bounce back. I haven't said anything to him since, probably, Maui about getting ready for an environment," Michigan senior captain Zack Novak said, referring to the team's early-season trip to the Maui Invitational.
"He's not fazed by anything."
Burke had the worst performance of his young career Saturday against Ohio State, going 1-for-11 from the floor with eight turnovers, just one night after going for 30 points in an overtime win against Minnesota.
He seemed to hit a perfect storm of struggle in the Wolverines' final game before the NCAA Tournament, falling short on jumpers, struggling to turn the corner off the dribble and even picking up two early fouls.
But Michigan says it's not worried, not after what it's seen from the co-Big Ten Freshman of the Year all season long.
"You're not going to have the best day every day, especially when you compare it the night before, when he was the best point guard in the country that night," Beilein said. "It's all good. He really understands the game, he understands the ebbs and flows of his performances."
In his last outing, Burke was matched up against a familiar face in Ohio State point guard Aaron Craft, the Big Ten's Defensive Player of the Year.
On Friday, he'll get another familiar face when he stands across from Ohio junior point guard D.J. Cooper, the Most Valuable Player of the Mid-American Conference Tournament.
Cooper averages 14.6 points and 5.7 assists per game and, like Burke, is very capable both off the dribble and from behind the 3-point line.
But, again, teammates say there won't be any need for a pep talk heading into Burke's tournament debut.
Michigan wouldn't be heading to Nashville without him.
And with the season now on the line, the Wolverines' feelings about their freshman floor leader hasn't changed.
In Trey, they still (very much) trust.
"He's experienced," Michigan senior co-captain Stu Douglass said. "The whole needing experience thing (with Burke) has kind of gone out the window.
"It started with a playoff-type experience against Minnesota, and he basically carried us the whole game. He had a rough game against Ohio State. He's had a wide range of experiences already, and it'll only help him. We don't need to say anything to him."
Nick Baumgardner covers Michigan basketball for AnnArbor.com. He can be reached at 734-623-2514, by email at nickbaumgardner@annarbor.com and followed on Twitter @nickbaumgardner.
Want to stay connected to Wolverine basketball in your Facebook newsfeed? "Like" AnnArbor.com's Michigan Basketball News & Views.