Posted on
Sat, Jan 14, 2012 : 6:11 p.m.
Michigan basketball team struggles to score, falls at Iowa, 75-59
By Nick Baumgardner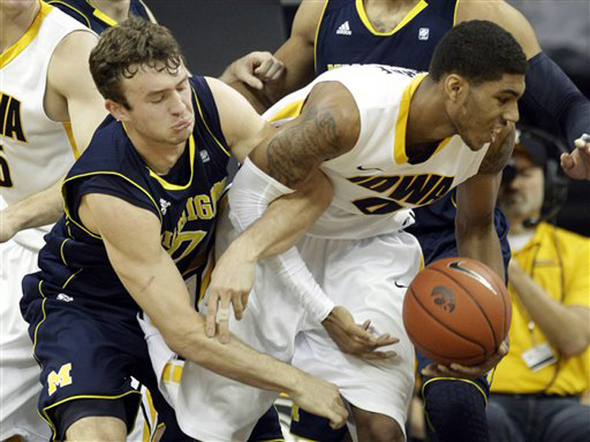 Associated Press
This article has been updated.
IOWA CITY, Iowa -- The road continues to be a cold, lonely place for the Michigan basketball team.
The 13th-ranked Wolverines shot 38.5 percent from the floor as a team, turning in one of their worst offensive performance of the season in a 75-59 loss at Iowa.
Michigan (14-4, 4-2 Big Ten) is 0-3 in true road games this season.
"We weren't sticking to our principles," Michigan senior captain Zack Novak said. "They did what they needed to do to win.
"They were just better than us."
It marked the third consecutive game the Wolverines have shot worse than 40 percent as a team, and on Saturday, no one was sheltered from the struggles.
IOWA 75, MICHIGAN 59

Nick Baumgardner's recap:
BIG SHOTS
The Wolverines entered Saturday in search of their first road win, and after a skittish offensive performance in Iowa City, Michigan's still looking. As a team, the 13th-ranked Wolverines shot 38.5 percent from the floor, 25.8 percent from the 3-point line (8-for-31) and 11-for-17 from the free throw line. Tim Hardaway Jr. and Evan Smotrycz combined to shoot 2-for-19, and Jordan Morgan attempted just one field goal in Michigan's most lopsided loss of the season.
BURKE'S TROUBLES
For the first time in his career, Michigan freshman point guard Trey Burke was saddled with early foul trouble. The Wolverines paid the price. Burke picked up his second foul 6:44 into the game, and Michigan coach John Beilein elected to sit him for the final 13:16 of the first half. Without their point guard, the Wolverines struggled. Michigan was 8-for-23 from the field with eight turnovers in the game's first 20 minutes.
ROUGH ROAD FOR HARDAWAY
Michigan is 0-3 on the road this season. In those three losses, Hardaway has struggled. Hardaway is 11-for-41 from the floor and 1-for-18 from 3-point range in the Wolverines' three road setbacks (at Virginia, at Indiana, at Iowa).
QUOTE
"We had too many mental errors (tonight). There's not really a lot to take from this game."
— Trey Burke
RELATED CONTENT
Why Beilein left Burke on the bench
Boxscore
|
Top 25 scores
|
Big Ten scores
Leading scorer Tim Hardaway Jr. finished 2-for-13 from the floor with nine points, Evan Smotrycz was 0-for-6 without a point and Jordan Morgan attempted just one field goal.
As a team, Michigan went 8-for-31 (25.8 percent) from behind the 3-point line and just 11-for-17 from the foul line.
Bottom line, little worked.
"We took wide open shots, took some guarded shots, they just weren't falling," Hardaway said. "We can't control that, but what we can control is what's going on with the defensive end."
Freshman point guard Trey Burke, who sat out more than 13 first-half minutes with foul trouble, led the Wolverines with 19 points — 16 of them coming after halftime. Novak finished with 14 points and nine rebounds.
Iowa (11-8, 3-3 Big Ten), which dropped its previous two games by a combined 63 points, got a team-high 19 points from Matt Gatens.
Southfield native Devyn Marble finished with 13 points, six rebounds and four assists.
Michigan found itself in a mess early after Burke picked up his second foul, a charging call, sending him to the bench for the final 13:16 of the first half.
Without their point guard, the Wolverines found little to no flow offensively, shooting just 8-for-23 and committing eight turnovers in the first 20 minutes.
Iowa began to seize control after Marble capped an 8-1 run with a three-point play underneath to make it 28-18 Hawkeyes with 3:40 to play in the half.
Michigan got back within five two minutes later after a pair of Jordan Morgan foul shots. But Iowa closed strong, getting a three-point play from Gatens and a buzzer-beating fallaway jumper from Marble to take a 10-point lead into the break.
Afterward, Michigan coach John Beilein said he planned on leaving Burke on the bench for the remainder of the half -- unless the lead ballooned to double digits, something that didn't happen until the final horn.
"He got his second foul and I think we still could have gotten out of that better, we took a couple hope threes and took a couple hope passes," Beilein said. "The eight turnovers we had in the first half, they weren't because we didn't have our point guard.
"We missed him, but we didn't do what we needed to on the road."
After Iowa's lead swelled to 14 early in the second, the Wolverines appeared poised to make a charge, as a pair of Hardaway foul shots at the 12:42 mark capped an 8-1 run to make it a 43-37 game.
The Hawkeyes immediately punched back, though, smacking Michigan with a 10-0 answer that was polished off by an Aaron White layup to make it a 16-point game with 8:32 to go.
The Wolverines never got back within single digits.
"We had too many mental errors (tonight)," said Burke, who played less than 30 minutes for the first time since Michigan's season-opener. "There's not really a lot to take from this game."
Iowa out-rebounded Michigan 39-30 and out-scored the Wolverines 32-22 in the paint.
The Wolverines, who were playing their third game in a seven-day stretch, will get no breaks moving forward.
Michigan hosts Michigan State on Tuesday (7 p.m., ESPN). From there, the Wolverines will play three straight road games (at Arkansas, at Purdue, at Ohio State) before returning home to face Indiana on Feb. 1.
The Wolverines will enter their toughest stretch to date on the heels of their worse loss yet.
Not exactly an ideal situation.
"This is when everybody needs together," Hardaway said. "And just play their roles."
Nick Baumgardner covers Michigan basketball for AnnArbor.com. He can be reached at 734-623-2514, by email at nickbaumgardner@annarbor.com and followed on Twitter @nickbaumgardner.
Want to stay connected to Wolverine basketball in your Facebook newsfeed? "Like" AnnArbor.com's Michigan Basketball News & Views.