Posted on
Fri, Mar 2, 2012 : 9:33 a.m.
Michigan basketball top guns Tim Hardaway Jr. and Trey Burke clicking at the right time
By Nick Baumgardner
CHAMPAIGN, Ill. — For Tim Hardaway Jr. and Trey Burke, there was no concrete come-together moment.
After the Michigan basketball team's top-scoring duo combined for its worst performance of the season during a double-digit loss at Michigan State last month, Hardaway remarked how his on-court chemistry with Burke needed work.
The freshman point guard didn't disagree.
"We knew we both had bad games," Burke said. "We performed under our level. But after a loss, we always come back."
There was no formal discussion between Burke and Hardaway about improving their on-court flow. And after Thursday's performance in a 72-61 victory at Illinois, perhaps there never needed to be.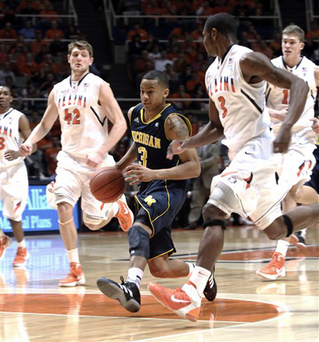 Associated Press
Hardaway put up his second double-double of the season, and perhaps his best game to date, scoring 25 points and grabbing 11 rebounds. He went 6-for-7 from the floor, 4-for-4 from 3-point range and 9-for-10 from the foul line.
Burke, meanwhile, rattled off 21 points on 7-of-13 shooting while handing out five assists.
Burke and Hardaway went a combined 13-for-20 from the floor, 6-for-7 from 3-point range and played seamlessly alongside one another in perhaps the team's biggest road game to date, as Michigan's retained hopes of a sharing the Big Ten title.
It was a stark contrast from the afternoon in East Lansing that saw the duo combine to shoot 5-for-21 with five turnovers, bringing about queries of how well they really co-existed.
After Thursday, the only questions about chemistry were 'how good is it, and can it get even better?'
"We know what each other can do," Burke said of his on-court relationship with Hardaway. "He knows when I'm hot, and I know when he's hot.
"And it's great playing with him like that, because he can add another dimension to our team that we don't have sometimes. And tonight, he showed a different player."
Hardaway's inconsistencies this season have been well-documented.
Even with his monster performance Thursday, he's shooting 28.1 percent from 3-point range on the year, an 42.2 percent overall.
But against the Illini, the 6-foot-6 swingman showed the type of player Michigan has hoped to see all season.
The type of player the Wolverines need to see if they're planning on making a deep postseason run this month.
Hardaway showed it all, and showed it often.
In the game's first eight minutes, he'd connected on a triple, made a back-cut to the basket for an easy layup and beat his man off the dribble before sinking two foul shots. And, perhaps more impressive, he was rebounding — grabbing five before halftime.
"I didn't do anything special, I just made sure I got in the gym all week and got a lot of shots up," Hardaway said. "My mechanics were horrible these past couple games, and I just wanted to make sure I got (those fixed)."
With Hardaway creating his own shot and helping the team in multiple areas early, Burke found himself with endless amounts of room.
The freshman point guard rattled off an 8-0 run by himself at one point in the first half, capping it with a two-handed slam (his first of the year) that got a major reaction from Hardaway on the sidelines.
Burke finished the first half with 14 points, and from there, his partner took over.
With Illinois making a surge midway through the second, Hardaway seized the game by the throat, scoring 11 straight Michigan points, answering each Illini run by himself and almost single-handedly putting the game on ice.
"He's just a special young man that's really growing every day about not being so hard on himself," Michigan coach John Beilein said. "Early in the season, he was way off. And as upset as people might get at someone who beats himself up, sometimes, we don't.
"We just say, 'Tim, it's OK, move on.' And he really works at that. His care-level is so high, that it can be negative. And today, his confidence was very high."
It's no secret at this point: When Hardaway plays well, Burke gets more space. When Burke gets more space, the offense opens up. When the offense opens up, Michigan is extremely tough to beat.
To date, both average 14.5 points per game, with Hardaway holding a one-point edge (435-434) for the team's scoring lead.
When Hardaway and Burke are clicking, Michigan goes from a good team to a potentially elite team. And with one game left in the regular season and the postseason on the horizon, both seem to completely understand that concept.
"When he's hot like that, coach calls his number, and I already know who I'm going to," Burke said. "After the Michigan State game, we all got on the same page.
"And it allowed us to come together."
Nick Baumgardner covers Michigan basketball for AnnArbor.com. He can be reached at 734-623-2514, by email at nickbaumgardner@annarbor.com and followed on Twitter @nickbaumgardner.
Want to stay connected to Wolverine basketball in your Facebook newsfeed? "Like" AnnArbor.com's Michigan Basketball News & Views.