Posted on
Thu, Jul 15, 2010 : 3:11 p.m.
Michigan freshman Jon Horford goes from reluctant participant to college basketball player
By Michael Rothstein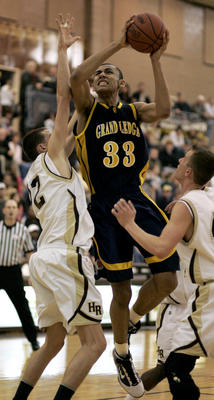 Al Goldis | Lansing State Journal
LANSING - He was dragged to the court at first, barely interested in touching a basketball and a long way from being part of the 2010 Michigan basketball team recruiting class.
When Jon Horford was a kid, he'd rather skateboard. Or play with a Hacky Sack footbag. Basketball was around - he never got cut from a team - but through the formative first years of his basketball life, it was never a priority.
It was at Aim High in Lansing, where he'd sometimes leave because he didn't want to play anymore, where he learned the game from Larry Turnbow, a friend of the Horford family.
"They got me playing on a team, and I never wanted to play," Horford said. "But he always pushed me, saying I would want to play when I was older. He used to make me work out and all this stuff, and I ended up falling in love with the game."
Not that he wasn't tempted to leave it behind.
For the majority of his pre-high school career, Horford rode the bench. AAU ball, he sat. Middle school basketball, he sat.
He was a good rebounder, but his offensive skills were raw so he ended up at the prankster on the end of the bench instead of the difference-maker on the court.
Even then, he thought he'd play college basketball despite the fact he was close to quitting. He'd hear it from classmates, too, because as Jon wasn't playing in middle school his brother, current Atlanta Hawk Al Horford, was becoming a star at Grand Ledge.
When he was 13, Jon went back to his first love, skateboarding, for a brief period. Horford became hooked on the sport because the older brother of his best friend growing up skateboarded.
So naturally, he followed along. And when it looked like basketball wasn't going to work, he briefly went back to focus on skateboarding.
Looking back, though, he is glad he returned to basketball.
"I'm glad I got out of all that, and I'm into basketball now," Horford said. "And basketball is a good thing. But skateboarding is cool, especially people who are real good.
"It's impressive."
It helped, too, that once Horford reached high school, he began to play more. Horford's high school coach, Tony Sweet, played Horford on junior varsity his freshman year and by the time the playoffs started, bumped him up to varsity.
It's where he remained the rest of his high school career, eventually becoming a star at Grand Ledge.
"He just continued to improve toward the end of his sophomore year," Sweet said. "And he won our share of games and he was kind of our go-to guy. It seemed like he hit that stride where his ability kicked in with his body and everything seemed to click his sophomore year.
"His junior and senior year was status quo and improving."
Eventually, Michigan started to notice. Unlike his brother, who went to Florida, Jon wanted to stay in Michigan.
Throughout his senior year, as he waited for Michigan to offer, Horford insisted playing close to home was a factor in his decision. So when the Wolverines offered, it almost became inevitable he would end up in Ann Arbor.
"I love Michigan," Horford said over coffee in May. "I don't know too much about the school yet, but I'm sure I'm going to love Michigan.
"But I love Michigan, the state of Michigan. I wouldn't go anywhere."
As he wrapped up his high school career, the 6-foot-9 forward couldn't help but think back to his days on the bench, to the days he didn't want to play and how he almost quit.
He thought about the guys who played in front of them, and how most of them don't play basketball anymore.
"When I played with those guys, the guys in middle school, a lot of them were the studs in middle school and like early in high school they don't even play basketball, they didn't want to play basketball," Horford said. "I play with them all the time and I'm wondering, in their head, what are they thinking? I put myself in their position and guys who are on our bench right now and outplaying me and going on to do something with basketball.
"They probably never saw it coming in a million years."
Michael Rothstein covers University of Michigan basketball for AnnArbor.com. He can be reached at (734) 623-2558, by e-mail at michaelrothstein@annarbor.com or follow along on Twitter @mikerothstein