Posted on
Fri, Feb 17, 2012 : 7:06 p.m.
Michigan point guard Trey Burke gets another crack at his hometown team, this time in his new backyard
By Nick Baumgardner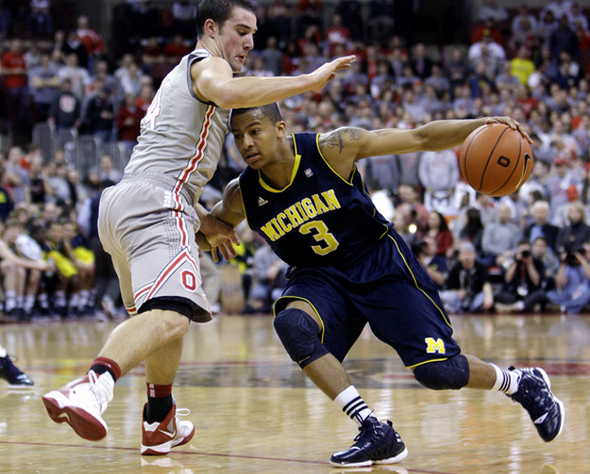 AP Photo
Trey Burke's last meeting with Ohio State featured all the bells and whistles.
Burke, the Michigan basketball team's freshman point guard and a Columbus, Ohio, native, was followed by Big Ten Network cameras, hounded by reporters and even held court during his own personal teleconference prior to the game.
Things were decidedly different this week. Burke casually met with a group of roughly 15 reporters Friday to discuss his second career matchup against his hometown team.
The glitz and story angles are mostly gone now, but Burke doesn't seem to care. He gets a revenge crack at the Buckeyes.
This time, it'll be played in his new backyard.
"We're undefeated at home," Burke said. "And it's our job to protect our house."
Last month, after wading through questions about his close friendship with Ohio State star Jared Sullinger and how it might feel to play against his former favorite team, Burke seemed to be himself when the game actually tipped in Columbus.
If he was nervous, he didn't show it. He helped the Wolverines pull in front by as many as five points in the first half before going into the locker room at halftime down just three.
The wheels fell off in the second half, however, while Michigan was pummeled on the glass, eventually dropping a 64-49 decision to the host Buckeyes.
"Once the game started, I looked at that as just another game," Burke said. "The environment wasn't as hostile as I thought it would be. The fans were booing us, of course, but it wasn't one of the more hostile environments we played in.
"We just didn't do all the right things."
As for Burke? He finished the game with 13 points on 5-of-11 shooting to go along with five assists.
He also committed five turnovers, one shy of his season high.
After the game, Ohio State coach Thad Matta discussed how his defensive gameplan centered around making things difficult for Burke, hindering the Wolverines' pick-and-roll and limiting open looks for the team's shooters.
A large part of that gameplan also centered around OSU point guard Aaron Craft, known as one of the best on-ball defenders in the league -- and the country.
"I played with Craft and we were on the same AAU team for a long time," Burke said. "He's one of the toughest defenders I've played against."
Despite those five turnoers, Michigan coach John Beilein maintains Burke did an admirable job considering the environment and circumstances. This time around, he's hoping his adjustments to Burke's approach will help combat Ohio State's physical defense -- led by Craft.
"Craft is really good, he's a really good defender," Beilein said. "I have some reasons why (Burke) had more turnovers (in that game), but I'm not going to disclose them.
"I think he played a very good basketball game for a freshman put in that situation. I'll take it every time and he'll learn from any mistakes he did have."
Burke says nerves didn't play a role in his performance the first time, and they won't again Saturday.
He gets another shot against the Buckeyes, this time on his turf. The Columbus native now residing in Ann Arbor says he'll be more than ready.
"Ohio State gave us a different look than most teams, they showed a lot of late help when I got to the rim," Burke said. "They forced me to leave my feet and make bad passes, and it was a gameplan we really hadn't seen all year. But we've adjusted.
"I've made big steps since that game."
Nick Baumgardner covers Michigan basketball for AnnArbor.com. He can be reached at 734-623-2514, by email at nickbaumgardner@annarbor.com and followed on Twitter @nickbaumgardner.
Want to stay connected to Wolverine basketball in your Facebook newsfeed? "Like" AnnArbor.com's Michigan Basketball News & Views.