Posted on
Mon, Mar 12, 2012 : 7:50 p.m.
Michigan women's basketball team gets NCAA Tournament invite; joins EMU in field of 64
By Rich Rezler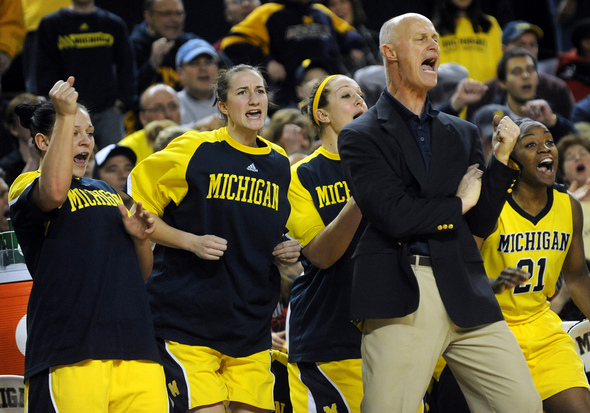 AnnArbor.com file photo
The Eastern Michigan women's basketball team knew its name would flash across the television screen Monday night.
The Michigan women's basketball team hoped for the same during the NCAA Tournament selection show.
The Washtenaw County programs went 2-for-2.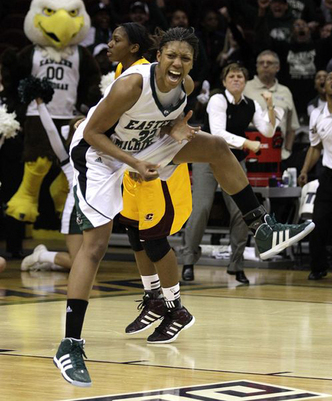 AP Photo
"When our name came on that screen, the room just exploded," said Michigan coach Kevin Borseth, who watched the program with his team in the William Davidson Player Development Center.
Borseth called the reaction to the program's first NCAA appearance since 2001 "an explosion of happiness and tears and everything that goes with it." A video posted by MGoBlue.com shows the celebration.
The Wolverines (20-11) are a No. 11 seed and will play against first- and second-round host Oklahoma, a No. 6 seed, on Sunday (7:35 p.m., ESPN2). No. 3 St. John's and No. 14 Creighton will also play at the Lloyd Noble Center in Norman, Okla.
Eastern Michigan was one of 31 teams that earned an automatic bid to the tournament by winning the Mid-American Conference Tournament title over the weekend.
The Eagles (23-8) are a No. 12 seed and will play No. 5 South Carolina on Saturday (11:05 a.m., ESPN2) in West Lafayette, Ind. Host Purdue (No. 4) and No. 13 South Dakota State are on the other side of the bracket.
EMU coach AnnMarie Gilbert, who gathered with her team at Buffalo Wild Wings in Ypsilanti to watch the selection show, said she was pleasantly surprised with a No. 12 seed.
She had penciled her team in as a No. 13 or No. 14 seed, and even predicted in the Eagles' opponent. She spent time Monday watching film of Georgia. That time wasn't wasted, however, since the Bulldogs were playing Southeastern Conference rival South Carolina.
Gilbert was even pleased about the tournament placing the Eagles in West Lafayette.
"We're really excited just to get out of this area," she told EMUEagles.com. "They didn't send us to the Bowling Green region. We wanted to get our kids out, let them see a Big Ten school and play in a bigger atmosphere and arena. I'm really thrilled for them."
Michigan and Eastern Michigan are both in the Raleigh Regional, but wouldn't meet until the Elite Eight.
Michigan State gives the state a third team. The seventh-seeded Spartans will play No. 10 Louisville on Saturday in a College Park, Md.
Baylor, Stanford, UConn and Notre Dame earned the No. 1 seeds. (Bracket)
Michigan entered the selection process as a classic "bubble" team, and the stress of that scenario followed the team since it was eliminated from the Big Ten Tournament 10 days ago.
"It's a hard thing not to think about. It consumes every second of the day," Borseth said. "Probably the only time we got any relief at all was when we were out on the court in practice. ... Prior to that, I think everybody had pretty much had that pit in their stomach wondering what, when, where, why, the whole nine yards."
The Wolverines were right to be concerned. They were one of the last four teams selected for the 33 available at-large berths, committee chairman Greg Christopher told ESPN after the brackets were revealed.
It's the first time the committee has released its "last four in" and "last four out."
Michigan, Florida, Kansas and Texas earned bids because each had no less than four wins against teams in the tournament and had multiple wins over top 50 teams. Oklahoma State, USC, Temple and Virginia were left on the wrong side of the bubble.
Carmen Reynolds and Courtney Boylan -- part of Borseth's first recruiting class at Michigan -- both said they were thrilled to see the program take the next step in its building process in their senior seasons.
Once their emotions were under control, of course. Reynolds said she "immediately started crying" when she saw Michigan splash across the television screen.
"Our program has changed so much since Coach Borseth came here," Boylan said. "To be able to kind of leave our footprint on the program means a lot to us."
Rich Rezler covers sports for AnnArbor.com. Contact him at richrezler@annarbor.com or 734-623-2553.