Posted on
Thu, Jan 12, 2012 : 9:57 a.m.
Michigan women's basketball plays key game today at Big Ten preseason favorite Penn State
By Rich Rezler
How much time did the Michigan women's basketball team spend basking in its upset of No. 8-ranked and previously unbeaten Ohio State?
Very little.
Immediately following the Wolverines' 73-62 win against the Buckeyes on Saturday, coach Kevin Borseth said the team wouldn't speak of it again.
"We've got to get back to work," he said. "It's one game and anything can happen in one game."
The Wolverines (13-3, 2-1 Big Ten) travel to State College, Pa., today to face a Penn State team that is trying to forget games for a different reason. Tipoff is at 6 p.m. and the game will be broadcast by the Big Ten Network.
The Nittany Lions (11-4, 1-2), preseason Big Ten favorites in both the coaches and media polls, have opened conference play by losing two of their first three games.
They've dropped out of the Associated Press poll for the first time all season and join a Michigan team on the verge of its first appearance in the poll in the "others receiving votes" category.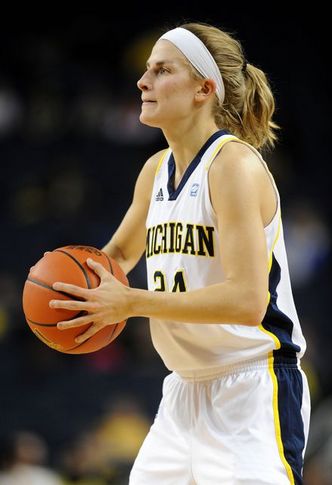 Angela J. Cesere | AnnArbor.com
Penn State coach
Coquese Washington
isn't ready to throw in the towel on her team's Big Ten title chances, however.
"It's not a hole. It's three games. There are 13 games left, which isn't a big hole," Washington said after a 75-65 home loss to Michigan State on Saturday. "There is so much basketball left, it's not even funny."
The Nittany Lions are 13-2 against Michigan at the Bryce Jordan Center with the Wolverines' last win there coming in 2001.
The game could be decided through a battle of styles. Penn State averages 75.6 points while Michigan allows just 55.2 points. The Nittany Lions' sophomore guard Maggie Lucas is 19th in the country in scoring (20.0) while junior guard Alex Bentley averages 14.3 points and is 16th in the nation in assists (5.8).
The Wolverines just held Ohio State guards Tayler Hill and Samantha Prahalis -- the highest-scoring duo in the Big Ten -- to a combined 32 points, eight below their average.
"(Penn State) can put up 100 points if they felt like it. They are probably the most athletic team in the Big Ten," said Michigan guard Jenny Ryan, the team's top defender who averages a league-best 3.3 steals, said at a press conference Tuesday.
"It's a really exciting matchup because I feel like we pride ourselves in our defense and with them being probably the best offensive team … it is just the battle of the two mantras, so we will try to come out with a win at the end."
A win in State College would give the Wolverines a boost heading into a stretch of games against teams from the bottom of the Big Ten standings (vs. Minnesota on Sunday, at Northwestern on Jan. 19 and vs. Indiana on Jan. 22).
If things play out as they should on paper, Michigan could be on the verge of wrapping up its first NCAA Tournament bid since the 2000-01 season when the Nittany Lions pay a visit to the Crisler Center on Jan. 26.
Not that Borseth has looked that far ahead.
"I have never looked ahead at the schedule and predicted which games we were going to win or lose. That will drive you nuts," he said.
"To be honest with you, I hoped we would be in the position of being undefeated at this point, but I think every coach approaches it that way. We are doing well at this point, but there is a long season ahead of us yet."
Rich Rezler is a sports producer at AnnArbor.com. Contact him at richrezler@annarbor.com or 734-623-2553.