Posted on
Thu, Jan 12, 2012 : 7:58 p.m.
Michigan women's basketball team can't keep up with hot Penn State, 78-63
By AnnArbor.com Staff
The Penn State women's basketball team played to its preseason expectations. That was bad news for Michigan.
Sophomore guard Maggie Lucas scored 22 points to lead Penn State to a 78-63 win over the Wolverines Thursday night at the Bryce Jordan Center in State College, Pa.
Penn State made 55 percent (31-of-56) of its shots compared to 34.3 percent (23-of-67) for Michigan while snapping a two-game losing skid on its home court.
The Nittany Lions used an early 14-0 run to take a 16-5 lead. They extended the advantage to as many as 17 points (26-9) in the first half before Michigan started chipping away.
Nya Jordan's offensive putback at the halftime buzzer cut the lead to 41-29 at the break, but Penn State (12-4, 2-2) opened with an 8-2 run over the first three minutes of the second half, forcing Michigan (13-4, 2-2) coach Kevin Borseth to take a timeout.
It didn't work.
Penn State's run continued and a three-point play by Lucas made it 62-40 with 13:41 left to play and the rout was on. The 78 points allowed is a season-high for Michigan.
"(Penn State is) pretty big and they are really strong," Borseth said. "They are going to shoot 57 percent against us for the most part no matter what we do. They did it this time and they are probably going to do it again next time.
"We just couldn't defend them right off the bat. They immediately went to their big kids. Then (Ariel Edwards) hit some inside and she's a big kid. You have to be able to answer and any play they make you have to be able to make."
Nittany Lions coach Coquese Washington was asked in a post-game press conference how she felt after beating the Wolverines -- a team she said was playing some of the best basketball in the Big Ten -- so comfortably.
"Well, you might have been comfortable, but I wasn't so comfortable," she said. "I think our conference is very tough. ... There is a lot of parity in our conference, and a lot of excellent coaching in our conference, so any time you can get a win, home or on the road, it is good stuff."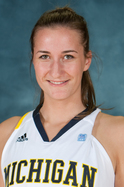 Senior forward Zhaque Gray scored 15 points and junior guard Alex Bentley added 12 points, six assists and four steals for Penn State.
Junior guard Kate Thompson came off the bench to score 16 of her team-high 18 points in the second half for Michigan. She added four steals and four assists.
Senior guard Courtney Boylan was the only other Michigan player in double-figures, scoring 10 points.
The Nittany Lions were ranked No. 11 in the Associated Press preseason poll, picked to win the Big Ten in the league's coaches and media poll and entered the season with high expectations after a 25-win campaign and NCAA Tournament berth.
But after finishing a challenging non-conference schedule 10-2, they lost two of their first three Big Ten games -- to Nebraska and Michigan State -- on their home floor.
Michigan is now 4-4 on the road and has lost three of its last four games away from the Crisler Center. The Wolverines have lost nine straight at Penn State, a streak that dates back to 2001.
Michigan returns home on Sunday, when it hosts Minnesota (Noon, BTN).
The Associated Press contributed to this report.