Posted on
Sun, Mar 18, 2012 : 5:57 a.m.
Michigan women's basketball team doesn't fear the road in first-round NCAA game at Oklahoma
By Rich Rezler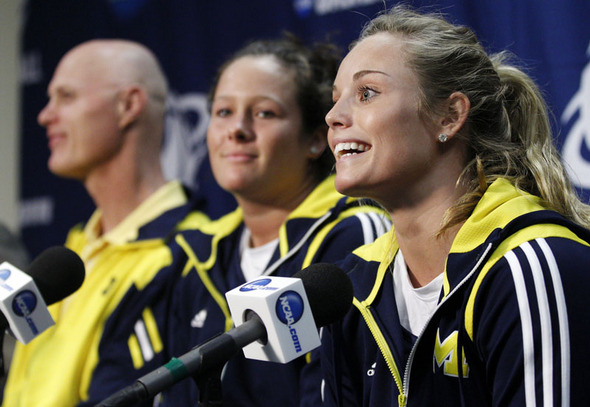 Associated Press
Unlike the men's version, the reality of the NCAA women's basketball tournament is that 16 teams play first- and second-round games in their own arena.
One this season is Oklahoma, the team Michigan will play Sunday (7:35 p.m., ESPN2).
The Sooners' home-court advantage isn't high on coach Kevin Borseth's worry list, however. His Wolverines were 11-7 away from the Crisler Center this season, including wins at Florida and Nebraska, teams with No. 9 and No. 6 seeds in the NCAA tournament, respectively.
"Sometimes, it's easier to focus on the road than it is at home," Borseth said. "You have distractions at home, from being on your own home floor to things being too normal. You get into that tournament environment and you can concentrate more on your game, on your opponent and everything is a little more focused.
"We play well on the road."
History is not on Borseth's side, however.
While leading Wisconsin-Green Bay to the NCAA tournament seven times, he had to play on an opponent's home court in five games — at Connecticut, Texas, UCLA, Old Dominion and Maryland — and lost all five.
There was no secret where Oklahoma was going to open the NCAA tournament. But when the Sooners' name popped up on the television as a No. 6 seed, it was enough to bring out a big cheer from coach Sherri Coale's players.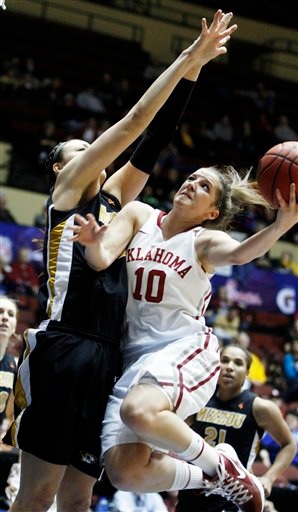 Associated Press
Expecting to be as low as a No. 8 seed with the potential to face one of the nation's top teams in the second round, the Sooners (20-12) are a No. 6 seed and start against 11th-seeded Michigan (20-11) at the Lloyd Noble Center.
Two years removed from back-to-back Final Four appearances, the Sooners are unranked — as they have been most of the season — for the first time since 2005.
Yet, the NCAA Tournament seedings place them among the top 24 teams in the country.
"We're really excited about it. A sixth seed; it's a really good seed for us," said Whitney Hand, the team's second-leading scorer and top rebounder. "Our path, it's always difficult. Every team here in the tournament is going to be a difficult team, so there's not really an easy path."
The Sooners are 7-1 all-time on their home court in the NCAA tournament and 9-1 in the state of Oklahoma. All of the wins have come as the team with the better seed; the loss was as a No. 10 seed in 2003.
Michigan, which was firmly atop the tournament bubble when the seeding was announced Monday, had an emotional celebration when it was invited to participate for the first time since 2001.
After the tears dried up, it was time to focus on the task at hand.
"That's reality. When your name shows up on that screen, all you can think about is your name. Then, of course, you start looking at video tape, and all those things start to stir," Borseth said. "Obviously, Oklahoma comes from a great conference and is a good team."
After two years of being on the wrong side of the NCAA "bubble," the Wolverines squeaked in as one of the last three teams picked. Michigan holds the lowest seed for an at-large team, along with fellow No. 11 seeds Kansas and Gonzaga.
"It makes it even sweeter just that we were so close the past couple seasons and we weren't able to get in," senior Courtney Boylan said. "We're just extremely excited to play."
Borseth said he's not worried about the Wolverines just being happy about playing in the tournament for the first time in more than a decade.
"How do you eat an elephant? One bite at a time. For us, it's one 30-second shot clock at a time; that's what it is," he said. "We have to concentrate on ourselves and getting it done 30 seconds at a time for 40 minutes.
"We're not going to sit and think we're (just) glad to be here. We're not going to wonder if, what, when, why and how. We're going to try to get it done one possession at a time."
No. 3 seed St. John's (22-9) and 14th-seeded Creighton (20-12) will play in the first game in Norman on Sunday, with the winners advancing to play Tuesday.
St. John's snapped Connecticut's 99-game home winning streak last month and tied with UConn for second in the Big East behind Notre Dame. Creighton, a surprise winner of the Missouri Valley Conference tournament after placing fourth in the regular season, is back in the tournament for the first time in a decade.
The Sooners have had an up-and-down season, struggling to compete with the top-tier teams on their schedule including top-ranked Baylor, defending national champion Texas A&M and Connecticut. The regular season ended with a home loss against Kansas.
For Borseth, the game is the next step in his quest to turn Michigan into a nationally relevant program.
"It's a measuring stick, I think, for every recruit out there that's looking at your program," he said. "How well do you do when you compete nationally? Do you get into the national tournament? Because if you get in, you've got a chance to play for all the marbles. If you don't, you're an also-ran and it's really not maybe what a lot of people are looking for."
The Wolverines went to the WNIT three times in Borseth's first five years, making it to the semifinals after the NCAA snub two years ago.
"I felt confident I could come in there with a click of my fingers and make things turn around in a heartbeat," he said. "It's a little more difficult than I thought it was going to be, obviously."
The Associated Press contributed to this report